Manaslu Annapurna High Pass Trek
Around Manaslu + Annapurna Trip Summary
High Pass Trek Periods: 18 Days
Manaslu High Pass Trek Difficulty: Moderate
Thorong La High Altitude: 5,416m/17,770 feet
Walk Hours: 6 hours daily
Hiking Group-Size: 1 – 15 People
Best Time to Explore: March, April, May, October, and November
Mode of Hikes: Lodge trek
Foods: Breakfast, Lunch, and Dinner everyday
Transport: Jeep / Bus
Overview
The Manaslu Annapurna High pass Trek is the most popular journey in Nepal. Impressive high passes hiking route in Manaslu and Annapurna starts from the foothills of Manaslu and finishes on the foothills of Annapurna.
Since the journey begins from one spot and ends somewhere else these trips offer a variety of Majestic mountain sceneries. Additionally, the hiking trail offers the pristine Himalayan landscape, people and their traditions, and astounding perspectives on various regions.
The most amazing high passes trek in Nepal covers Larkya La pass (5,105m) and Throng la Pass (5,416m). Manaslu and Annapurna Trek is a mix of two high pass trips in a single schedule and reasonable for professional travelers in terms of time travel, budget, and difficulty. This consolidated trip is some way or another considered a moderately difficult journey in Nepal and one ought to be completely ready and in great shape. However, it is a long journey that can cover within 3 weeks' time in the Himalayas.
In addition, the superior trek offers an opportunity to explore beautiful mountains and high Himalayan glaciers en route. The mountains are Himal Chuli (7,893m), Annapurna range, Shringi (7,187m) Ngadi Chuli (7,871m), and Ganesh Himal, Tilicho, Dhaulagiri…etc. The journey is marvelous if the weather permits and the views are spectacular.
The mountain landscape and greater hilltops are additional attractions of this trekking route. Hike around the Manaslu and Annapurna high pass is a great journey in the Himalayas itself a lifetime experience. Likewise, the start of the Manaslu larkya la pass trek is easier since the nature trail goes higher daily along the Budi Gandaki river.
Sooner crossing Larkya the rocky trails go downhill again. Moreover, we hike the Thoche village and ascend all the way up Himalaya to Thorong la summit passing via river banks. Cross the world's widest mountain pass Thorong la, we plunge down to Muktinath town. Around Manaslu plus Annapurna trek is possible to complete at any time (except winter Late December, January, and February) throughout the year.
Ethnic groups, culture and tradition
Larke La combined Thorong La pass is the highest elevation of Manaslu and Annapurna treks that are located above 16,750 feet. Hike the high pass has natural, diversified cultural heritage and wildlife. The Gurungs ethnic communities dominate the central hills of the sector where the Bhutias (came from Bhot, Tibet), closed to Sherpas are in the locality of Tibet. They have flat-roofed houses, ancient monasteries, mani walls, and other Buddhist indicators along with the trek routes.
How much does Manaslu Annapurna High Pass Trek Package Cost/Price?
The cost of the Manaslu Annapurna High Pass Trek package with a Gokyo Treks Agency (Nepal guide's owned company) ranges between US$ 1298 to US$ 1698. Despite that, the Manaslu Annapurna High Pass Trek cost is totally depending upon the months and group size you are coming with. We also offer low hiking season discount deals. For example, if you could bring 10+ travelers (besides you) to your trip, you are treated as a group leader. So you can hike the Manaslu and Annapurna circuits for free.
Visit high pass hikes in March/April/May will have the cheaper tour cost because of trek permits price.
Additionally, if you make a plan to visit Manaslu and Annapurna high pass route in September/October/December, then Manaslu royalty is a little higher but the weather stays perfect with a blue sky and the sun is shining.
Trek at high passes route as given here is the standard trip package price for 18 days trek. If you are 2 people and hike privately costs US$ 1450 for 18 days trek according to the given trekking plan. We can modify the trek route and the prices according to your wishes also. Here is the price list for Manaslu and Annapurna high pass treks.
Price Per Person for 18 days hikes in the Manaslu plus Annapurna teritory.
| Number of Tourist | Price Per Person |
| --- | --- |
| 1 Person | US$ 1698 |
| 2 Person | US$ 1450 |
| 3 Person | US$ 1440 |
| 4 to 6 person | US$ 1398 |
| 7 to 9 Person | US$ 1350 |
| 10 and more than 10 Person | US$ 1298 |
If you're wondering to know about what is included and what is excluded on this trip price, kindly check on cost given on a tab button.
Itinerary
The Manaslu Annapurna High Pass Trek itinerary details
Our Manaslu + Annapurna round trek budget is classical about 18 days itinerary compared to most walks in this region. The particular trek routes are designed for World travelers who wish to explore budget treks within a comfortable itinerary. However, if you are planning with limited time-wise? take a look this special itinerary on Manaslu circuit trek – 13 Days which is best to choose.
1 Day
Landing in Kathmandu valley
Upon arrival in Tribhuwan International Airport kathmandu, we receive you with private vehicle and transfer to hotel in Kathmandu. Accommodation will serve with a breakfast plan. Our representative will brief you Annapurna and Manaslu Annapurna high pass hiking plan and package programs.
2 Day
Express drive from Kathmandu to Soti Khola (775m/2,534 feet), 9 hours
Gokyo Agency trek staff will come to your hotel very early in the morning to pick you up. Taking a private taxi, we drive to Dhading Buspark next to Gongabhu Bus Station, Kathmandu. Check the scheduled route bus to Soti Khola for hiking Manaslu's departure. You can pass across the majestic valley and hills, hydroelectricity power station, rivers, and tiny hamlets following the Budhi Gandaki River to Soti Khola. Likewise, Kathmandu to Soti Khola distance is 141.3 kilometers (87.7 miles) and takes about 9 hours to drive.
3 Day
Machha Khola trek (900m/2,943 feet), 5.30 hours.
The nature walk descends slowly until you climb again to mountain ridge to Almara. Pass the forest trail to cuts into another side of the river to enter Budhi Gandaki. At Labubesi, the walking trail follows down to the sandy Budhi Gandaki river trail.
4 Day
Jagat village hiking (1340m/4,382 feet), 6 hours.
After crossing Machha River and Khrola besi, there is a natural hot spring called "Tatopani". The trail follows forested areas towards Dovan. Below Dovan, there is a rapid at Budhi Gandaki river. As the elevation increases, the rapids and the scenery undergoes a complete transformation. At Jagat, there is a police check-post where they check your trekking permits and guide licence of your guide.
5 Day
Ngyak phedi Trek (2,310m/7,554 feet), 6 hours.
After ascending to a terraced mountain of Saguleri, you can view of Sringi Himal (7,177m). We continue towards Sirish Gaon, Gandaki valley narrows from herewith soaring precipitous walls.
6 Day
Ghap village hiking (2,100m/6,867 feet), 7 hours.
Follow the trail upstream of Deng River – a tiny village of 4 houses. We walk over a new built rock tunnel from here, thus avoiding the traditional steep climb. At Ghap, the Tibetan culture begins with Mani stones and chortens all around.
7 Day
Lho Gaun hikes (3,200m/10,464 feet), 7 hours.
Cross Budhi Gandaki river and follow the path lined with houses that are interspersed with cultivated fields. At Namrung village, there is a police check post again. After Namrung, across the Hinan river coming from Linda Glacier and continue on to Sho village. Naike peak, North Manaslu (7,774 m), and centrail Manaslu mountain (8,150 m) view are just impressive en route. Lho Gaon is a small settlement that stays with normal lodges where we can stay overnight.
8 Day
Samagaun trek (3,520m/11,545 feet), 6 hours.
Hike further passing with the stone gateway and stone Mani wall after Lho with a full view of Peak 29. Go with guide to enjoy the picturesque landscape and panoramic views of Mount Manaslu (8,156 m). At Shyala, you will have almost the best mountain range. An hour walk further, we reach Samagaon guest house. Several shops, gompas, health post, heliport, telephone, and WiFi access are available in Samagaon of Nubri gorge.
9 Day
Manaslu Base Camp Hike and Samdo trekking (3,875m/12,710 feet)
We spend a half-day tour to visit Birendra Lake in order to acclimatize though there are many things to do on Manaslu foothills. Fast walking trekkers can plan to visit MBC (MANASLU BASE CAMP) rather then visit just a Pungen Gompa and Birendra lake.
Manaslu base camp hiking trail is a thin steep ascent to a slope and to a moraine but the view of the Himalayan glacier, turquoise lake, and the mountains from all angles is just glorious. The distance from Samagaun to Manaslu Base Camp is 5.1 kilometers and takes about 5 hours hike. Travel buddy returns to Samagaun lodge for delicious Lunch.
After midday, we climb a terraced hill on the opposite bank of Budhi Gandaki River from here toward a most remote enduring settlement to Samdo. Samdo is a tiny settlement with 200 people in forty local houses. Samagaon to Samdo trek distance is 16.4 km (10.17 miles) and takes about 3 hours hikes.
10 Day
Samdo Ri Hike in the morning. Trek to Dharmasala (3,590m/11,775 feet), 4 hours.
About 200 meters hike to Samdo ri in the morning. It helps for better acclimatization. And walk with the crew to Larke Phedi. Along the Larke la route, you'll see many traditional monasteries. Likewise, the distance from Samdo to Larkya Bazar is 1.2 kilo meters.
11 Day
Larkya La Cross (5,106m/16,752 feet) and trek Bimthang (3,590 m), 8 hours.
A challenging hike goes a head steeply uphill towards the snowed-up Larke la pass 5,106 meters above sea. The Larkya la pass offers just a magical Panorama view of Himlung Himal (7,126m), Cheo Himal (6,820m), Gyagi Kung, Kang Kuru (6,981m) and the Annapurna II (7,937 m).
The Manaslu trail roughly about 200 meters after the larke la pass is steep descent downhill and difficult part all the way through moraines to the grassy downhill. Some years earlier there was not a guest house at Dharmasala. Thus, every trekker should hikes from Samdo to Bimthang in a single day which is the best long-distance walks in the world. After the rockyand grassy trail, you reach on a big open sandy ground at Bimthang. The distance from Larkya Phedi to Bimthang is 15.1 kilometers (9.4 miles) and takes about 7 hours to complete.
12 Day
Tilje village trek (3,900m/12,753 feet), 8 hours.
The route now is better and easier across the Rhododendrons forest to Tilje Gurung village. Tilje is a Gurung settlements and offers clean guest houses. The distance from Bimthang to Tilje is 26 kilometers (16.12 miles) and takes about eight hours to complete.
13 Day
Drive to Manang (3,5519m/11,542 feet), 3 hours.
Hike about 1 hour to reach Dharapani village and catch a regular jeep/bus (passanger collection basis) to Manang guest house. Tourist can walk to Gangapurna viewpoint and Gangapurna glaciers in teh afternoon. There are many things to do in Manang but they depends upon the weather. You can also visit ice lake… the more information, you can find in Annapurna circuit trek 10 days blog .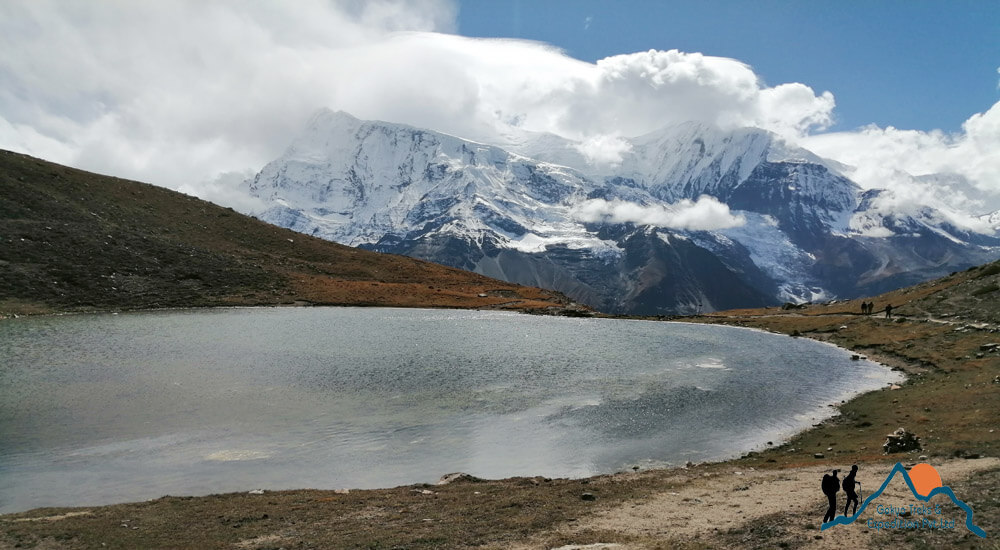 14 Day
Yak Kharka Trek (4,050m/13,244 feet), 4 hours only.
Trek leads over the cultivated land with the majestic landscapes around Tanki Manang. Reaching at Gunsang lodges, trail makes an ascent of nearly 500 meters to the Yak Kharka guest house. Yak Kharka lodge locating at an altitude in 13,288 feet where the many yaks and vegetation steadily more thin.
15 Day
Thorong La High Camp Trek (4,450m/14,552 feet), 4 hours roughly.
After ascending, the trail descends to cross the river at 4,310 meters. Climb up to Thorong Phedi at 4,450 meters passing one of the most dangerous stone slides area. There are comfort and clean guest houses and offers very good foods, Bakery, as well as Internet and telephones facilities. We walk almost an hour further at high camp hotel to stay at night.
16 Day
Thorong la pass (5,416m/17,710 feet) – Descend to Muktinath Temple, 8 hours.
Today is second challenge day after Larkya la summit treks. Cross Thorong la is one of the high trek route in the Annapurna zone. Nevertheless, we begin our trip very early in the morning at 5 am. At sunrise, as we need to set out early to complete the crossing of the Thorong la at 5,416 meters. We should reach the thorong la summit in 4 hours of hike.
From Thorong la to Muktinath trek route takes about another 4 hours downhill walk. Our descent to Muktinath is long, strained and tiring walk on slopes. Travellers can see the border mountains and Dhaulagiri family in a single line. Muktinath teritory is a large settlement offers the Hindy holy temple on the upper part and the finest lodges in the lower parts.
17 Day
Jomsom Bazaar hiking (2,713m/8,872 feet.), 4 hours.
Magnificent view with the mustang landscapes makes your entire journey just amazing. We climb to Lubra Danda and walk down to the Lubra village, one of the scenic Thakali villages. In addition, the mountain tour offers a terrific view of Dhaulagiri, Nilgiri, and Tukuche next to you. The wide sandy trail goes along the kali Gandaki waterfront and leads to the Mustang district headquarter. Jomsom bazaar stays with nice lodges and super hotels offer delicious Nepali cuisine.
18 Day
Fly to Pokhara (25 minutes) & drive to Kathmandu valley, 7 hours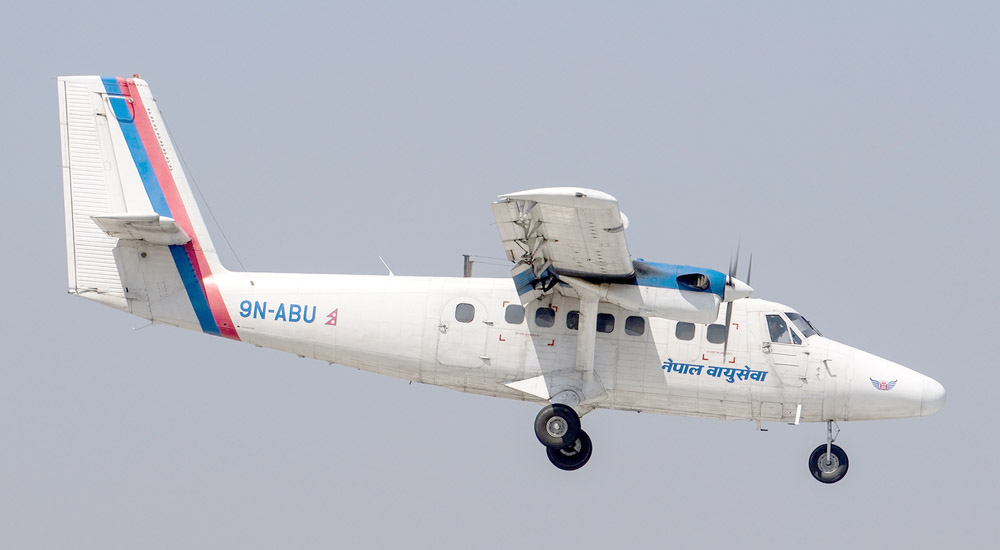 All the Jomsom flights are available during the morning time before windstorms. The distance between Jomsom to Pokhara is 62 km, likewise, the road distance is 146.1 kilometers.
In addition, Jomsom to Pokhara flight fare Nrs 4,500 for Nepali, Nrs 5500 for Indian, and US$ 125 for other citizen. Flying to Pokhara in a clear skies allow you the splendid views of different mountains of Annapurna range. As soon as you land in Pokhara town, we can take a bus drive takes about seven hours roughly. Each foreign tourist can book a connecting flight back to kathmandu paying an extra charge US$ 95 per person. After a little refreshment, drop you at the international airport for your further flights.
Not satisfied with above plan?
Are you interested on planning custom trip? this might take 2 to 3 minute.
Cost
How much does the Manaslu Annapurna High Pass Trek cost?
The high passes treks cover the Larke La pass in Manaslu and Thorong la pass in the Annapurna area. And Annapurna Manaslu high pass trek price USD 1450 per person.
For the deluxe and luxury Tent style trekking tour plan, we add 3 to 5-star category hotel deluxe air-conditioned room in Kathmandu with breakfast. Likewise, clean guest house accommodation with attached toilet/bathroom on possible places en route. AND WE ARE OPEN TO CUSTOMIZING YOUR TOUR AND PACKAGES PRICE AS PER YOUR REQUIREMENTS. International tour leaders are highly encouraged to get discounts and attractive complimentary.
Restricted area Manaslu plus Thorong la trek package price includes:
Kathmandu international airport transfer with a private vehicle.
2 nights in Twin sharing basis Tourist standard hotel accommodation in Kathmandu.
17 Breakfast, 17 Lunch and 17 Dinner during the high passes trek in Annapurna Manaslu.
Guest house basis accommodation in annapurna plus manaslu trekking days.
Fully escorted trek with an English speaking license holder local guide and each 2 guest 1 Porter basis.
Around Manaslu special trekking – manaslu trek 7 days permits cost USD 100 per person
Annapurna Conservation Area permits and Manaslu conservation permits fees.
Overland Bus (passanger collection basis) transfer from Balaju Bus Park in Kathmandu to Soti Khola passing Arughat bazaar on a day 2.
Local Bus transfer (passanger collection basis) from Dharapani to Manang on day 13.
Jomsom to Pokhara flight fare including domestic airport departure taxs.
Bus transfer (passanger collection basis) from Pokhara to Kathmandu.
Insurance, Food and accommodation and salary of Nepali trekking staffs.
Updated Manaslu base camp trek map 1 piece for each guest.
Agency's Certificate of appreciations after the successful Manaslu base camp trekking
Nepal Government Tax, VAT and as well as Company service charge.
Round Manaslu with Thorong la pass trekking package price excludes :
Nepal entry visa fees US$ 40.
Lunch and Dinner during the staying in Kathmandu city.
Any kinds of battery charges, laundry service, phone calls and hot shower during the trekking.
Kathmandu World heritage siteseeing transfer with a private vehicle and Guide.
Tourist personal trekking equipments .
Personal nature expenses, all types of drinks, deserts and bar bills.
Travel Insurance which covers emergency rescue, evacuation, personal loss or damage.
Donation and monuments entrance fees.
Tips for the crew (Note : TIPS is not compulsory but highly expected)
Any other things which are not mentioned above
Group join
We can organize a Manaslu Annapurna High Pass Trekking in Nepal privately starting at any date that works for you. Please contact us for more information.
| Departure Date | Availbility | Price | Book |
| --- | --- | --- | --- |
| 25 Apr, 2022 – 12 May, 2022 | Avaiable | 1450 | |
| 10 May, 2022 – 27 May, 2022 | Avaiable | 1450 | |
| 20 May, 2022 – 06 Jun, 2022 | Avaiable | 1450 | |
| 10 Sept, 2022 – 27 Sept, 2022 | Avaiable | 1450 | |
| 20 Sept, 2022 – 06 Oct, 2022 | Avaiable | 1450 | |
| 05 Oct, 2022 – 22 Oct, 2022 | Avaiable | 1450 | |
| 20 Oct, 2022 – 06 Nov, 2022 | Avaiable | 1450 | |
| 25 Oct, 2022 – 12 Nov, 2022 | Avaiable | 1450 | |
| 10 Nov, 2022 – 27 Nov, 2022 | Avaiable | 1450 | |
| 20 Nov, 2022 – 07 Dec, 2022 | Avaiable | 1450 | |
| 05 Dec, 2022 – 22 Dec, 2022 | Avaiable | 1450 | |
| 10 Feb, 2023 – 27 Feb, 2023 | Avaiable | 1450 | |
| 28 Feb, 2023 – 17 Mar, 2023 | Avaiable | 1450 | |
| 10 Mar, 2023 – 27 Mar, 2023 | Avaiable | 1450 | |
| 20 Mar, 2023 – 07 Apr, 2023 | Avaiable | 1450 | |
| 25 Mar, 2023 – 11 Apr, 2023 | Avaiable | 1450 | |
| 10 Apr, 2023 – 27 Apr, 2023 | Avaiable | 1450 | |
| 20 Apr, 2023 – 06 May, 2023 | Avaiable | 1450 | |
Guaranteed – Trip is Guaranteed to run.
Available – Trip is available to run if minimum group size is filled
Limited – Only few space available
FAQ
Question: Do I need the experience to do around Manaslu combine Annapurna trek?
Answer: Adventure high passes trek in Manaslu and Annapurna are not easy. Every tourist should walk around 5 hours daily with a lightweight daypack. If you have some kind of hiking experience or outdoor backpacking, it helps you a lot to complete your trip on time.
Question: Is pick up service available on my arrival day in Kathmandu?
Answer: Yes sure. Provide us with your flight detail and request us for pickup. Our representative will come to pick you up at Kathmandu's international airport, Nepal.
Question: Can I store my luggage/stuff in Kathmandu?
Answer: Yes, you can leave your luggage at your hotel or at our office. Store your stuff in the Gokyo Treks agency office is for free.
Question: Is Manaslu and Annapurna high pass trekking Safe for the Female Trekkers?
Answer: Absolutely. Nepal is a safe country to travel to for women travelers; this trek is perfectly safe for female trekkers. We have been organizing the trek even for solo female travelers sharing special permits since its establishment. Solo trekkers are not allowed so to get permits, we need a minimum of 2 tourists with the same travel plan.
Question: What kind of accommodation can I expect around Manaslu and Annapurna cheap trek?
Answer: We provide you tourist standard accommodation in Kathmandu. Along the trekking routes, the rooms are simply basic with the cozy 2 beds with a nice mattress. However we recommend you take your own sleeping bags if you have one with you otherwise, you may rent them while you are in Kathmandu. Common toilets are available and on a sharing basis. Heating is only available in the dining area.
Question: What kind of food can I expect on the high passes climb?
Answer: All lodges in Manaslu circuit trekking, have attached restaurants. They cook a delicious range of mostly vegetarian such as Pasta, tuna bakes, noodles, potatoes, eggs, rice, bread, soups, and vegetables.
Likewise, dinner and breakfast are provided in the same lodge you spend the night every day and Lunch will be provided on the way to the next place where you hike.
Question: What opportunities will I have for a shower along high passes trek lodge basis?
Answer: Most of the Manaslu guest houses offer warm hot showers on pay.
Question: How much does the circuit Manaslu Annapurna trek permit cost?
Answer: Around Manaslu trek is a restricted region in Nepal. So, you will need a special restricted area permit that cost USD 100 per person per week. As the place is under the controlled region in Nepal, each and every trekker go through a registered trek agency. If you have booked your high pass trek as a full board package or partial-service trekking tour, you will have no worries about permits and other legal formalities. Two trekkers are compulsory for the trek. We at Gokyo Treks Nepal trekking agency do care for everything.
Question: How cold are Manaslu and Annapurna hiking in December?
Answer: Roughly a trek around Manaslu + Annapurna during December is a quiet adventure as the temperature can get as low as -8.8 degrees C in Samdo village or in Thorong la. If you trek higher up, the temperature gets as low as -16 degrees in Larkya La and Thorong la pass which is almost white alps. So check the latest mountain weather forecast and you should pack all the necessary gears accordingly. Book an experience mountain trek guide if you want to make your winter treks a successful ascend.
Question: How do I get drinking water en route?
Answer: You can buy bottled mineral water to drink but we advise against buying mineral water in plastic bottles, as currently there are no provisions for disposing of these. Thus, we suggest you buy either safe drinking water or buy water purification AQUA tablets and purify the normal water. Normal water is available almost everywhere en route.
Question: Is tipping must for porters and guide?
Your Guide and porters are a central motivation behind why you got an opportunity to feel something not many can have. Aside from managing and conveying your necessities and being aware of your health, they need to see you joyfully succeed more than anybody like family, and help you effectively complete the trek securely. Along these lines, your tips reflect appreciation towards them. Tipping is a prescribed culture for guides and porters in Nepal as a motion of gratefulness.
Question: Would I be able to purchase Annapurna high passes trekking gears in Nepal?.
Gokyo Treks and Expedition organization will acquaint with many shops auctioning knock-off gear in Kathmandu. You can likewise trade those gears at the knock-off spots however be certain you keep the receipt securely. In addition, you can lease the required gears in Thamel at gears house if you wish to take them along with you.
Question: Can I use credit cards in trek?.
Answer: No! So, far for the trek, you need to have cash Nepali rupees to maintain your daily expenses. Credit cards work only in the bigger city areas in Nepal.
Question: When should I book my trip and what are the payment terms?
Answer: Our trips book up months in advance, we recommend booking early to avoid any kind of misunderstanding. We will, of course, make every effort to adjust last minute bookings.
And regarding the deposit, we prefer a 15% advance deposit of the total price of the trip in order to confirm your reservation before you arrive in Nepal. And the rest of the payment can be made after your arrival in Nepal.
Question: Can I charge my digital camera or other batteries on my trip?.
Answer: On lodge trek, there will be more chances to charge the battery. We recommend you bring an extra pair in case. Remember to bring your adapters!
Question: Are there any communication facilities on express high passes trek?.
Answer: Sometimes, you can get telephone services. we recommend you buy a local NTC sim card.
Question: Who will carry my luggage around the Manaslu trek?.
Answer: We provide porters to transfer your luggage. As we are a responsible trekking tour operator agency, each of our porters carry a maximum of 25 kilos of your backpack which means 2 guests (12.5 kg luggage of each guest): 1 porter basis.
Question: How much distance do I walk each day?.
Answer: When walking in the mountains, the distance you cover each day can vary greatly due to a gradient, terrain, and altitude. As such it is very hard to give specific distances on each day, however, you have to be prepared to walk roughly about 5 hours each day.
Question: Is it possible to hire a trekking guide for a popular pass trek in Nepal?.
Answer: Yes of course you can hire a professional trek guide and required porters with Gokyo treks agency. Larke pass at Manaslu Trek without a guide is not possible as the area from Jagat to Bhimthang is declared a restricted region. You cannot travel as an individual or a solo trekker; you need to be accompanied by one government-authorized license holder guide at the very least. We can also help with documentation to obtain the trekking permits if you wish. However, visit a guide and porter hire service and daily cost for your high pass trip.
Question: Do I need walking poles?
Answer: It is better to hike with outdoor walking poles. Learn how to use light trekking poles for balance and stability, whether on the sidewalk or on trails. Walking poles can help prevent slips and falls. They are just recommended but not compulsory.
Question: Is internet access accessible in the trek route?.
Yes. Beter to purchase a sky SIM CARD before your departure from Kathmandu. You can utilize 3G Internet nearly up to Sama gompa. Furthermore, most guesthouses offer Wi-Fi, for a little charge.
Question: How much additional money do I need per day?.
Answer: You can allocate US$ 08 – 10 for a lunch/dinner in Kathmandu and it depends on your spending habits. US$ 7 to 10 US$ each day will be enough to buy bottles of water, chocolates, tea coffee, and some drinks while you are on your trek.
Larkya La + Thorong la High Pass Trek in Nepal.
A colleague of mine recommended Ammar and his agency Gokyo Treks and Expedition highly for our hike in the Himalayas in October 2021.
We search his company via google and asked various questions. The agency owner Ammar Guni answered all of our questions quickly which was very important for us to prepare for our private trip over the high passes in Annapurna and Manaslu. He advised what to bring and how to prepare hiking gears to cross Larkya la and Thorong la pass without AMS (Altitude Mountain Sickness).
He asked for a trip deposit in advance to avoid any troubles while getting a Nepal visa. We have booked almost everything like a guide, a porter, all permits, and the guest houses en route. Ammar made all hiking permits and sent them via email.
We got a Nepal visa easily and quickly made all permits. We did Larkya La pass and Thorong la pass without any sickness. Our guide Lila and Bude Waiwa porter were just friendly. Reaching Muktinath temple, the weather turned bad, with no sunny clouds. So canceled Jomsom flights and went to Pokhara by Bus. All in all, everything went well and we enjoyed our trip very much.
Thank you Ammar and his team of Gokyo Treks Agency providing us with great staff, we highly recommend your agency to everyone

Manaslu Plus Annapurna Circuit trekking
Ammar Raj Guni is a perfect and very reliable agent for arranging your trekking. He has also much experience as a guide, so he always knows what he is talking about. His prices are really competitive. His calculations were transparent, our trek was some days longer than arranged, but in the end, we got no unexpected costs. He works with local people from the small villages and he treats them very socially. So during the two days, we stayed at his house, we felt very comfortable. I strongly recommend his agency if you're visiting Nepal.

Nepal Manaslu and Annapurna high pass trek highlights
Mountain Manaslu 8163m trek offers vivid villages, wild river gorges with nice waterfalls.
Manaslu has an extraordinary ethnic blend of Tibetan and Nepali people and their everyday life.
Tibetan culture of Nuri people, Diversified unspoiled Eco systems.
Fabulous views of Mt. Manaslu, Mt. Himchuli, Mt. Ganesh and others, Larkya La pass (5,153m).
Thorong la is just fabulous to see Mount Dhaulagiri, Annapurna range including several top peaks in a line.
Majestic river valley, eye-catching peaks, Holy Muktinath Temple, local people and their tradition.
Hiking aroud the Manaslu Annapurna high pass trek notice!
The information stated above is just a guide and standard template that we provide you. However, the Manaslu round trip is possible to modify at your request to accommodate your specific requirements. Local politics, landslides, cancellation of local flights, weather, transport or a multitude of other factors that are beyond our control can result in a change of itinerary during on trip.
It is, however, very incredible that the itinerary would be extensively altered. If alterations are necessary the leader will decide the best alternative option, taking into consideration the best interests of the whole group. Where a change does occur, we do everything we can to minimize its effect, but we cannot be responsible for the results of changes or delays.
"What makes Manaslu Annapurna High Pass Trek special?"
Opportunities for challenging trekking or hiking and pleasant strolls are scattered all over the planet Earth. You just need to know where to find them. We at Gokyo Treks Nepal agency trust in quality services. Your safety and satisfaction is our concern. We are a team of professional, experienced, and licensed local guides who know the destination much better than others. Moreover, we give benefits to the local communities and help to conserve natural resources which reduced costs and consumption.
From US$ 1480
2% Off
US$ 1450
| | |
| --- | --- |
| No. of people | Price Per Person |
| 1 | USD 1698 |
| 2 | USD 1450 |
| 3 | USD 1440 |
| 4 - 6 | USD 1398 |
| 7 - 9 | USD 1350 |
| 10 + | USD 1298 |
Book Now
Customize Trip
Cost & Departures
Your Trip Your Style!
ITINERARY, COST, DEPARTURES, will adjusted according to your GROUP SIZE NEED TIME
Book with Confidence
Lowest Price Guaranteed.
100% Customizable Trips
Excellent Customer Service
Hassle Free Booking.
90 % Repeated customers
Highly Recommended agency
Private/group tour options
Local Guides Company.