Nagarkot and Bhaktapur Tour
The Nagarkot and Bhaktapur Tour Summary
Best time: Before 8-9:00 AM [every day].
Difficulty Level: Easy Tours
Group-Size: 1 – 15 Tourists
Best Months: March, April, May, October, November, and December.
Activity Hours: 7-8 Hours
Transportation: Car/Hiace Van [Private Tours]
Nagarkot and Bhaktapur Tour is renowned for its breathtaking view of high mountains and cultural heritage sites. It takes you through stunning mountain vistas, charming ancient towns, and a glimpse into Nepal's cultural tapestry.
Tranquil hill station of Nagarkot is a prominent for its sweeping panoramic views of the Himalayan mountain range. On the sun rises, the snow-capped peaks come alive with a warm, golden hue. Early wake up to witness this mesmerizing sight, a truly unforgettable experience that lingers in the memory.
Aside from its awe-inspiring vistas, Nagarkot offers a range of activities for nature enthusiasts. Hiking trails wind through lush forests and terraced fields, providing an opportunity to connect with the natural beauty of the region. For adventurous soul, mountain biking and hiking are popular options, offering a unique outlook of the landscape.
Leaving Nagarkot behind, we continues to Changu Narayan Temple, situated at the hilltop. A famous UNESCO heritage site that exudes an aura of timelessness. Its detailed carvings depict mythological tales, gods, and goddesses, providing a visual narrative of Nepal's cultural and religious history.
Furthermore, Bhaktapur, an ancient city known for its well-preserved heritage and vibrant culture. Bhaktapur's Durbar Square, a UNESCO World Heritage Site, is the heart of the city and a testament to its rich history. Intricately carved temples, palaces, and courtyards showcase the exquisite Newar craftsmanship that has been passed down through generations.
Sunrise from Nagarkot and Bhaktapur day tour itinerary details
---
5:30 O'clock: Nagarkot hill sightseeing;
Wake up early morning and drive from Kathmandu to Nagarkot hill station to get sunrise over the high mountains. Journey with a private car to Nagarkot takes about 90 minutes to reach Nagarkot tower, a best spot to watch the Himalayan vista.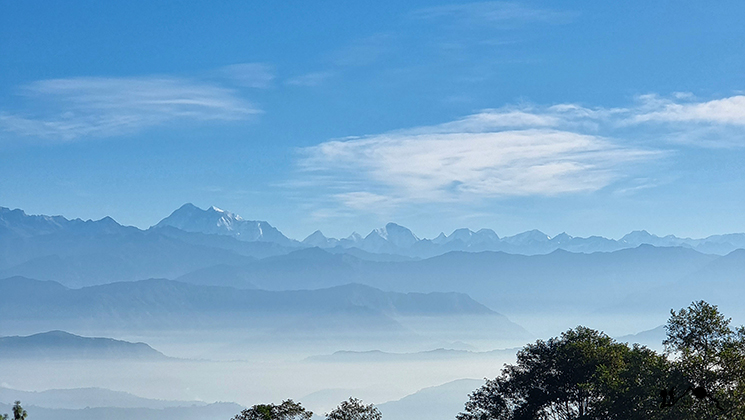 Fortunately, in Nagarkot, you can awaken to such amazing views consistently. Tourists can see see the mountain view of Annapurna, Manaslu, Ganesh Himal, Langtang, Jugal, Rolwaling, Mahalangur, and Numbur on a clear morning. 8 Himalayan mountain ranges are possible to view from the Hilltop including the Mount Everest.
When the rays of the rising sun fall on top of the mountains and make the snow sparkle, you will get to understand what the material resembles once nature begins to paint. Delicate orange shade of the sun, and the ruby defect fanning out in the blue sky, featuring the brilliant diagram of the mountain, seem to be every one of the tints of the variety range have become an integral factor.
8 O'clock: Changu Narayan hill sightseeing;
Enjoy the breakfast and begin your hike to reach Changu Narayan Temple. Visit the Lord Vishnu temple and its surroundings before heading down to Bhaktapur's downtown. At the temple premises is also popular to watch the glimpse of Bhaktapur town.
Tourist can find numerous small shops that offers range of items such as handicrafts, souvenirs, local artwork, textiles, jewelry, religious artifacts, and snacks. Provides visitors looking for souvenirs and reminder while exploring the historical and cultural significance of the entire temple area.
11 O'clock: Bhaktpur Durbar square sightseeing;
Explore the ancient Bhaktapur town of its world heritage sites. Dattatraya square, 55 window palace, Vatsala Temple, Statue of Bhupatindra Malla, Nyatapola Temple, lion's gate, Golden gate, Pashupatinath temple etc are the prime things to see.
Additionally, walk through Bhaktapur's narrow passages, visitors are transported back in time. Also have an unique architecture, adorned with wood and stone carvings, tells stories of Nepal's bygone eras. Pottery squares are alive with artisans molding clay into beautiful ceramics, a tradition that Bhaktapur has upheld for centuries.
Siddha Pokhari, a nice swimming pool situated nearby Bhaktapur cancer hospital where we can visit at the end before leaving the town.
Highlights of Nagarkot and Bhaktapur tour package;
Discover the sky touching towering mountains of Earth.
Newari town Bhaktapur, UNESCO world heritage sites.
Old Changu Narayan Temple and Bhaktapur royal palaces.
Dattatraya Square is one of the most charming squares of Bhaktapur.
Nyatapola temple 33m (108.26 feet) dominates the skyline of Bhaktapur, the tallest monument.
Ramble the Palaces to get a better understanding with a private tour guide.
Includes in the tour packages:-
Certified tour guide (English Speaking) for about 7-8 hours.
Comfortable private car transfer including a driver and fuel for 7-8 hours of sightseeing.
Nagarkot view tower entrance fee.
Changu Narayan temple entrance fee.
Bhaktapur Durbar main square (world heritage sites) entrance fee.
55 window palace entrance fee (heritage site).
Dattatreya Temple (heritage site) entrance fee.
National art gallery (NAG) entrance fee.
Golden gate and Sundari Chowk entrance fee.
Pottery Square entrance fee (heritage site).
Taumadhi Square heritage site entrance fee.
Nyatapola Temple world heritage site entrance fee.
2 bottles of Mineral water during the full day tour.
Nepal Government Tax, VAT.
Tour Certificate as a special gift from the Gokyo Treks & Expedition agency.
Gokyo Treks Company service charge.
Not includes in this package trip:-
All food and drinks on tour.
Photo as a souvenir (available to purchase).
personal expenses such as donation.
Tip for guide and driver.
Nagarkot and Bhaktapur Tour [Departure & Return] information!
A luxury car with a professional guide will reach at your hotel to pick you up approximately 5 to 10 minutes prior to departure. Pick you up from your Hotel within Ring road area of Kathmandu city and depart to Nagarkot time at 4:15 AM (depending upon the month you visit). After the tour, return to Kathmandu, total length of this day tour takes about 8 hours.
What to expect on Nagarkot and Bhaktapur City Sightseeing;
Your professional tour Guide will pick you up from your hotel and after trip, he will again drop you back at your hotel. Seeing the sights of Nagarkot, Changu Narayan and Bhaktapur is a perfect blend of natural beauty and cultural exploration.
Whether you're delighted by the majesty of the Himalayas or enchanted by the historical charm of Bhaktapur's streets, this trip promises an unforgettable experience that will leave you with lasting memories of Nepal's cultural and natural wonders.
Cancellation and Refund Policy
For a full refund, cancel at least 72 hours prior to the departure date of the tour experience. Learn more about cancellations and refund policy on a trip booking Terms and condition.
Notes for Nagarkot, Changu Narayan and Bhaktapur Durbar Square visitors:
Have in mind that travelers can reach at Nagarkot in the afternoon (drop off by a private car) and hike to the view tower with your Guide. Likewise, stay overnight in the hotel in Nagarkot hill (comfort or Luxuries) choose for yourself. On the next early morning, we walk to the hill to get sunrise over the towering peaks.
Return to hotel for a hot breakfast and continue to hike to Changu Narayan temple that takes around 4 hours. Later an hour of exploring Changu Narayan world heritage site, a private car will pick us up back to your hotel. This type of Nagarkot overnight tour such as 1 night 2 days plan is also possible with us in a extra cost.
Sunrise from Nagarkot hill and Bhaktapur tour itinerary is subject to change due to the condition of the weather. That's a sample guideline for showing tentative monuments and temples during your sightseeing. Holy temple of Changu Narayan is also possible to hike from Byasi, the Tourist bus park near Bhaktapur Royal palace.
"What makes Nagarkot, Changu Narayan and Bhaktapur tours very special?"
Exploring these destinations create an immersive journey that celebrates Nepal's rich tapestry of culture and nature. Leaving travelers with a sense of wonder and a profound appreciation for the country's heritage.
Moreover, we at Gokyo Treks believe in quality services. Therefore, we serve professional and certified local guide who know these destination better than others.
The sunrise from Nagarkot and Bhaktapur Tour Review;
Best Sunrise and amazing short hike
We arranged for a private car and a guide through Ammar Guni to explore Nagarkot Hill and Bhaktapur's sights. Ammar expertly guided us through the enchanting landscapes of Nagarkot Hill, the sacred Changu Narayan Temple, and the majestic Bhaktapur Palace.
We were fortunate to experience clear skies during sunrise at Nagarkot, which allowed us to catch glimpses of the breathtaking mountain vistas from the Nagarkot Tower. Following this awe-inspiring start to our day, we indulged in a delicious breakfast before embarking on visits to Changu Narayan Temple and the historic Bhaktapur Royal Palace, both recognized as UNESCO World Heritage Sites.
Our overall experience was nothing short of astounding. Ammar, our friendly guide, played a pivotal role in making this journey memorable. We wholeheartedly recommend his services to fellow travelers.
Response from Gokyo Treks Nepal
Dear John Marvin, We appreciate your effort in providing feedback on the Bhaktapur Durbar square and Nagarkot sightseeing tour package. We eagerly anticipate the opportunity to serve you once more in the near future. Thank you! Regards, Ammar
Nagarkot hiking Tour was great
Ammar Guni (my guide) and Manoj (driver) were great and punctual. Although it was, unfortunately, cloudy morning and during the sunrise, I could see some mountains for a few minutes. Because the clouds came very quickly over the mountains.
Likewise, it was a lovely hike down the mountain with great views. Definitely, an easy and quick hike took 1.5 hours and all downhill but it was so nice to pass through the village and see how the locals live. I felt very comfortable and safe the whole time. Thanks Gokyo treks arranging our great trip 😊

Response from Gokyo Treks Nepal
Dear Sophie Russell,
Your review has filled us with absolute pleasure! Your satisfaction is our top priority, and we are excited to learn that you had a wonderful experience with our services. Your kind words mean the world to us, and we are sincerely grateful for your understanding.
Your words of encouragement serve as a powerful motivation for us to continue delivering exceptional Himalayan adventures. We eagerly await the opportunity to serve you further outstanding trip in the near future. Your return will be a true pleasure for our team.
Thank you once again for choosing us and for sharing such positive feedback. Should you have any further questions or require any assistance, please do not hesitate to reach out to us.
Warm regards, Ammar
Best Scenic Sightseeing in Bhaktapur
We went on the Nagarkot Sunrise, Changu Narayan temple, and Bhaktapur Durbar Square excursion, and it exceeded our expectations. Our Guide Ammar showcased an impressive depth of knowledge concerning the historical and geographical aspects of the places we explored. We were fortunate enough to witness a breathtaking sunrise, revealing the awe-inspiring vistas of numerous Himalayan mountain ranges. I definitely recommend both this tour, guide Ammar and his company behind it.

Response from Gokyo Treks Nepal
Dear Ramona Scintu, Australia,
We want to express our gratitude for your valuable feedback regarding the sunrise from Nagakot Hill and Bhaktapur Royal Palace sightseeing including Changu Narayan day tour package. Your input is highly appreciated, and it helps us improve our services.
We are looking forward to the privilege of serving you again in the near future. Thank you for choosing us for your travel needs!
Warm regards, Ammar
Book a Nagarkot, Changu Narayan Hike and Bhaktapur Durbar Square Tour with us and save discounts on time.
US$ 75
| | |
| --- | --- |
| No. of people | Price Per Person |
| 1 | USD 110 |
| 2 | USD 75 |
| 3 | USD 65 |
| 4 - 6 | USD 58 |
| 7 - 9 | USD 55 |
| 10 + | USD 40 |
Book Now
Customize Trip
Cost & Departures
Your Trip Your Style!
ITINERARY, COST, DEPARTURES, will adjusted according to your GROUP SIZE NEED TIME
Book with Confidence
Local Guides Company.
18 Years in Business.
Lowest Price Guaranteed.
100% Customizable Trips
Excellent Customer Service
Hassle Free Booking.
90 % Repeated customers
Highly Recommended agency
Private/group tour options