Namobuddha Balthali Village Trek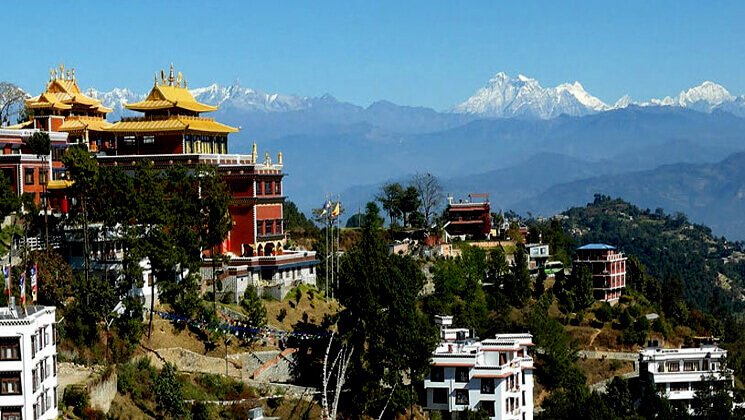 Namobuddha and Balthali Village Trek Summary
Namobuddha and Balthali Trek Period: 3 days
Hike Difficulty: Easy grade
High Altitude: 2,398 m/7,869 feet
Trekking Hour: 6 Hours
Group-Size: 1 – 16 People
Best Time: All months besides the monsoon
Trip Mode: Guest House
Foods on hike: Breakfast, Lunch, and Dinner
Overview
The Namobuddha – Balthali Village Trek in Nepal combines spirituality, stunning landscapes, and cultural immersion, making it a memorable and enriching journey for trekkers. Trek to Balthali village is an easy hiking/trekking destination located in the northeast of Kathmandu city, a most scenic uncrowded place out of Kathmandu valley. Namo Buddha hill station are very popular for the Buddhism pilgrimage tour.
Namobuddha is a revered site for Buddhists and holds great religious significance. The legend of King Mahasattva's selfless act of feeding a hungry tigress is a powerful and touching tale, making Namo Buddha a place of deep reverence and reflection.
The combination of Namobuddha – Balthali and Panauti trail weaves through picturesque villages, alongside gentle foothills, serene riverbanks, and lush green rice fields. Likewise, the panoramic views of the Himalayan mountains, such as Langtang Lirung, Manaslu, and Ganesh Himal add to the tour's allure and create a picturesque setting throughout the journey.
Balthali Village trek offers a tranquil and picturesque escape amidst the pristine beauty of the Nepalese countryside. It has an important fact that Balthali village landscape is serene and unspoiled natural beauty. Likewise, the plateau with rice terraces and potato fields, a glimpse of snowy mountains, green forests, rural hamlets, Buddhist monasteries, and as well as Hindu Temples.
Traveler's have an opportunity to visit the Indreshwor Mahadev Temple and the cremation platform of Panauti, enriching your hiking experience with spiritual and cultural dimensions. Besides the monsoon time, Namobuddha to Balthali trekking is possible at any time throughout the year..
Itinerary
Namobuddha and Balthali Village Trek itinerary details
The journey to Namo buddha, Balthali village and Panauti town is a classical trek itinerary to discover the scenic Himalayan view and as well as to visit Buddhist and Hindu Pilgrimage destinations. The particular tour plan is best for individuals, groups, couples, and families with kids who wish to walk in and around Kathmandu town. Try out this itinerary to get the best experience tours in Nepal.
1 Day
Kathmandu to Namobuddha hill (1,982m/6,503 feet), 2-3 hours. Trek to Balthali Village (2,398m/7,868 feet), 3 hours
Embarking on the journey to Namobuddha from Kathmandu involves a scenic drive through the captivating Sindhuli Bardibas highway, which treats travelers to a mesmerizing array of landscapes. The route showcases the beauty of lush rice terraces, vibrant orange farms, mustard fields, and charming villages, creating a captivating visual tapestry.
The drive covers a distance of approximately 26 miles (42 kilometers) and takes around two hours to reach the serene Namobuddha hill station. Once there, trekkers are rewarded with breathtaking panoramic views of the majestic Jugal mountain range, with prominent peaks like Dorje Lhakpa gracing the distant horizon. The hike also offers an opportunity to wander amidst the fertile rice fields and delightful orange gardens, allowing a closer connection with the natural surroundings.
Namobuddha hill holds immense historical and spiritual significance, serving as a revered Buddhist pilgrimage destination. Visitors can explore the area's rich heritage by visiting the monastery and even partaking in moments of meditation, adding a contemplative dimension to the journey. The combination of nature's splendor and the site's spiritual ambiance ensures a truly memorable and fulfilling experience for all who venture on this trek.
Later Namo Buddha sightseeing, Traveler's will have a touchy view of fertile farms and villages located on the way as we move ahead. You can walk over the part of the countryside that is at its best, with streams and rivers, forests and farmlands, hills and plateaus — all spread out before you like the pictures on a painter's canvas. Stay overnight at the resort.
2 Day
Explore the Balthali village
Balthali Village is a beautiful and peaceful destination in Nepal known for its picturesque landscapes and traditional rural life. While it's a great place to spend more time and immerse yourself in the local culture, if you only have a single day to explore, here are some places you can visit:
Balthali Viewpoint:
Start your day early by hiking up to the Balthali Viewpoint. It offers breathtaking panoramic views of the surrounding mountains and valleys. The sunrise from this point is especially stunning, providing a memorable start to your day.
Balthali Village Walk:
Take a leisurely walk through the village, where you can witness the daily life of the locals, interact with friendly villagers, and observe traditional farming practices. The village is surrounded by lush greenery, terraced fields, and beautiful landscapes.
Pada Gaun (Pada Village):
Pada Gaun is a neighboring village within walking distance from Balthali. It's worthy to visit to experience the charm of yet another traditional Nepalese village. You can enjoy the serene environment and interact with the locals.
Nature Walks and Birdwatching:
Balthali Village and its surroundings are rich in biodiversity. You can take short nature walks through the forests and fields, enjoying the tranquility and observing various species of birds and wildlife.
Local Cuisine:
Don't miss the opportunity to savor some authentic Nepalese cuisine. Many homestays and guesthouses offer traditional meals prepared with locally sourced ingredients. And remember to respect the local culture and customs during your visit.
3 Day
Balthali to Panauti Town (1,504m/4,935 feet). Return to Kathmandu.
After taking a super delicious breakfast in the resorts, we continue our journey to Khopasi village. Khopasi is another nearby village known for its unique suspension bridge, which offers a thrilling experience when crossing. You can continue your hike to explore the village and admire the engineering marvel of the bridge.
Moreover walk to Panuiti town where you can see Hindu pilgrimage sites "Indreshwor Mahadev Temple". Indreshwar Mahadev temple is located amidst a peaceful and scenic setting. It's a sacred Hindu temple dedicated to Lord Shiva and a place of religious significance for the locals.
Likewise, Panauti is a municipality in Kavrepalanchok District in Bagmati Province of Nepal located 32 kilo meters Southeast of the capital Kathmandu. The town is currently listed as a UNESCO tentative site since 1996.
Sometime, the cremation platform on the riverbank near Indreshwor Mahadev temple in Panauti might occupy with the ceremonial burning of departed-deceased bodies. This unique opportunity allows tourists to witness the Hindu cremation practices and gain a profound understanding of how these rituals are conducted after someone passes away. Take some time to soak in the spiritual ambiance and architectural beauty of the temple.
Tour the temple and heritage sites premises, we return to Kathmandu by a bus getting an amazing experience. Trip ends, and we wish you a wonderful journey further.
Not satisfied with above plan?
Interested in planning a custom trip? this might take 2 to 3 minutes.
Cost
How much does the Namobuddha and Balthali village trek package price?
Hike from Namobuddha to Balthali village trek package price US$ 198 per person is in standard trek price on double occupancy basis. We understand that the trip price may differ based on various factors such as the size of your travel group, the type of resorts you prefer, and the mode of transportation you choose. Please share your estimated travel plan with us, and we will provide you with a cost quotation that fits within your budget.
For the deluxe and luxury trekking tour plan, we add best comfortable category hotel deluxe air-conditioned room in Balthali with breakfast. AND WE ARE OPEN TO CUSTOMIZING YOUR TOUR AND PACKAGES PRICE AS PER YOUR REQUIREMENTS.
Hike at Namobuddha and Balthali Village Cost Includes:
Private car transfer from Kathmandu – Dhulikhel – Namo Buddha on a first day.
2 nights double bed room at medium range Guest house accommodation in Balthali with breakfast.
Bus transfer from Panauti to Kathmandu bus station as per the given itinerary.
Required taxi / car transfer from the bus station to your hotel in Thamel premises.
English-speaking license holder Professional trekking tour guide for Namobuddha, Balthali and Panauti tours.
Applicable monument entrance fees of Guide.
Nepal Government Tax, VAT, and as well as Company service charge.
Namobuddha and Balthali village trek package Cost excludes:-
Lunch and Dinner at tours
Bar drinks and beverages such as coke, fanta, can juice etc.
All types of personal expenses such as laundry service, phone calls during the trekking.
Personal trekking equipment and Clothing.
Personal nature expenses.
Travel Insurance to cover your personal loss, or damage.
Any donation and monument entrance fees.
A private transfer from Panauti Bazaar to Kathmandu.
Mineral water during the tour.
Gratuities for guide [Tip is a culture, so it expect highly].
Any other things which are not mentioned above
Group join
We can organize a private trip for Namobuddha to Balthali village hike including Panauti city tours starting on any date that works for you. Please contact us for more information.
FAQ
Question: What kind of accommodation can I expect on Balthali village trekking tour?
Answer: We provide tourist standard accommodation in the resorts/hotel during the trek to Balthali. They are not the most expensive and not the cheapest one, its medium category (lodge-hotel-resorts). The rooms are clean with a cozy bed with a nice mattress and blankets attached with a private toilet/bathrooms. However if you wish to stay in the more luxury hotel or resorts in Balthali then let us know.
Question: What kind of food can I expect on Balthali Village Treks?.
Answer: The lodges have attached a restaurant and bar. They cook super delicious organic foods mostly vegetarian such as Pasta, tuna bakes, noodles, potatoes, rice, eggs, bread, soups, and fresh vegetables. Likewise, you can also eat meat items if you want.
Question: How do I get drinking water on the village Trekking?.
Answer: There are some shops where you can buy mineral water or bring aqua tablets to purify normal water. The normal tap water often gets at local spots, villages, and shops.
Question: Can I use credit cards in Trekking?
Answer: Yes plese ! but better to take some cash Nepali rupees along with you to avoid payment hassle for small bills.
Question: When should I book my trip and what are the payment terms?.
Answer: Because our trips book up months in advance, we recommend ou to book early to avoid any kind of hassle later on. We will, of course, make every effort to accommodate last minutes bookings. And regarding the deposit, we prefer a 15% advance deposit of the total price of the trip in order to confirm your reservation before you arrive in Nepal. And the remaining part of the payment can be made after your arrival in Nepal.
Question: Do I need walking poles?
Answer: It is better to hike easily with walking poles. Learn how to use trekking poles for balance and stability, whether on the sidewalk or on trails. Walking poles can assist from slips and falls. They are just recommended but not obligatory.
Question: How much additional money do I need per day?
Answer: You can allocate US$ 08 – 12 for a lunch/dinner in Balthali village but of course it depends upon your spending habits. US$ 3 to 5 each day will be enough to buy bottles of water, chocolates, tea coffee, and some drinks while you are on your trek.
Namobuddha and Balthali Village Trek Highlights
Discover some of the Langtang Himalayan range from Namo Buddha and Balthali village.
Walking through cultivated rice fields, mixed forest of Rhododendron, conifers trees.
Best view of Dorje Lhakpa including some of the great mountains of the Langtang range.
Experience mixed cultures, traditions, and lifestyles.
Notes for Namobuddha and Balthali Village Trekkers!
The information stated above is just a guide and standard template that we provide you. Hikers can create their journey to Namobuddha to Balthali Village trek as a clockwise or anticlockwise its almost the similar difficulties.
However, the trip itinerary plan is possible to modify according to your request. Local politics, landslides, cancellation of local flights, weather, transport, or a multitude of other factors that are beyond our control can result in a change of itinerary during on trip.
It is, however, very unlikely that the itinerary would be substantially altered. If alterations are necessary the leader will decide the best alternative option, taking into consideration the best interests of the whole group. When a change does occur, we do everything we can to minimize its effect, but we cannot be responsible for the results of changes or delays.
"What makes the Namobuddha to Balthali Village Trek special?"
the Namobuddha – Balthali Village – Panauti tour/trekking circuit offers a combination of cultural, religious, and natural beauty along with an authentic and immersive experience. It is a special journey that allows you to explore the lesser-known gems of Nepal while connecting with its rich heritage and tranquil landscapes.
We at Gokyo Treks and Expedition believe in quality services. Your safety and satisfaction is our concern. We are a team of professional, experienced, and licensed local guides who know the destination much better than others. Moreover, we give benefits to the local communities and help to conserve natural resources which reduced costs and consumption.
Namobuddha to Balthali Trek Review
Namobuddha hill and Balthali village trek review
We have done 2 treks with Ammar and his crew. Our guide, Som, was fantastic and the porters happy and reliable. Ammar is great to deal with. We are coming again next year and will use Gokyo Treks and Expedition. Dr Robert Arthur Hilton, Melbourne, Australia.

Response from Gokyo Treks Nepal
Thank you Dr. Robert Hilton for your time to send us your feedback using our service.
From US$ 363
5% Off
US$ 198
| | |
| --- | --- |
| No. of people | Price Per Person |
| 1 | USD 345 |
| 2 | USD 198 |
| 3 | USD 180 |
| 4 - 6 | USD 150 |
| 7 - 9 | USD 125 |
| 10 + | USD 98 |
Book Now
Customize Trip
Cost & Departures
Your Trip Your Style!
ITINERARY, COST, DEPARTURES, will adjusted according to your GROUP SIZE NEED TIME
Book with Confidence
Local Guides Company.
18 Years in Business.
Lowest Price Guaranteed.
100% Customizable Trips
Excellent Customer Service
Hassle Free Booking.
90 % Repeated customers
Highly Recommended agency
Private/group tour options