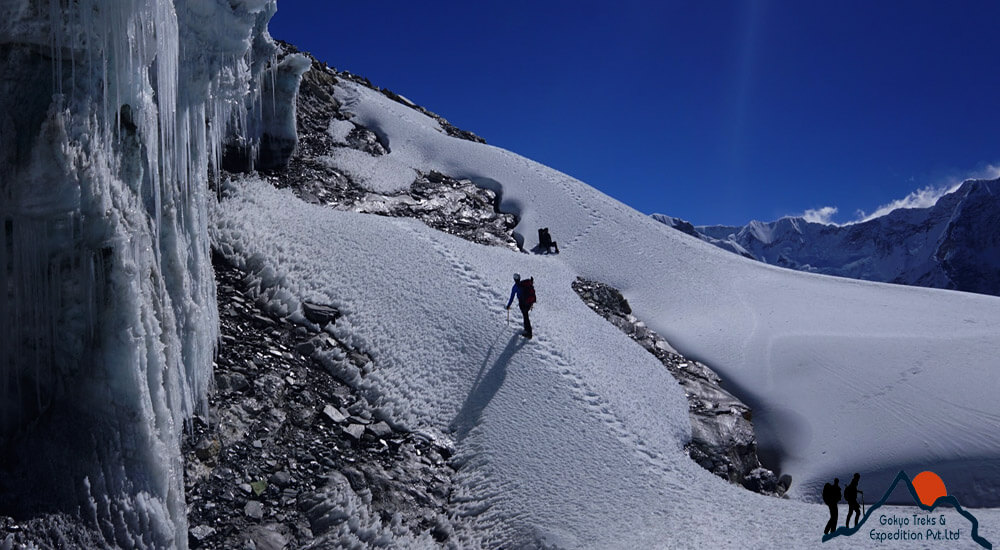 Trip Summary
Ramdung Peak Climb Periods: 18 Days
Ramdung Peak Difficulty: Moderate adventure
Ramdung Peak High Altitude: ‎5,925m /19,440 feet
Trek hours: 6 Hours daily
Group-Size: 2 – 8 People
Best Time: April, May, October, November and December
Trip Mode: Lodge + Tent Camp
Meals on Trek: Breakfast, Lunch, Dinner
Transport: Car/Plane/bus
Overview
The Ramdung peak climbing is one of the top common trekking peaks in the Rolwaling region. Many climbers speak peak Ramdung is a Ramdung-Go, located in 5925 meters. The peak was first explored by Bill Murray in 1952 via rolowaling range.
The Ramdung peak climbing itinerary covers the highlights of the Rolowalling range with Everest massif. The special climbing itinerary goes with the secret geological landscapes, villages, and glaciers. Climb to Ramdung Go enchants you with a magnificent view of the epic mountains including Everest. Remote off the beaten treks and the climbing route takes you to the beautiful glacial Lake of Tso Rolpa.
Expedition Ramdung is equally popular as a Ramdung Go peak climbing situated with Yalung La in 17,421 feet. It is opened for climbing under the National mountaineering association in 1975. NMA declares to climb Ramdung peak in a group B category mountains. The Ramdung summit offers a gorgeous view of Tashi Leptsa and ultimately Tso Rolpo lake (4525m) etc.
In addition, the Scottish Himalayan expedition team climbed those three peaks located near the pass. They are Yalung Ri (5,630m/18,471 feet), Chhugyima Go (6,259m/20,534 feet) and Ramdung Go (5,925m/19,434 feet) in 1952.
According to our past climbers, we have design the Ramdung peak climbing itinerary to allow you gradually step ascending and proper adaptation. The best season to climb is either April to the end of May or early September to early November months. If the schedule is not suitable for you, we design another itinerary as per your request and the duration of the climbing vacation.
How much is the Ramdung peak Climb Package Cost/Price?
The cost of the Ramdung peak climbing package with a Gokyo Treks Agency (local climbing operator agency in Nepal) ranges between US$ 6598 to US$ 7600. Of course, the Ramdung peak climbing cost will vary according to the group size you are traveling with. For example, if you could bring 10+ travelers (except you) to your trip, you are treated as a group leader. So you can climb Ramdung peak free of cost.
It is the standard climbing package price for 18 days climb. If you are 2 people and want to climb a mountain?, it costs US$ 6799 for 18 days for summit climbing according to the given trekking plus climbing plan. We can modify the climbing itinerary and the prices according to your wish. Here is the price list for the Ramdung peak climb.
Price Per Person for 18 days for Ramdung peak climb.
| Number of Tourist | Price Per Person |
| --- | --- |
| 1 Person | US$ 7600 |
| 2 Person | US$ 6799 |
| 3 Person | US$ 6750 |
| 4 to 6 person | US$ 6698 |
| 7 to 9 Person | US$ 6625 |
| 10 and more than 10 Person | US$ 6598 |
If you're wondering to know about what is included and what is excluded on this trip price, kindly check on cost given on a tab button.
Itinerary
The Ramdung peak climbing itinerary details.
Our Ramdung Go peak climbing 20 days itinerary is a sample plan. Climbing travelers, who wish to go up to the Ramdung Go summit with taking a normal plan or want to have a private customized plan? email us your thoughts.
01 Day
Arrival at Kathmandu valley. The cultural heritage site of Kathmandu city Tour, 6/7 hours.
Upon arrival in Kathmandu, Tribhuwan International Airport, we will receive you with a private vehicle and move to hotel in Thamel Kathmandu. Visit the prime cultural heritage sites in Kathmandu valley with a professional Tourist Guide. It's a private tour with a Local Guide. The tour includes the Pashupatinath temple, Bouddhanath Stupa, Swayambhunath, and a historical Kathmandu Durbar Square. In the evening, pre-trip conversation with our fellow trekking staff for your adventure trip.
02 Day
Adventure overland drive to Gongar Khola (1,350m/4,429 feet) via Jiri Charikot, 9 hours
After breakfast, we have almost a long day adventures overland drive about 9 hours to reach at Gongar River. During the drive, Tourists can see the wonderful views of surrounding natural wonders including the daily activities of locals for their survival.
03 Day
Simigaun trekking (2,000m/6,562 feet), 5 hours
Gongor Khola is a gateway to exploring Ramdung go expedition. From here, the trail enters into the dense forest with several ups and downs. We hike along the Gongar river bank and head for the crossing of a suspension bridge before climbing a steep uphill. The trail escort further to Sherpa village in Simigaun.
04 Day
Dovan hikes (2,850m/9,351 feet) 6 hours
Today we hike passing through Sherpa local communities. We will have glimpses of Gaurishankar Himal just above the Rolwaling valley. We continue to follow the tranquil trail that goes through the charming rainforest and then make a steep ascent over the rocky ridge. From the top, we will make a gradual descent to reach all the way to Rolwaling Khola and continue hikes until Dovan.
05 Day
Beding Trekking (3,690m/12,107 feet), 5 hours
The trail that goes along the edge of Rolwaling Khola through thick rhododendron and pine-filled forest with a beautiful view of Gaurishankar. We head towards the crossing of a suspension bridge before ascending up to an area of Bedding village.
06 Day
Na Village trekking (4,180m/13,715 feet),4 hours
Today is a rather easy and short trekking day amongst others. Some hours of hikes, the valley becomes wide, and flat as we approach towards Na village. Na is a tiny village with scattered guest houses, despite that they have good camping grounds for adventure-seeking trekkers.
07 Day
Rest for acclimatization
Rest at Na Village for acclimatization or hikes to to the village. Today, we take a rest day at Na Village for either acclimatization or exploration around Na village. Nature lovers, can hike for some hours longer above the village to catch the best sceneary. We do climb to the end of Tsho Rolpa lake for the splendid views of Kang Nachago above Na, takes 4 hours for a round trip hiking.
08 Day
Na to Yalung Glacier trekking (4,750m/15,585 feet), 6 hours
We have gradual ascent over the rocky glaciated trail. Continue to trek using crampons to walk over the slippery and icy sections of the trekking journey. Some hours of hiking, we reach at a good campsite near Yalung Glacier where we set up campsite.
09 Day
Ramdung Base Camp trek (5,150m/16,897 feet), 5 hours
We climb gradually over to Yalung Danda and from there a steep ascent along the rocky glacier will lead us to Ramdung base camp. While on hikes, the Tourist can achieve a super view of mount Gaurishankar, Melungste, Yalung, and several snowy peaks across the border to Tibet. Thus, we set up Tent camping at Ramdung base camp and check gears, health condition, oxygen level…etc.
10 Day
Ramdung Peak Summit (5,925m/19,440 feet). And return to Yalung Glacier, 9 hours
Early in the morning, we start Ramdung Peak climbing with the aim to achieve the summit before 12 O'clock. After midday, there are obstacles of strong windy which makes the trail adventure. Moreover, following the footsteps and guidance of our experienced climbing experts, we overcome minor technical sections towards the Ramdung summit. Once at the top, we are rewarded with stunning views of the tallest Everest, Gaurishankar, Melungste, Yalang peaks. After the summit, climb descend downhill to Yalung Glacier to stay overnight.
11 Day
Yalung Glacier to Na Village treks, 5 hours
Today, after a successful Ramdung expedition, we retrace our footsteps gradually descending over the icy and slippery trail, using crampons. We descend all the way to Na to stay overnight.
12 Day
Kabuk at Tsho Rolpa Lake trek (4,560m/14,961 feet) 5 hours
We will make a decent go up to a bridge over the Tsho Rolpa outflow. Continue to follow the main trail that ascends an ablation valley to the south. Along the trail, we pass a couple of tea shops at Chhukyima of Na Village. We trek towards the end of the valley and climb a steep uphill for a magnificent view of the Tsho Rolpa lake and surrounding peaks. A gradual descent from there will lead us to Kabuk to stay overnight.
13 Day
Drolambu Glacier Trek (4,880m/16,011 feet), 6 hours
We start early today to cross the glacier which is best before the sun gets stronger. We cross the plateau to the further eastern corner above the glacier before descending a loose earth trail towards the southern boundary of Trakarding Glacier. Furthermore, the trail climbs up to reach the northern side of the glacier to leads continue to the snout of Drolambu Glacier.
14 Day
Hikes at Tashi Lapcha Camp & Cross Tashi Lapcha Pass (5,755m/18,882 feet), 6 hours
We make an early start for the crossing of the challenging Tashi Lapcha Pass. Following the trail that goes over the glacier. The pass is a rocky ridge often snow-covered and icy. We will have magnificent views of encircling peaks from pass top. We will make a gradual descent to reach the Tashi Lapcha Camp.
15 Day
Thyangbo Kharka hikes (4,320m/14, 174 feet), 6 hours
Today, the trail that descends down the rocky slopes to the campsite of Ngole. We continue downhill journey all the way achieve Thyangbo Kharka. Thyanga Kharka has a few tea houses and offers good camping sites to adventure trekkers.
16 Day
Namche Bazaar Trekking (3,450m/11,319 feet), 6 hours
From Thyangbo Kharka, we follow an easy two-hour trail towards Thame valley. From Thame, we walk the classical trail along Bhote-Khosi River. Passing through several villages and tiny teahouses, we reach at Namche Bazaar in a midday.
17 Day
Hikes to Tenjing Hillary airport at Lukla Bazaar (2,860m/9,381 feet), 6 hours
Today, we go all the way downhill walking through the several villages to Lukla airport. We travel through the epic trail that connects to Mount everest foothills. Lukla Bazaar is a gateway to exploring mount everest and more tallest Mountains in Earth in a row. Our guide will go to the airlines counter to reconfirm the return flight to kathamndu for next morning.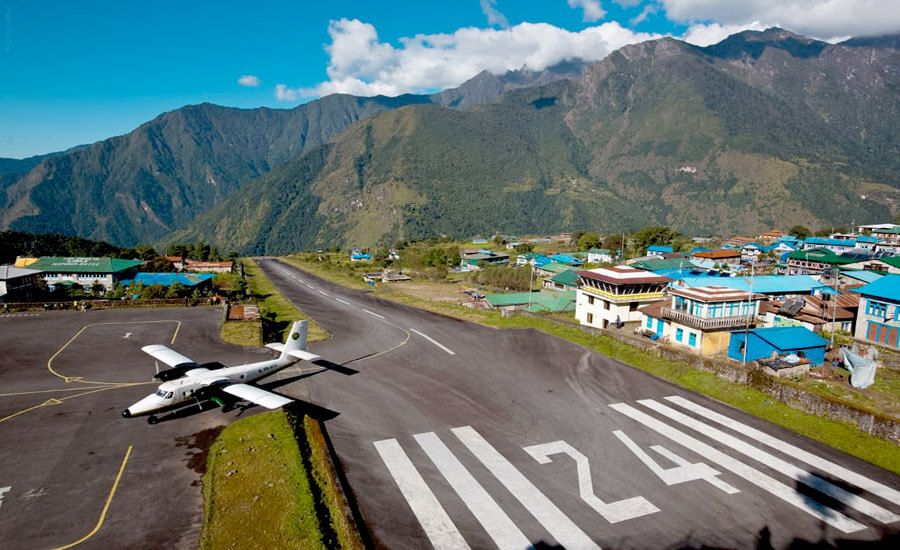 18 Day
Scenic Mountain flight from Lukla to kathmandu tribhuvan international airport.
We board our early flight from Lukla to Kathmandu terminal. Upon arrival at kathmandu tribhuvan international airport, we arrange a return transfer to your hotel. In the afternoon, go for shopping or request us to discover Kathmandu as a guided trip on additional cost. Trip ends, and we wish you for your wonderful trip back to home next mornin.
Not satisfied with above plan?
Are you interested on planning custom trip? this might take 2 to 3 minute.
Cost
How much does Ramdung peak climbing cost?
The Ramdung peak climbing cost US$ 6799 is a standard trek price on a double occupancy per person basis. For the deluxe and luxury trekking and climbing plan, we add 3 to 5-stars category hotel deluxe air-conditioned room in Kathmandu with breakfast. Likewise, standard lodge accommodation with the attached bathroom/toilet while trekking on possible places. AND WE ARE OPEN TO CUSTOMIZE YOUR TOUR AND PACKAGES PRICE AS PER YOUR REQUIREMENTS. International tour leaders are highly encouraged to get discounts and attractive complimentary.
Ramdung peak climbing package Price includes:-
Kathmandu international airport picks up on your arrival with a private car/van.
2 nights Twin sharing Tourist standard hotel accommodation in Kathmandu with breakfast plan.
Kathmandu City Tour Guide service with a private car transfer for day 02 (No foods).
NMA Registered Professional Mountain Climbing Guide [salary, equipment charge, Bonus, transport, and Insurance] for Ramdung peak climbing.
Domestic flight tickets Lukla to Kathmandu with applicable domestic airport departure taxes.
18 Breakfast, 17 Lunch, 17 Dinner during the trekking and climbing days
Lodge accommodation + Tent camping accommodation during the trekking and climbing days
Adventure overland Bus drive from Kathmandu to Gongar Khola on day 2.
Government license holder – Professional Trekking Guide for complete trip
Kathmandu City Tour guide with private car/taxi transfer.
Required number of porters during the trek.(one porter = one guest basis) because our porter can carry maximum 25 kg of your bag pack.
Ramdung peak climbing permits fees, Sagarmatha National Park entrance permit, and Pasang lamu municipality entrance permit fees.
Tent accommodation with unlimited trek-climbing foods while on your Ramdung Himalayan journey.
First aid medical kit, Oxymeter to check heart rate, pulse, and oxygen saturation at higher altitude.
Group climbing equipment including harness, ropes, … etc.
In a worst case, help with all Helicopter Rescue and evacuation arrangements.
Well paid salary, food, accommodation and insurances of Nepalese staffs.
Nepal Government Tax, VAT and as well as Company service charge.
Ramdung peak climbing package price excludes:-
Nepal entry visa fee US$ 40.
Lunch and Dinner during the staying in Kathmandu city.
Any kinds of battery charges, laundry service, phone calls and hot shower during the trekking.
Trekking and climbing equipment (personal) and Clothing.
Personal nature expenses, any types of drinks on trekking 9except climbing days) and bar bills.
Travel Insurance which covers emergency rescue, evacuation, personal loss or damage.
Any donation and monuments entrance fees.
Tips for the crew (Note: TIPS is not compulsory but highly expected)
Any other things which are not mentioned above
Group join
We can organize private Ramdung peak climbing starting at any date that works for you. Please contact us for more information.
FAQ
Question: Is pick up service available on my arrival day in Kathmandu?.
Answer: Yes sure. Provide us with your flight details and request for pickup. Our representative will come to pick up you at Kathmandu international airport.
Question: Do I need experience for Ramdung peak climbing?.
Answer: Peak Ramdung is located on the wilderness hiking route on the lap of Rolowalling mountains. A climbing trip is best suited for professional hikers who can walk roughly 5 hours with a lightweight daypack. Yes, it requires basic mountaineering skills.
Question: What kind of accommodation can I expect to climb Ramdung go peak?.
Answer: We provide you tourist standard accommodation in Kathmandu. And twin sharing accommodation en route. We serve guest house accommodation in possible places and tent camp accommodation in other places. The rooms during the hikes are clean beds with a nice mattress with a blanket. However, we recommend you take your own sleeping bags if you have one with you. Otherwise, you may rent climbing gears while you are in Kathmandu gears renal store.
Question: What kind of food can I expect in Ramdung peak climbing?.
Answer: Our professional cook cooks a delicious range of mostly vegetarian such as Pasta, tuna bakes, noodles, potatoes, eggs, rice, bread, and soups. Moreover, the dinner and breakfast are provided in the same guest house you spend the night every day and Lunch will be provided on the way to the next place where you are going. However, for climbing days our professional cook will prepare climbing food served with hot drinks such as tea/coffee.
Question: What opportunities will I have for a shower along with climbing and trekking?.
Answer: As you are staying at guest houses, they have a shower on pay. Likewise, as you are staying overnights in a camping outdoor, we serve you hot water in a bucket, so you take a bucket shower.
Question: How do I get drinking water on Ramdung peak climbing?.
Answer: We recommend you bring aqua tablets to purify the normal water as the normal water is available at the campsite or at streams along the journey.
Question: Can I charge my camera or other batteries on my trip?.
Answer: We have very few chances to recharge the battery while ongoing. We advise you to bring solar panels if possible and an additional pair of batteries for an emergency. Remember to bring your own adapters.
Question: Are there any communication facilities on Climbing Ramdung peak?.
Answer: Yes ! only some places.
Question: Can I use credit cards in Trekking?.
Answer: No. You need to have cash Nepali rupees because credit cards work only in the bigger cities or in luxury hotels.
Question: When should I book my trip and what are the payments terms?.
Answer: Our climbing tours book up months in advance, we recommend booking early to avoid any kind of misunderstanding. We will, of course, make every effort to accommodate last-minute bookings.
And concerning the down payment, we prefer 20% advance deposit (not refundable) of the total price of the trip in order to confirm your reservation before you arrive in Nepal. And the rest of the payment can be made after your arrival in Kathmandu.
Question: Who will carry my luggage on express Ramdung go peak climbing?.
Answer: We provide porters to transfer your luggage. As we are a responsible trekking tour operator agency, every porter carry a maximum of 24 kilos of your backpack which means 2 guests (12.5 kg luggage of each guest): 1 porter basis.
Question: How much distance do I walk each day?.
Answer: At Ramdung hiking in the mountains, the distance you cover each day can vary greatly due to a gradient, terrain, and altitude. As such it is very hard to give specific distances on each day, however, you have to be prepared to walk roughly about 5 hours each day.
Question: Where can I organize my personal climbing gears?.
Answer: If you have those climbing gears at your home bring them along with you. If you don't have them, you can rent them either in Kathmandu or at Name Bazaar.
Question: How much additional money do I need per day?.
Answer: You can allocate US$ 08 – 10 for a lunch/dinner in Kathmandu and it depends on your spending habits. US$ 7 to 10 US$ each day will be enough to buy bottles of water, chocolates, tea coffee, and some drinks while you are on your trek.
coming latest review
Ramdung peak climbing highlights
The best view of Ramdung, Yalung la, Tashi leptsa pass, Everest, Lhotse, Nuptse, Thamserku ..etc
Ramdung Go peak summit offers the best scenery of all Rolowaling Range and khumbu mountains and miraculous landscapes.
Sherpa Buddhism, ancient Buddhist monastery, Local sherpa people and their life styles.
Ramdung peak climbing Note:
The information stated above is just a guide and standard template that we provide you. However, the trip can be customized at your request to accommodate your specific conditions. Local politics, landslides, local flight cancellation, weather, transport, or a multitude of other factors that are out of our control can result in a change of schedule during on trip.
It is, however, very unlikely that the itinerary would be substantially modified. If modifications are necessary the leader will determine the best alternative option, taking into attention the best interests of the whole group. Where a change does occur, we do the entirety we can to minimize its effect, but we cannot be accountable for the outcome of changes or delays.
"What makes Ramdung Go peak climbing special?"
Possibility for adventure peak climbing is scattered all over this planet. You just need to know where to find them. We at Gokyo Treks and Expedition believe in quality services. Your safety and pleasure are our concern. We are a team of professional, experienced, well-trained, and licensed local guides who know the objective much better than others. Not only this but also we give benefits to the local communities and help to conserve natural resources which reduced costs and consumption.
From US$ 7157
5% Off
US$ 6799
| | |
| --- | --- |
| No. of people | Price Per Person |
| 1 | USD 7600 |
| 2 | USD 6799 |
| 3 | USD 6750 |
| 4 - 6 | USD 6698 |
| 7 - 9 | USD 6625 |
| 10 + | USD 6598 |
Book Now
Customize Trip
Cost & Departures
Your Trip Your Style!
ITINERARY, COST, DEPARTURES, will adjusted according to your GROUP SIZE NEED TIME
Book with Confidence
Lowest Price Guaranteed.
100% Customizable Trips
Excellent Customer Service
Hassle Free Booking.
90 % Repeated customers
Highly Recommended agency
Private/group tour options
Local Guides Company.