Annapurna and Mardi Himal Base Camp Trek
Annapurna and Mardi base camp Trek Summary
Base Camp Excursion Duration: 11 Days
ABC plus Mardi Trek Dificulty: Easy to Moderate
Base Camp Altitude: 4,500m / 14,765 feet
Trekking Hour: 6 Hours
Group-Size: 1 – 15 People
Best time to go: March, April, May, October, November and December.
Trip Mode: Guest House
Meals on Trek: Breakfast, Lunch, Dinner
Transportation: Car/Bus
Overview
Annapurna and Mardi Himal base camp trek is the most popular trekking destination in the Annapurna region of Nepal. While it is possible to combine the two treks, it would be a challenging and strenuous trek that would require a good level of fitness and experience in high-altitude trekking.
The combined trek would typically start in Birethanti and follow Modi river valley to Annapurna basecamp trail, before heading towards Mardi Himal Base Camp. The trek would take under 2 weeks depending on the route and pace of the trek however it takes you through a fascinating traditional Gurung ethnic group.
Travelers can hike the village, and interact with the locals to know about their typical lifestyles and warm hospitality staying at their homes. Chomrong and Badal Danda marked as the popular hill station for a remarkable view of Annapurna South (7,219m), Hiunchuli (6,441m), Fishtail (6,993m), Annapurna III (7,555m), and some snowy peaks of the Annapurna range.
Trail to Mardi Himal base camp is a relatively new that offers stunning views of the Himalayas and is perfect for those seeking a quieter and more off-the-beaten-path trek. Both of them are located in the lap of the Annapurna Himalayan range and moderate-grade nature trail.
Rocky Mountains landscape and hills where imagination defines the natural beauty as an experience that can not forget. While the combined trek offers an incredible and unique experience, it is recommended that you undertake this trek with an experienced guide or join a guided group tour for safety and comfort. The amazing Annapurna trek is possible to visit at any time throughout the year.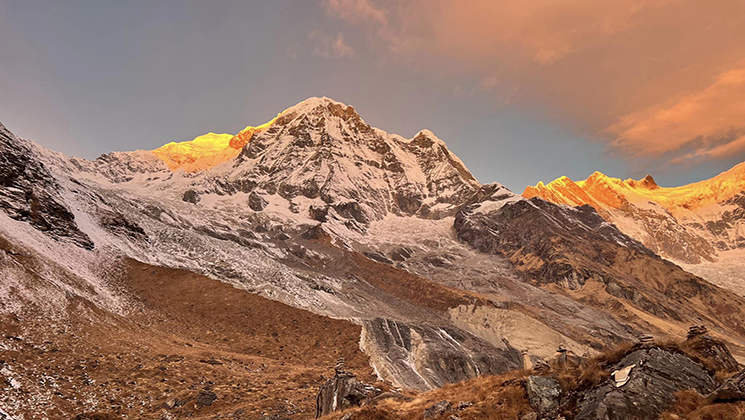 How much does Annapurna base camp combine the Mardi Himal trek Package Cost?
The cost of both treks depends upon the group size you are traveling together and the means of transport you choose. The Base Camp Trek Package cost with a local tour agency "Gokyo Treks Nepal" ranges between US$ 690 to US$ 950. Basically, the package cost includes transportation, a guide, porters, hotels and food accommodation and hiking permits, facilities.
Generally, taking flights to and from Pokhara saves your time, and riding the bus reduces trip expenses. In addition, we have also discount deals for group leaders. For example, if you could bring 10+ travelers (except you) on your trip, you are treated as a group leader. So you can hike both treks free of cost.
Besides that, 12 days base camp trek cost for Nepali is slightly cheaper than for foreigners because of base camp trekking permits. Taking flights to and from Pokhara saves your time and riding the bus reduces the trip expenses.
It is a standard trip package price for 12 days trekking. If you are 2 people ABC plus Mardi Himal base camp trek cost US$ 875 for 12 days trek plan. We can modify the hiking route and price as per your wish. Here is the price list for the ABC treks.
Price Per Person for 12 days for Annapurna and Mardi Himal base camp treks
| Number of Tourist | Price Per Person |
| --- | --- |
| 1 Person | US$ 950 |
| 2 Person | US$ 875 |
| 3 Person | US$ 875 |
| 4 to 6 person | US$ 775 |
| 7 to 9 Person | US$ 725 |
| 10 and more than 10 Person | US$ 690 |
If you're wondering to know about what is included and what is excluded from this trip price, kindly check on the cost given on a tab button.
Itinerary
Annapurna and Mardi Himal base camp trek itinerary 12 days
Hike to Annapurna base camp with Mardi Himal itinerary is compared to most walks in this region leading up to the base camp and Mardi Peak high camp. The particular route is designed for world travelers who wish to hike to the base camp but are walking with limited time wise than taking a special travel plan on Annapurna Sanctuary Trek – 10 Days which would be a more appropriate choice. For travelers who wish to reach the base camp in a more relaxed manner than take a look at this itinerary.
Day 1
Arrival in Kathmandu valley.
Upon arrival at Tribhuvan International Airport, Kathmandu, we will receive you in a private vehicle and transfer you to a hotel in Kathmandu. Our representative summarizes you about ABC combined with Mardi Himal hikes in the evening.
Day 2
Drive to Nayapool Bazaar across Pokhara city. Trek to Birethanti (1,025m), 8 hours
In the morning, our trekking team will collect you from your hotel and transfer you to the Gongabhu bus station. En route, you'll travel alongside the picturesque Trisuli and Marsyangdi rivers, renowned for thrilling rafting experiences.
Pokhara stands out for its breathtaking Himalayan vistas, including Annapurna, Machapuchare, Dhaulagiri, Lamjung Himal, and Manaslu. This astonishing city also boasts serene lakes, captivating caves, revered Buddhist stupas, and ancient Hindu temples.
Upon arrival, a brief 30-minute hike will lead you to Birethanti village, a bustling settlement with numerous shops and cozy guesthouses.
Day 3
Birethanti to Chomrong village trek (2,170m/7,120 feet), 7 hours.
In the initial segment, particularly from Birethanti to Kyumi, we opt for a local bus due to the trail's bustling and dusty road conditions, making trekking less favorable. Kyumi Hill is primarily inhabited by Gurung communities with a few Brahmin settlements. Along this stretch, the trail winds through terraced fields, fertile lands, and scattered settlements.
Continuing onward, we pass by Komrong Khola and eventually arrive at Chhomrong, a charming Gurung village. On clear days, this spot offers splendid views of majestic mountains, including Annapurna South (7,229 m.), Hiunchuli (6,441 m.), Annapurna III (7,755m), Glacier Dome (7,200m), and the iconic Fishtail (6,997 m.), among others.
Day 4
Chhomrong to Himalaya Hotel (2,920m/9,580 feet), 7 hours
Chomrong village serves as a starting point for exploring the base camp, showcasing breathtaking mountain vistas, rich cultural encounters, and varied landscapes. Trekking involves navigating stone steps leading down to the Chomrong River, crossing it, and proceeding to Sinuwa village, home to a few lodges.
The trail then winds through dense forests towards bamboo guesthouses, offering six lodging options with shared facilities. Along the way, keep an eye out for wildlife sightings, such as wild boars, monkeys, rhesus Monkeys, and diverse bird species, including the colorful Danphe pheasant.
Day 5
Machapuchhare Base Camp Treks (3,700m/12,139 feet), 5 hours.
We begin by ascending to Deurali's viewpoint and continue towards MBC. Depending on the prevailing weather conditions, there are two distinct trails to choose from, each recommended for specific months. Exercise caution, as these areas are prone to avalanches, necessitating careful navigation throughout the trek.
Before enter on the journey to Fishtail Base Camp, it's crucial to gather detailed guidance from your experienced trekking guide at Gokyo Treks agency. The hike up to Bagar poses a potential risk of snow avalanches, marking it as a hazardous zone. However, beyond Bagar, the trail leading to Fishtail Base Camp offers a safer and pleasant route.
Day 6
Annapurna Base Camp trekking (4,130m/13,550 feet) & descend down to Dovan
Today's journey entails an uphill hike to the base camp, situated at an altitude of 13,550 feet. Hike to ABC route follows the left tributary of the Modi Khola, offering mesmerizing views of the sunrise from ABC's viewpoint.
At this vantage point, Annapurna 1st, Annapurna South, Barah Shikhar, Tent Peak, Machapuchhare, Hiunchuli, and several other snow-capped peaks and glaciers come into breathtaking view. After breakfast at ABC, we descend to Machapuchhare Base Camp. Here, we regroup with the crew and transport equipment down to Dovan, passing through quaint settlements and verdant valleys along the way.
Day 7
Trek to Jhinu Hot spring (1,500m/4,921 feet), 6 hours
From Sinuwa village to Jhinu Danda winds its way through bamboo and Rhododendron forests, offering splendid mountain vistas. It's important to note that the stretch from Dovan to Bamboo is particularly susceptible to avalanches.
It includes descents and ascents, navigating stone steps leading to Chhomrung village before descending to Jhinu Danda, where the Modi River banks offer a delightful natural hot spring. Spend the night at Jhinu Danda, enjoying this relaxing natural feature.
Day 8
Jhinu Danda to Landruk village and ascend to forest camp (2,20m/ 8,268 feet), 7 hours
Descend towards Kimrung Khola and cross over to traverse rice terraces, gradually transitioning to a flatter terrain leading to Himal Pani, where a refreshing cold waterfall awaits. Take a break here to relish the charm of these captivating waterfalls.
Continuing onward, the trail ascends gently, crossing several streams and terraces. Further ahead lies Landruk (1,640m), a sizable village inhabited by a diverse community comprising Gurungs, Magars, and Brahmins. After lunch, the path inclines towards the forest camp.
Our ascent from Landruk to the forest camp proves challenging, featuring a steep and rugged trail adorned with numerous stone steps that wind through varied oak forests. Accommodations along the Mardi Himal trek route are community-based lodges constructed by the local Gurung society.
Day 9
Forest Camp to High Camp (3,540m/11,614 feet), 6 hours walk
We'll venture further into the forest, where the landscape transitions, presenting an abundance of rhododendron trees. Initially steep path peaceful gradually eases into a more moderate ascent, granting sporadic glimpses of snowy Himalayan peaks. The breathtaking view of Machhapuchhre peak from Low Camp is truly remarkable.
Continuing our pleasant journey, we're greeted with stunning vistas of the nearby Himalayas unfolding before us. As we ascend, the terrain becomes more open and expansive without the dense forest cover. Traversing through high-altitude grasslands dotted with occasional rhododendron trees, keep an eye out for the delightful Himalayan Monal, also known as the Pheasant Danphe in Nepali. This colorful Himalayan bird proudly stands as Nepal's national bird. Finally, we'll reach High Camp to spend the night amidst this panoramic setting.
Day 10
Hike to Mardi Himal Base Camp (4,250m/14,765 feet), 7 hours
Rise early to witness the stunning sunrise casting its glow upon the Annapurna Vista. Take in the breathtaking morning hues illuminating the Annapurna Mountain range. After a brief rest, prepare for a hike towards the upper viewpoint of Mardi Himal Base Camp, offering captivating vistas of nearby Himalayan peaks. The trail to the View Point is well-defined, cutting through grasslands and featuring occasional steep sections.
Overall, this hike is moderately challenging, striking a balance between comfort and exertion. During the summer, the area comes alive with yaks, sheep, and the presence of yak herder's huts. Be cautious on some narrow and steep trails, requiring careful navigation and attention.
Day 11
Return to the Badal Danda (3,035m/9,958 feet) & to Siding Village trekking (1,700m/5,578 feet), 6 hours
We set off towards the Mardi River, trekking through lush and vibrant rhododendron forests. Distinct from the traditional 'teahouse trek,' delves into the lesser-trodden path of the valley, weaving through charming small villages.
Continuing onwards to Badal Danda, we veer away from the previous trail, immersing ourselves in the forest and making our way towards Madi Khola. As we descend further, we arrive at Siding Village, a serene Nepali countryside where we'll spend the night at a guest house camp. Today's our nature trail takes us through terraced fields, past farms, and across a unique bridge, offering diverse glimpses of the local landscape.
Day 12
Siding to Lwang village Trekking (1,460m/4,790 feet), 4 hours. Drive to Pokhara Fewa lakeside, 2 hours.
After breakfast, pack your gear and proceed with the hike to Lumre and Lwang villages. Today's trek at Lwang village is gradual up with some flat areas passing Kalimati and Keshbang, we reach the Ghalel village, a small traditional village that has some small restaurants and the facility of Home Stay for tourists along the trail. Lwang is a traditional old Gurung village with a tea garden, the ACAP office, and the facility of guest houses.
Later a short stop for sightseeing, we take a local jeep transfer to Pokhara [sharing basis]. On your way back to Pokhara, you will cross a milky river which is known as the Seti River in Nepali. Taking a private car/taxi transfer to reach your hotel on Fewa lakeside of Pokhara city. If time permits, you can visit some of the most beautiful landmarks of Pokhara city or go shopping where you can enjoy it in the later afternoon moment.
Reaching Pokhara, explore Pokhara city with your private tour guide [Extra cost]. Fewa Lake, Devi's Fall, Tibetan refugee settlement, and Gupteshwor Cave are worthy places to visit. Besides that, you can visit Fewa Lake and boat ride to Tal Barahi temple situated on an island. In the evening either walk to explore lakeside markets or an optional visit to Pokhara Disco/nightlife in Pokhara. Go for the best Bars, Pubs & Nightclubs if you wish to discover the town. Trip Finish.
But the other entire hiking crew will drive back through the scenic countryside to Kathmandu city. The Night tourist coach will take about seven hours back to Kathmandu.
Not satisfied with above travel Itinerary?
Are you interested on planning custom trip? It takes only 2 to 3 minutes.
Cost
Annapurna and Mardi Himal base camp trek package price
This Classic Annapurna and Mardi Himal base camp Trek spans 12 days, starting at a price of 690 per person on a double occupancy basis, with the potential to reach up to 950. Gokyo Treks and Expedition agency has released the updated Base Camp Trek Cost for 2024 and 2025, tailored according to group size you are traveling with. Taking flights to and from Pokhara saves your time and riding the bus reduces the trip expenses.
For the deluxe and luxury trekking tour plan, we add Kathmandu – Pokhara – Kathmandu round trip airfare, 4-5 star hotel deluxe air-conditioned room in Kathmandu & Pokhara with breakfast. Likewise, clean room with attached toilet/bathroom in the possible places en route. AND WE ARE OPEN TO CUSTOMIZING YOUR TOUR AND PACKAGE PRICE AS PER YOUR REQUIREMENTS.
Annapurna base camp and Mardi Himal base camp trekking price includes;-
Kathmandu international airport transfer by private car.
1-night double bedroom accommodation in a tourist standard hotel in Kathmandu.
A private taxi transfer from your hotel in Thamel to Gongabhu bus station
11 Breakfast serve with a cup of tea/coffee, 12 Lunch and 10 Dinner [main course] during the treks.
Guest house accommodation during the trip in the Annapurna mountains.
Tourist Bus transfer from Kathmandu to Pokhara one way for Tourist but both way transfer for Nepali trekking team.
Fully escorted trek with English-speaking license holder local guide and every 2 guests = 1 Porter basis.
Annapurna Conservation Area permits and TIMS permits for Trek tour.
From Lwang to Fewa lake side hotel transfer with a local jeep [sharing basis].
Seasonal fruits like apples and pomegranates as a dessert after Dinner for base camp treks.
Insurance, Food and accommodation, and salary of Nepali trekking staff.
Agency's Duffel bag (50 Liters capacity) and trekking poles if Necessary – return after the trek.
Updated Mardi Himal base camp + Annapurna base camp hiking map 1 piece for each guest.
First aid medical kit including Oximeter to check oxygen level and Pulse rate every day to save you from higher risk.
In a worst case, help with all Rescue and evacuation arrangements (but not the rescue bills).
Nepal Government Tax, VAT, and as well as Company service charge.
ABC and Mardi Himal trekking price excludes
Lunch and Dinner in Kathmandu and Pokhara city.
Any kinds of battery charges, washing service, phone calls, and hot showers during the trekking.
Personal trekking equipment and Clothing.
Personal nature expenses, water, desserts, and bar bills.
Travel Insurance which covers emergency Rescue and Evacuation.
Any donation and monuments entrance fees.
Gratuities for guide and porters [Tip is a culture, so they expect highly].
Agency's Certificate of appreciation after the successful base camp trekking
Group join
Hike to abc plus Mardi Himal base camp trekking route offers an outstanding view and the altitude elevation is quite similar to each other. Meet the professional hikers along the way they have a similar plan to yours. In terms to capture the best mountain range and sunrise, Photographers choose this route as the best option holiday near Pokhara. We can organize a private Annapurna base camp combined with Mardi Trek starting on any date that works for you. Please contact us for more information.
| Departure Date | Availability | Price | Book |
| --- | --- | --- | --- |
| 10 Feb, 2024 – 20 Feb, 2024 | Available | 875 | |
| 28 Feb, 2024 – 10 Mar, 2024 | Available | 875 | |
| 10 Mar, 2024 – 20 Mar, 2024 | Available | 875 | |
| 20 Mar, 2024 – 30 Mar, 2024 | Available | 875 | |
| 25 Mar, 2024 – 05 Apr, 2024 | Available | 875 | |
| 10 Apr, 2024 – 20 Apr, 2024 | Available | 875 | |
| 20 Apr, 2024 – 30 May, 2024 | Available | 875 | |
| 25 Apr, 2024 – 05 May, 2024 | Available | 875 | |
| 10 May, 2024 – 20 May, 2024 | Available | 875 | |
| 20 May, 2024 – 30 May, 2024 | Available | 875 | |
| 10 Sept, 2024 – 21 Sept, 2024 | Available | 875 | |
| 20 Sept, 2024 – 30 Oct, 2024 | Available | 875 | |
| 05 Oct, 2024 – 15 Oct, 2024 | Available | 875 | |
| 20 Oct, 2024 – 30 Oct, 2024 | Available | 875 | |
| 25 Oct, 2024 – 05 Nov, 2024 | Available | 875 | |
| 10 Nov, 2024 – 20 Nov, 2024 | Available | 875 | |
| 20 Nov, 2024 – 30 Nov, 2024 | Available | 875 | |
| 05 Dec, 2024 – 15 Dec, 2024 | Available | 875 | |
Guaranteed – Trip is Guaranteed to run.
Available – Trip is available to run if minimum group size is filled
Limited – Only few space available
FAQ
Question: Do I need the experience to do the Annapurna and Mardi Himal base camp trek?
Answer: Actually Not! But it is suitable for keen trekkers/walkers who are able to walk around 4 or 5 hours every day, with a lightweight daypack. For this trekking, if you have a little experience would be better.
Question: Is pick up service available on my arrival in Kathmandu?
Answer: Yes sure. Provide us with your flight details. Our representative will come to pick up you at Kathmandu international airport.
Question: Can I store my luggage/stuff in Kathmandu or in Pokhara?
Answer: Yes, you can leave your luggage at your hotel or at our office. Store your stuff in the Gokyo Treks agency office for free.
Question: Is Mardi Himal plus ABC trekking Safe for the Solo Female Trekkers?
Answer: Absolutely. Nepal is a safe country to travel to for solo travelers; this trek is perfectly safe for solo female trekkers. We have been organizing the Annapurna base camp trek even for solo female travelers since its establishment.
Question: What kind of accommodation can I expect on Annapurna with the Mardi Himal base camp trek?
Answer: We provide you with tourist standard accommodation in Kathmandu and during the trekking routes. the rooms along the routes are clean with a cozy bedroom with a nice mattress and a blanket. However we recommend you take your own sleeping bags if you have one with you otherwise, you may rent them while you are in Kathmandu.
Question: What kind of meal can I expect on this trek?
Answer: All the guest houses/lodges in Annapurna base camp combine Mardi trek, they have attached restaurant and they cook a delicious range of mostly vegetarian such as Pasta, tuna bakes, noodles, potatoes, eggs, rice, dhal, bread, soups, fresh vegetables (variety depends on the season)
The dinner and breakfast are provided in the same lodge you spend the night every day and Lunch will be provided on the way to the next place where you are going.
Question: What opportunities will I have for a shower along Annapurna base camp combine Mardi trek?
Answer: All the guesthouses along the hiking trails provide a shower, so no worries.
Question: How do I get drinking water on ABC Trek?
Answer: During the trekking route there are all places hotels and shops where you can able to buy mineral water and you can buy it for drinking but however we advise against buying mineral water in plastic bottles, as currently there are no provisions for disposing of these. Instead, we advise you to purchase either boiled water or bring aqua tablets to purify the normal water as the normal water is available at the campsite.
Question: Can I charge my digital camera or other batteries on my trip?
Answer: On lodge trekking, there are chances to charge the battery. We recommend you bring an extra pair in case. Remember to bring your own adapters!
Question: Are there any communication facilities on lodges?
Answer: Mardi Himal vs Annapurna base camp route you can get telephone services as well as internet services.
Question: Can I use credit cards in Trekking?.
Answer: Not yet. So, for the ABC and Mardi Himal route, you need to have cash Nepali rupees because credit cards work only in the bigger city areas.
Question: When should I book my trip and what are the payment terms?.
Answer: Because our trips book up months in advance, we recommend booking early to avoid any kind of misunderstanding. We will, of course, make every effort to accommodate last-minute bookings.
And regarding the deposit, we prefer a 15% advance deposit of the total price of the trip in order to confirm your reservation before you arrive in Nepal. And the rest of the payment can be made after your arrival in Nepal.
Question: Who will carry my luggage en route?
Answer: We provide porters to transfer your luggage. As we are a responsible trekking tour operator agency, each of our porters carries a maximum of 24 kilos of your backpack which means 2 guests (12 kg luggage of each guest): 1 porter basis.
Question: How much distance do I walk each day?
Answer: When walking in the mountains, the distance you cover each day can vary greatly due to gradient, terrain, and altitude. As such it is very hard to give specific distances for each day, however, you have to be prepared to walk for roughly about 5 hours each day.
Question: Is it possible to hike with a trekking guide in Kathmandu? how to hire a local trek guide?
Answer: Yes of course. If you are not happy to book the complete full board package trip, you can hire our expert trekking guide to make your holiday tour awesome.
Question: Do I need hiking poles?
Answer: Hiking poles are better to use on hiking. Learn how to use hiking poles for balance and stability, whether on the sidewalk or on trails. Walking poles can help prevent slips and falls. They are just recommended but not compulsory.
Question: How much additional money do I need per day?
Answer: You can allocate US$ 08 – 10 for a lunch/dinner in Kathmandu and it depends on your spending habits. US$ 7 to 10 US$ each day will be enough to buy bottles of water, chocolates, tea coffee, and some drinks while you are on your trek.
Annapurna and Mardi Himal base camp trek highlights
Annapurna and Mardi Himal base camp hike offers a great view of the Annapurna range within 360 degree angle.
Best and remarkable view of Annapurna summits over 7K mountains.
Walking through cultivated fertile fields, Excellent views of the Annapurna range with Fishtail.
Natural hot spring (Jhinu) and nice waterfalls along the ABC trek routes
Experience the Gurung and other ethnic groups and their lifestyles.
The Annapurna and Mardi Himal base camp trek difficulty Level
Combining the Annapurna Base Camp and Mardi Himal treks can be quite challenging and requires a good level of fitness, experience in high-altitude trekking, and proper acclimatization.
The Annapurna Base Camp trek is a moderate to strenuous trek that involves long days of hiking, steep ascents and descents, and high altitude. The trail can be rugged and rocky in places, and the weather can be unpredictable. The highest point of the trek is the Annapurna Base Camp at an altitude of 4,130 meters (13,549 feet).
The Mardi Himal trek is a less traveled and more strenuous trek that involves steep ascents and descents, narrow trails, and some sections of exposed ridges. The highest point of the Mardi Himal trek is the Mardi Himal Base Camp at an altitude of 4,500 meters (14,763 feet).
Combining these two treks will require you to hike for several hours every day, sometimes in remote and rugged terrain, and at high altitudes. It is essential to have a good level of fitness and endurance to complete this trek.
Therefore, it is recommended that you have prior trekking experience and undergo proper physical training and acclimatization before attempting this trek. It is also advisable to hire an experienced guide and porter for the trek to ensure your safety and comfort throughout the journey.
High altitude variation
Phenomenal Mardi Himal and Annapurna Base Camp Trek are two of the greatest names among traveling adventures in Annapurna. These two are mind-blowing hikes from the Himalayan perspective alongside the chance to encounter local traditions. With sacks of treats to remunerate travelers, these trips are medium hikes in the magnificence of nature. With incalculable motivations to pick both of the trips, it is the traveler's choice to follow their sense and head to the Range of Mountain fairyland.
Additionally, the Annapurna Base Camp 4,130m and Mardi Himal Base Camp 4,500m are the most extraordinary journey in this section. While the Trek to Annapurna Base Camp origins at Nayapul at 1,070 meters, the Mardi Himal nature trail is Kande at 1,770 meters.
Both these journeys have a comparative elevation variety and expect adventurers to follow similar precautionary measures. Likewise, your journey is tougher in terms of landslides and avalanches.
Lodges and guest house accommodation
Abc + Mardi Himal trek route area offers good accommodation with modern lodges. For almost all campsites, there are enough guest houses. In that capacity, the area has settled nature hikes and a decent organization of teahouses and homestays.
The Annapurna Base Camp Trek offers various varieties of teahouses going from essential to lavish ones. Be that as it may, the path on Mardi Trek offers a little variety to look over. Nevertheless, even a basic lodge gives incredible service for food and rooms.
Moreover, they additionally have standard squat-type latrines and restrooms to wash up. As you go higher, the quality of the rooms goes lower. The homestays along the journeying trail are controlled by ethnic Magar and Gurung families on both these trips.
Best time to hike ABC combine Mardi Himal trek
The vast majority of the Trek in Nepal favor two seasons for hiking, voyaging, and other excursion trips. The spring season from March to June and the pre-winter season from September to November is the best ideal opportunity to enjoy trips to the Annapurna district.
Both Mardi Himal and Annapurna Base Camp Trek exist in a comparative height territory. These trips experience interchangeable climate conditions. Nonetheless, the winter season (December to February) and summer/storm (June to August) experience an unforgiving climate and debase the nature trail quality. Thus, we encourage adventurers to check these reasons for their hikes in the Annapurna zone.
They are more scenic and joyful in the spring season. The whole timberland along the trail turns red, pink, and white with rhododendron flowers. You can smell the multi-taste of plants and vegetation as well as wild animals en route.
Notes for Annapurna and Mardi Himal base camp trek trekkers!
The information stated above is just a guide and standard template. However, the trip can be customized at your request to accommodate your specific requirements. Local politics, landslides, cancellation of local flights, weather, transfer, or a multitude of other factors that are beyond our control can result in a change of itinerary en route.
It is, however, very incredible that the itinerary would be extensively altered. If alterations are necessary the leader will decide the best alternative option, taking into consideration the best interests of the whole group. When a change does occur, we do everything we can to minimize its effect, but we cannot be responsible for the results of changes or delays.
"What makes this Annapurna and Mardi Himal base camp trekking very special?".
The Annapurna base camp combines the Mardi Himal trek in Nepal are very special because they offer stunning views of the Himalayan mountains, including some of the highest peaks in the world. These treks also provide an opportunity to experience the local culture and hospitality of the Nepalese people, as the trails pass through traditional villages and terraced fields.
The Mardi Himal trek is a relatively new route that offers a quieter and less crowded alternative to the popular ABC trek, while still showcasing the breathtaking beauty of the region. Both treks offer a unique and unforgettable adventure for any trekking enthusiast.
Gokyo Treks and Expedition believes in quality services. First safety and satisfaction is our prime concern. The agency has a team of professional, experienced, well-trained, and licensed local guides who know the destination much better than others. Not only this but also we give benefits to the local communities and help to conserve natural resources which reduced costs and consumption.
Base Camp Hiker's Review
Annapurna and Mardi Himal Base Camp Trek
We had an absolutely extraordinary adventure with the Gokyo Treks and Expedition team! They arranged a personalized trekking experience for us to Annapurna Base Camp and Mardi Himal. Ammar, the coordinator, was not only friendly but also exceptionally attentive, ensuring that all our requirements were met, resulting in a seamlessly organized journey as per our agreements.
Our heartfelt gratitude goes to our incredible guide, Navaraj, and porter, Rajkumar. Both of them showcased remarkable professionalism and made us feel like cherished family members throughout the entire expedition. Their warmth, hospitality, and genuine care truly made this journey an unforgettable and heartwarming experience, and we now consider them as dear friends.
Response from Gokyo Treks Nepal
Thank you Petr Hanys for the time to review us.
Mardi himal Trek in February
Upon Mr. Ammar's recommendation, I decided to embark on the Mardi Himal Trek, and it turned out to be an absolutely amazing 8-day adventure. The trek was relatively less crowded, and the newly built guesthouses provided a comfortable and pleasant stay. The meals served during the journey were of excellent quality.
I must commend Gokyo Treks agency for their impressive responsiveness to any inquiries I had. Their prompt and helpful responses made the whole planning process smoother.
Throughout the trek, our guide and porters were not only friendly but also incredibly supportive, making the experience even more enjoyable. Without a doubt, I will be reaching out to this company again for my next trekking endeavor. Kudos to Gokyo Treks for providing such a fantastic experience!

Response from Gokyo Treks Nepal
Hello Supachai, thank you for your time to send us a review about the Annapurna base camp combining Mardi Himal Base Camp trekking in Nepal. We will be very much looking forward to serving you next trip to the Himalayas in a near future.
The Mardi himal base camp trek in Nepal
Extremely friendly and cooperative operator with very nice staff. fully customized package carefully designed with every customer requirement in mind. And very flexible in service without any extra cost. Best quality service at most economical price.

Response from Gokyo Treks Nepal
Thank you Ashish for the Mardi Himal Trek review. Hoping to serve you and your college students team again in a near future.
Mardi Himal and Poon Hill Trek
We had a great time with the trek team, who both looked after us well. Our guide Ram was very good at adjusting our schedule on trek, making best use of the sometimes bad weather, and taking account of our abilities.
The tea houses were better than we expected and were generally well organized too. The hotels organized in Thamel, Pokhara, and Bhaktapur were all perfect for us. The trek up through the forest to the final mountain ridge was very enjoyable, and we did get some fine views between the rain, hail, and snow.

Response from Gokyo Treks Nepal
Thank you Tony for your precious time in writing us your review regarding Mardi Himal Trek. We are very much looking forward to welcome you for your another trip in the Himalayas.
From US$ 921
5% Off
US$ 875
| | |
| --- | --- |
| No. of people | Price Per Person |
| 1 | USD 950 |
| 2 | USD 875 |
| 3 | USD 875 |
| 4 - 6 | USD 775 |
| 7 - 9 | USD 725 |
| 10 + | USD 690 |
Book Now
Customize Trip
Cost & Departures
Your Trip Your Style!
ITINERARY, COST, DEPARTURES, will adjusted according to your GROUP SIZE NEED TIME
Book with Confidence
Local Guides Company.
18 Years in Business.
Lowest Price Guaranteed.
100% Customizable Trips
Excellent Customer Service
Hassle Free Booking.
90 % Repeated customers
Highly Recommended agency
Private/group tour options