Climbing Cholatse Trip Summary
Climb Cholatse Duration: 20 Days
Climbing Difficulty: Moderate adventure
Summit Altitude: 6,119m/20,075 feet
Trekking Hour: 6 Hours
Group-Size: 2 – 6 People
Best Time: May to October
Trip Mode: Lodge + Tent Camp
Meal on Trek: Breakfast, Lunch, and Dinner
Transport: Car/Plane/bus
Overview
The Cholatse peak climbing itinerary covers the most highlights of Khumbu high passes, glacial lakes, and glaciers. Adventure cholatse expedition is a popular but tough climbing peak that is situated at Mahalangur Himalayan range in the Everest region at Solukhumbu District, Nepal.
The Cholatse Peak climbing is equally popular as a Jobo Lhaptshan. Mount cholatse, is open for climbing under the mountaineering association of Nepal, declared in group A category climbing peaks. Cholatse summit offers an excellent view of Everest (8,850m), Nuptse (7,879m), Lhotse (9,501m), Lhotse Shar (8,383m), Makalu (8,475m), Baruntse (7,720m), and Ama Dablam (6,856m) Thamserku, Cho-Oyu, etc.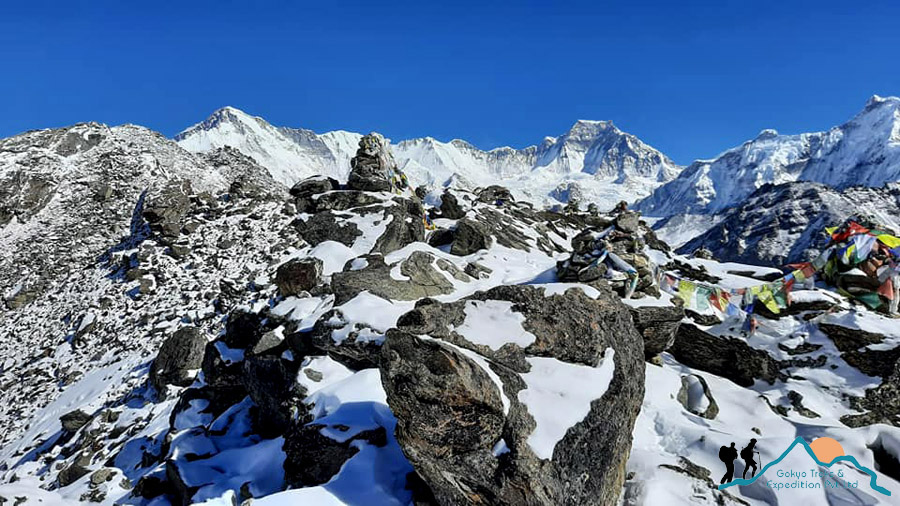 Comparatively Cholatse Peak is very hard to climb rather than other climbing peaks in Nepal. Mount Cholatse is technically difficult as we need to be careful in ascent. We recommended cholatse peak for those climbers who are experienced in ice and rock climbing. Only a few climbers got success in cholatse peak climbing in history. The death rates are very very low nevertheless climbers need a vast mountaineering talent to climb Cholatse peak. The peak is connected with Taboche (6,501m) on a long ridge.
According to our past climbers, we design the Cholatse peak climbing itinerary carefully to allow for gradual ascend and proper acclimatization. The best season to climb the peak is either March to May or September to November months. If the itinerary is not suitable for you, we design another climbing itinerary as per your demand and the duration of the holidays.
How much does Cholatse Peak Climb Package Cost/Price?
The cost of the Cholatse peak climbing package with a Gokyo Treks Agency (local climbing operator agency in Nepal) ranges between US$ 2625 to 3498. Generally, the climbing cost will vary according to the group size you are coming with.
It is the standard trip package price for 20 days climb. If you are 2 climbers climbing Cholatse mountain costs US$ 2898 for 3 weeks for summit climbing according to the given trekking plus climbing plan. We can modify the climbing itinerary and the prices according to your wishes also. Here is the price list for Cholatse peak treks.
Price Per Person for 20 days for Cholatse expedition.
| Number of Tourist | Price Per Person |
| --- | --- |
| 1 Person | US$ 3498 |
| 2 Person | US$ 2898 |
| 3 Person | US$ 2895 |
| 4 to 6 person | US$ 2790 |
| 7 to 9 Person | US$ 2725 |
| 10 and more than 10 Person | US$ 2625 |
If you're wondering to know about what is included and what is excluded on this trip price, kindly check on cost given on a tab button.
Itinerary
The Cholatse peak climbing itinerary details
Our Cholatse peak climbing or expedition for 19 nights 20 days itinerary is a sample plan. Climbing travelers, who wish to climb with ebc trek with a more relaxing plan or want to have a private customized plan, email us your thoughts.
01 Day
Arrival at Kathmandu valley
Upon arrival in Kathmandu, Tribhuwan International Airport, we will receive you with private vehicle and transfer to hotel in Kathmandu with breakfast plan. Our representative will brief you Cholatse climbing trip information about further programs.
02 Day
The World heritage site of Kathmandu valley sightseeing, 7 hours.
After breakfast the day will start to our guided trip to UNESCO world heritage site in Kathmandu valley. The sightseeing includes the pilgrimage sites of Hindus Pashupatinath temple, the world's biggest Bouddhanath Stupa, visit Swoyambhunath Stupa also known as monkey temple and historical Kathmandu Durbar Square with the temple, unique architectures and Kumari (living goddess) in central Kathmandu. Evening pre-trip discussion and introduce with our fellow trekking staff for your adventure trip.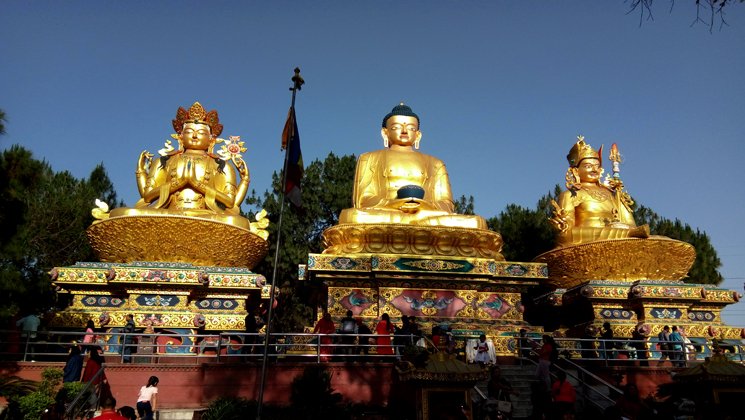 03 Day
Early morning, Kathmandu to Lukla airport flight. Hike to Bengkar village (2698m/8,822 feet), 5 hours
Take an early flight from Kathmandu to Lukla airport (2,860m/9,381 feet), seat at north side to get better view. Upon arrival at Lukla bazaar, meet our entire crew, have breakfast, and go. As you hike from Lukla to Phakding (2640 m), the trail is one of the easiest parts as the landscapes go simply up in ascending order. The journey goes further with a gentle climb up the mountainside of Dudh Koshi river. Passing several Sherpa localities, we reach Bengkar village.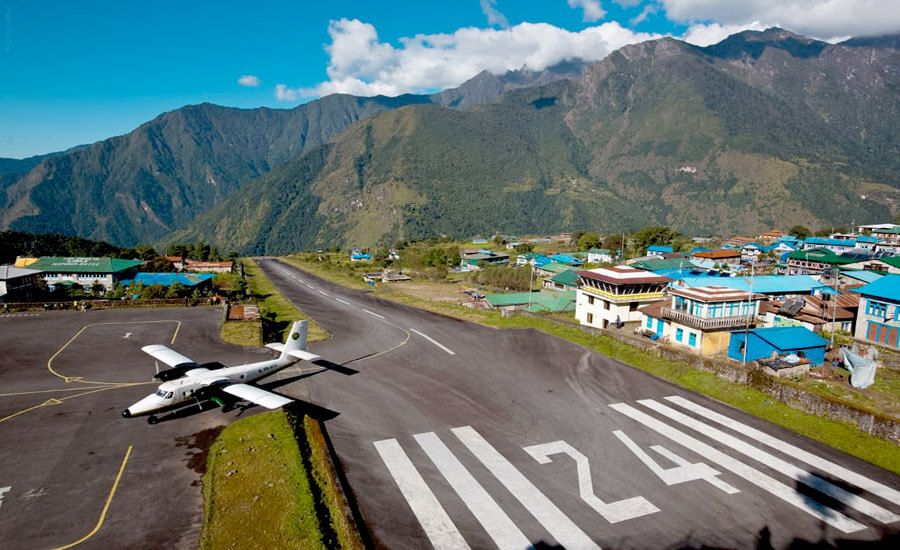 04 Day
Namche Bazaar hikes (3,440m/11,249 feet.), 6 hours
The trail ascends through the Koshi riverbank into the mountain, through a forest to Chumoa. We continue along the trail with many ups and downs; cross a stream, and pass by the tiny Monjo village. We come to the Sagarmatha National Park office where a park entrance fee is to pay. We follow a short walk along the riverbed of this valley where the major river meets each other. Crossing over the Hillary bridge, the trek begins the steep ascent to Namche Bazar. On the way, we have excellent views of Everest (8848m) and Lhotse (8516m.). Surrounded on three sides by mountain ranges, Namche Bazaar is a central hub of the area for food, trekking gear, and other necessary goods.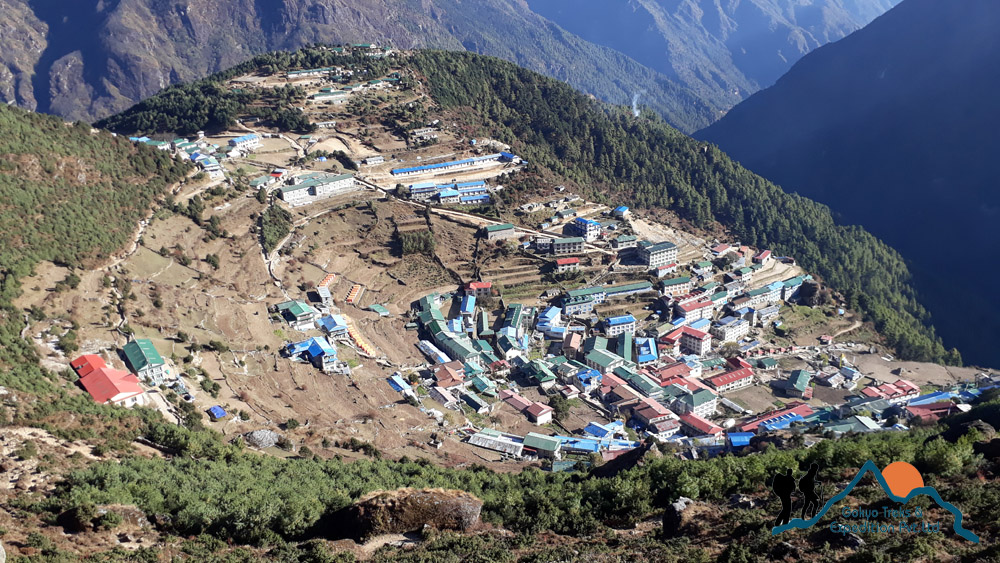 05 Day
Khumjung trek (3,789m). Sengboche hill hikes, 3 hours
We start with a steep one-hour climb to the Sengboche airstrip (3790m), from where we will slowly ascent towards Khunde passing numerous chorten (stone Buddhist monuments) and hill station. We go to a hill station to have an excellent view of Mt. Everest, Ama Dablam, Thamserku, Nuptse, Lhotse, Tawche, Kwangde, and many other snow-capped mountains at 360 deg angle. We walk further to Khumjung village which is the largest village in Khumbu, at the foothill of the sacred peak Khumbila. We can also visit the Khumjung monastery. It is a small settlement of Sherpa community.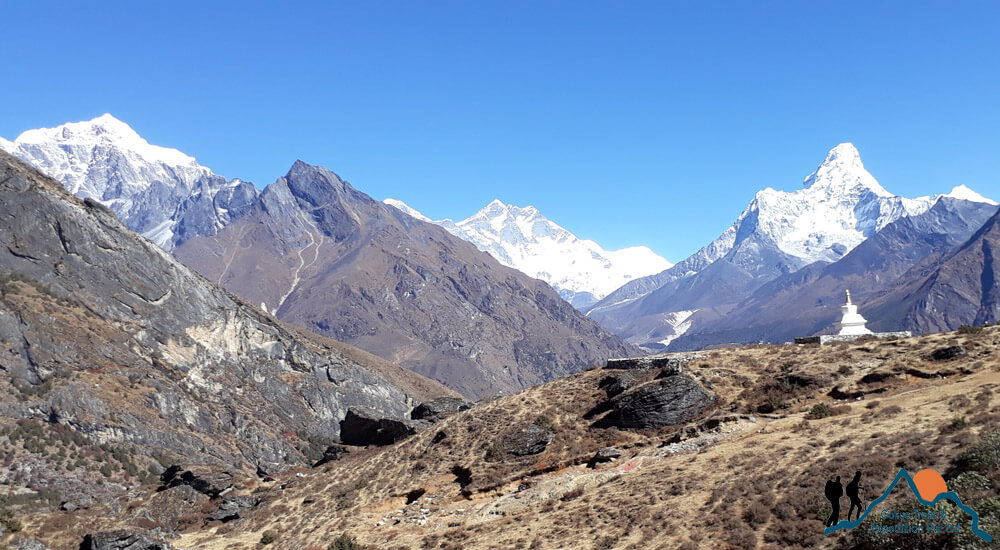 06 Day
Trek to Dole lodge (4,040m/13,211 feet), 6 hours
The trail ascends up to Mongla (4000m) ridgeline. A short stop for photography rest because Mong la hill station offers an excellent mountain view of several tallest mountains. You trek steeply descend passing through Phortse Tenga and from there, the trail climbs steeply to Dole, through rhododendron and birch forest festooned with hanging mosses and lichens.
07 Day
Trek to Machhermo village (4,150m/13,571 feet), 4 hours
After Dole, the trek leads steadily along the side of the valley, where the small and thorny bushes give way to scrub juniper as the altitude increases. The trail passes many summer settlements, yaks are taken to these pastures to graze in the summer months. Ahead of you are excellent views of Cho Oyu, while back down the valley are the peaks of Kantega and Thamserku.
08 Day
Gokyo lakes trek (4,750m/15,580 feet) hiking, 5 hours
After Machhermo, the trek leads over a very scenic path to Pangka, descend slightly, following one of the melt-water Rivers which flow down the west side of the Ngozumpa Glacier. We climb a steep rocky incline into the valley by the side of the glacier, passing the first of the holy lakes. We soon arrive at the second lake, crossing the path which heads across the glacier to Cho La (5,420m.). The third lake known as Dudh Pokhari will appear and on its eastern shore is the settlement of Gokyo. Walk along with the Gokyo lake corner, you can reach the Gokyo resorts.
09 Day
Gokyo RI Excursion. Gokyo lakes and glacier excursion day tour.
Gokyo Ridgeline is situated by the side of Ngozumpa glacier, the biggest glacier of Nepal. We walk to the glacial Gokyo lakes. An optional trip will be to discover 5th lake on your day trip but if you are only physically feet. You can also Gokyo ridge hike to get the splendid view of the tallest Himalayas within 360 deg angle.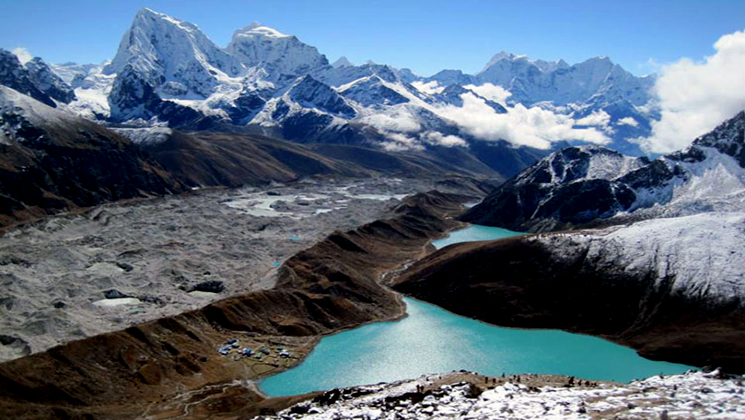 10 Day
Gokyo to Thagnak (4,661m/15,241 feet), 5 hours
We trek down from the Gokyo Valley to Thagnak. Along the way, we experience the Himalayan culture and life. We cross the crevasses glacier and reach the lateral moraine at a far. The village is just below a small cliff.
11 Day
Trek to Dzongla (4,830m/15,794 feet) via Cho La Pass, 6 hours
Leave Tagnag following the path alongside the stream through the yak pastures. On the way, we can see Cho La Pass locating at 5,420m/17,778 feet above the sea. Ascend to make our attempt to the Cho La (5,420m.) Nepal top and descend down at Dzongla lodge.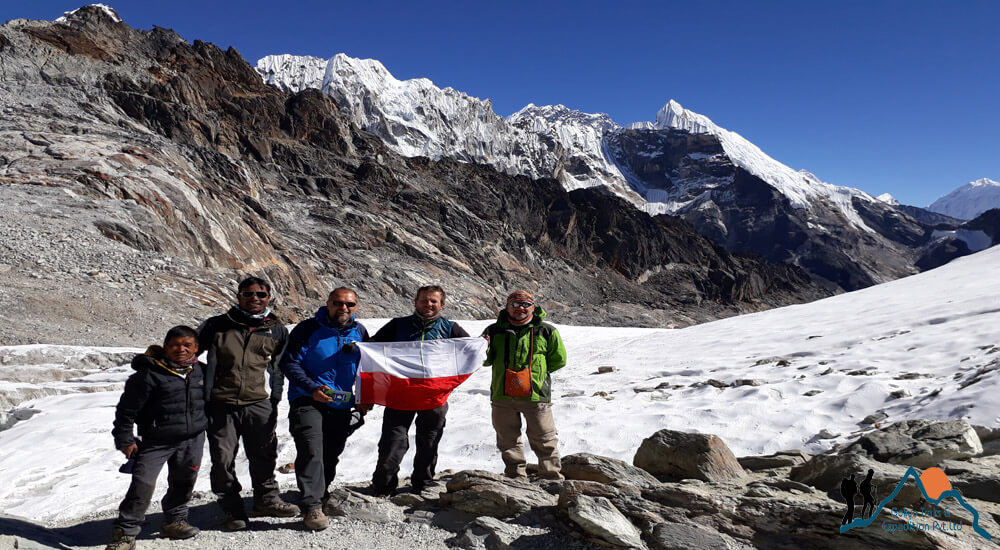 12 Day
Dzongla to Cholatse Base Camp (4,930m/16,175 feet), 6 hours
Our off the beaten path adventure starts to Cholatse Base Camp after having breakfast. The rocky trail goes gradually climbs up with stunning views of Ama Dablam, Labuche Peak, and Pumori mountain. The journey takes roughly six hours to reach Cholatse base camp with a climbing crew.
13 – 15 Day
Cholatse Peak Climbing. Cholatse Expedition periods.
It's anything but an adaptable arrangement for moving according to the state of the climber. Along these lines, the Mountain Sherpa and individuals will decide where to set up an everyday schedule for the climbing time frame. In a typical manner, the group will put in a couple of days at the base camp arranging food and climbing gear. The highest point ordinarily pushes at 12 PM. So that group came to at top promptly in the first part of the day. Find stunning dawn, and encompassing perspective then, at that point hike down to base camp prior to getting influenced by heat. At long last, we wish for your prosperity to reach the summit.
16 Day
Reserve day for weather contingency.
There is no such guarantee that we can get quite a favorable weather while on climbing. So this day is used as a contingency in case we are unable to get summit on an earlier day. If the weather gets exceptionally unfavorable, we wisely have to postpone the program. Sometimes somebody in the group may get some problems in acclimatizing well enough to make the ascent; the day can be used in that condition too. If the trip goes smoothly, we do not need this spare day.
17 Day
Pheriche to Phortse village (3,750m/12,304 feet), 6 hours.
Today on our journey, climbers can look some of the wild animals like a mountain goat, musk deer and many species of Himalayan birds. There are monasteries as well at Pangboche and Phortse which were believed to have been constructed during the 16th century. The Pangboche village has also gained its popularity for highest settlement on earth.
18 Day
Descend downhill to Monjo village (2,835m/9,302 feet), 7 hours.
A long day walk to get Monjo village passing sherpa settlements such as Lagusasa, Namche Bazaar, Joresalle…etc.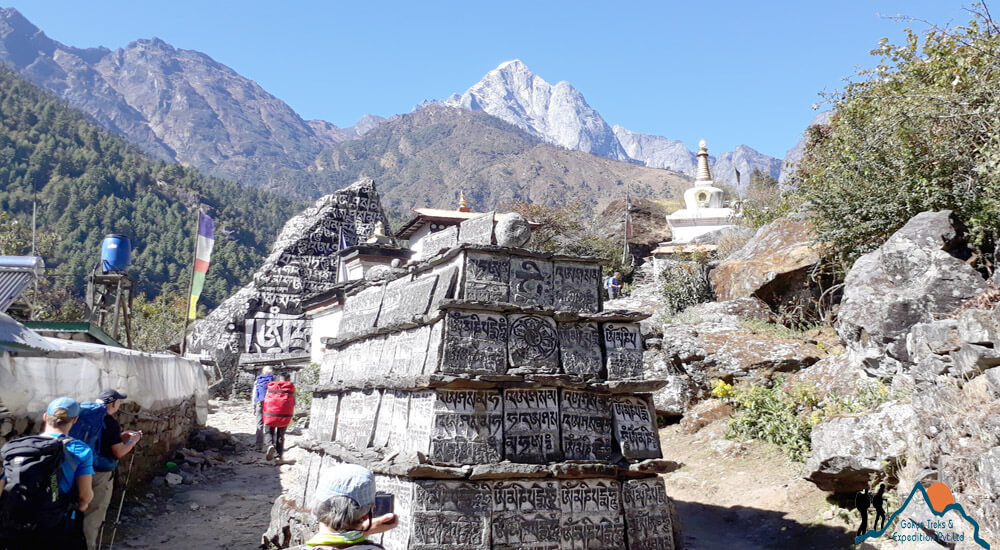 19 Day
Descend to Lukla Bazaar (2,860m/9,381 feet), 8 hours
We trek to Lukla with the same trail like we use on ascend. It is the last day of our trek. Upon arrival at Lukla, check the hotel and take rest.
20 Day
Scenic Mountain flight from Lukla to kathmandu tribhuvan international airport.
We board our early flight from Lukla to Kathmandu airport. Upon arrival at kathmandu tribhuvan international airport, we arrange a return transfer back to your hotel. In the afternoon, go for shopping or request us to discover Kathmandu as a guided trip on additional cost. In this way, Cholatse expedition trip ends and we wish for your wonderful journey.
Not satisfied with above plan?
Are you interested on planning custom trip? this might take 2 to 3 minute.
Cost
How much does Cholatse peak climbing cost?
The Cholatse peak climbing cost US$ 2898 is the standard trek price on a double occupancy basis. For the deluxe and luxury trekking tour plan, we add 3-stars category hotel deluxe air-conditioned room in Kathmandu (BB PLAN) and Tourist standard accommodation with the attached bathroom while trekking on possible places. AND WE ARE OPEN TO CUSTOMIZE YOUR TOUR AND PACKAGES PRICE AS PER YOUR REQUIREMENTS. International tour leaders are highly encouraged to get discounts and attractive complimentary.
Cholatse peak climbing price includes:
Kathmandu international airport picks up on your arrival in TIA by private vehicles.
2 nights Twin sharing Tourist standard hotel accommodation in Kathmandu with breakfast plan.
Professional Mountain (NMA REGISTERED GUIDES) Climbing Guide [insurance, salary, bonus] for Cholatse peak climbing (2 nights 3 days).
Domestic flight tickets Kathmandu – Lukla – Kathmandu round trip with applicable airport taxes
All land transfer by Private vehicle according to programs.
3 meals each day (Breakfast, Lunch, Dinner) during the trekking and climbing days
Clean lodge accommodation during the trekking and Tent accommodation with unlimited climbing foods while on peak climbing time
Government license holder – Professional Trekking Guide for complete trip
Required number of porters during the trek.(one porter = two guest basis) because our porter can carry maximum 25 kilos of your bag pack.
Group climbing equipment including ropes, ice screws, snow bars, harness, carbine, eight figure etc.
Cholatse peak climbing permits fees and Sagarmatha National Park entrance permits.
Well paid salary, food, accommodation and insurances of Nepalese staffs.
First aid medical kit, Oxymeter to check heart rate, pulse, and oxygen saturation at higher altitude.
In a worst case, help with all Helicopter Rescue and evacuation arrangements.
Agency's Certificate of appreciations after the successful climbing
Nepal Government Tax, VAT and as well as Company service charge.
Cholatse peak climbing price exclude :
Nepal entry visa fees US$ 40.
Lunch and Dinner during the staying in Kathmandu city.
Any kinds of battery charges, laundry service, phone calls and hot shower during the trekking.
trekking and climbing equipment (personal) and Clothing.
Personal nature expenses, all types of drinks (except climbing days) and bar bills.
Travel Insurance which covers emergency Rescue and Evacuation.
Any donation and monuments entrance fees.
Tips for the crew (Note: TIPS is not compulsory but highly expected)
Any other things which are not mentioned above
Group join
We can organize private Cholatse peak climbing starting at any date that works for you. Please contact us for more information.
FAQ
Question: Is pick up service available on my arrival day in Kathmandu?
Answer: Yes sure. Provide us with your flight details and request for pickup. Our representative will come to pick up you at Kathmandu international airport.
Question: Can I store my accessive luggage/stuff in Kathmandu?
Answer: Yes, you can leave your luggage at your hotel or at our office. Store your stuff in the Gokyo Treks agency office is for free.
Question: Is this climbing Safe for the Female climbers?
Answer: Absolutely yes. Nepal is a safe country to travel to for solo travelers; this climbing adventure is perfectly safe for solo female and adventure women climbers. We have been organizing the climbing even for female climbers since its establishment.
Question: What kind of accommodation can I expect on Cholatse peak climbing?
Answer: We provide you tourist standard accommodation in Kathmandu and during the trekking normal but the rooms are a clean cozy bed with nice mattress and blankets. However we recommend you take your own sleeping bags if you have one with you otherwise, you may rent them while you are in Kathmandu.
Question: What kind of food can I expect on climbing Cholatse peak?
Answer: All the lodges along the trek routes have attached restaurants. They cook a delicious range of mostly vegetarian such as Pasta, tuna bakes, noodles, potatoes, eggs, curry rice, bread, soups, and fresh vegetables (variety depends on the season)
The dinner and breakfast are provided in the same lodge you spend the night every day and Lunch will be provided on the way to the next place where you are going. However, on climbing days you will have climbing food and hot drinks.
Question: What opportunities will I have for a shower along with climbing and trekking?
Answer: Guest house trekking all the lodges they have a shower which you can get it on pay.
Question: How do I get drinking water on expedition Cholatse peak?
Answer: During the lodge trekking route, tourists can buy bottled water en route. But, we advise against buying mineral water in plastic bottles, as currently there are no rules for disposing of waste plastic. We recommend you bring aqua tablets to purify the normal water as the normal water is available at the campsite along the way.
Question: Can I charge my camera or other batteries on my trip?
Answer: During the guest house trekking there will be chances to charge the battery on pay. We recommend you bring an extra pair in case. Remember to bring your adapters! And we recommend you take extra batteries along with you.
Question: Are there any communication facilities on Cholatse peak climbing?
Answer: In this trek route, you can get telephone services as well as internet services.
Question: Can I use credit cards in Trekking?
Answer: You need to have cash Nepali rupees because credit cards work only in the bigger cities or in luxury hotels.
Question: When should I book my trip and what are the payment terms?
Answer: Because our trips book up months in advance, we recommend booking early to avoid any kind of misunderstanding. We will, of course, make every effort to accommodate final moment bookings.
And regarding the deposit, we prefer a 20% advance deposit (not refundable) of the total price of the trip in order to confirm your reservation before you arrive in Nepal. And the rest of the payment can be made after your arrival in Kathmandu.
Question: Who will carry my luggage on express Cholatse peak climbing?
Answer: We provide porters to transfer your luggage. As we are a responsible trekking tour operator agency, every porter carry a maximum of 25 kilos of your backpack which means 2 guests (12.5 kg luggage of each guest): 1 porter basis.
Question: How much distance do I walk each day?
Answer: When walking/trekking in the mountains, the distance you cover each day can vary greatly due to a gradient, terrain, and altitude. As such it is very hard to give specific distances on each day, however, you have to be prepared to walk roughly about 5 hours each day.
Question: Where can I organize my person climbing gears?
Answer: If you have those climbing gears at your home bring them along with you. If you don't have them, you can rent them either in Kathmandu or at Name Bazaar.
Question: How much additional money do I need per day?
Answer: You can allocate US$ 08 – 10 for a lunch/dinner in Kathmandu and it depends on your spending habits. US$ 7 to 10 US$ each day will be enough to buy bottles of water, chocolates, tea coffee, and some drinks while you are on your trek.
Cholatse Peak Climbing Review
There are no reviews yet. Be the first one to write one.
Cholatse peak climbing highlights
Discover the best Himalayan view in 360 deg angle from Renjo la, Klapatthar & Kongma la.
Best view of Mt Everest, Lhotse, Nuptse, Amadablam, Lobuche, Cho oyu, Thamserku ..etc
Challenging Cholatse peak summit offers the best scenery of all khumbu Himalayas.
Sherpa Buddhism, ancient monastery, Local sherpa and their life styles.
Cholatse peak climbing Note:
The Cholatse peak climbing stated above is just a standard template guideline. But, we can customize your expedition holidays at your request to accommodate your specific requirements. Local politics, landslides, cancellation of local flights, weather, transport, or a multitude of other factors that are beyond our control can result in a change of itinerary during on trip.
It is, however, very unlikely that the itinerary would be substantially altered. If modifications are necessary the leader will decide the best alternative option, taking into consideration the best interests of the whole group. When a change does occur, we do everything we can to minimize its effect, but we cannot be responsible for the results of changes or delays.
"What makes Cholatse peak climbing special?"
Opportunities for extreme adventure climbing are scattered all over this planet. You just need to know where to find them. We at Gokyo Treks and Expedition believe in quality services. First safety and success is our concern.
We are a team of professional, experienced, and licensed local guides who know the destination much better than others. Not only this but also we give benefits to the local communities and help to conserve natural resources which reduced costs and consumption.
From US$ 3050
5% Off
US$ 2898
| | |
| --- | --- |
| No. of people | Price Per Person |
| 1 | USD 3498 |
| 2 | USD 2898 |
| 3 | USD 2895 |
| 4 - 6 | USD 2790 |
| 7 - 9 | USD 2725 |
| 10 + | USD 2625 |
Book Now
Customize Trip
Cost & Departures
Your Trip Your Style!
ITINERARY, COST, DEPARTURES, will adjusted according to your GROUP SIZE NEED TIME
Book with Confidence
Lowest Price Guaranteed.
100% Customizable Trips
Excellent Customer Service
Hassle Free Booking.
90 % Repeated customers
Highly Recommended agency
Private/group tour options
Local Guides Company.