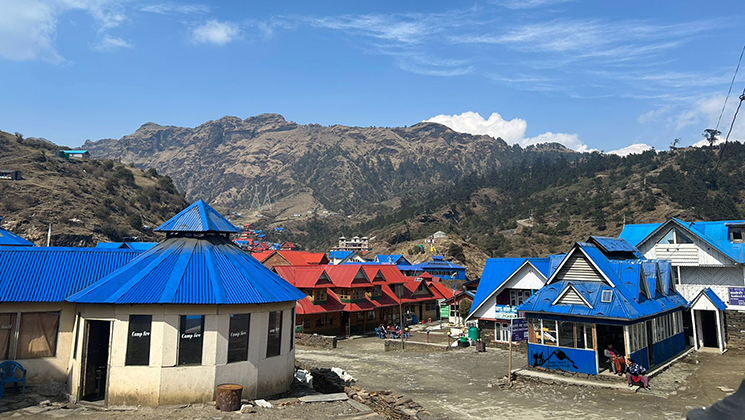 Kalinchowk Trek Summary
Kalinchowk Trip Duration: 4 Days
Hike difficulty: Easy hikes
Maximum Height: 3,842m/12,606 feet
Trekking Hour: 4-5 Hours
Trek Group Size: 1 – 14 People
Meals on Trek: Breakfast serve with Tea/coffee, Lunch, and Dinner
Best Time: November to March (colder Months)
Trip Mode: Guest House Basis
Mode of Transportation: Car/Bus
Overview
The Kalinchowk Trek is a popular trekking destination in Nepal, located in the Dolakha district. It offers breathtaking views of the Himalayas, including Langtang Himal (7234m), Ganesh Himal (7422m), Dorje Lakpa (6966m), Jugal Himal (6095m) and Gaurishankar (7134m). The snow-capped peaks, lush valleys, and beautiful landscapes make it a visual treat for trekkers.
The journey takes you to the Kalinchowk Bhagwati Temple, a significant religious site for both Hindus and Buddhists. Located at an altitude of 3,842 meters, the temple is dedicated to Goddess Kali. Many devotees visit the temple to pay their respects and seek blessings.
A trip to Kalinchowk is relatively accessible and possible to visit within a short duration. It is located close to Kathmandu, making it a popular choice for trekkers who have limited time but still want to experience the beauty of the Himalayas.
Along the trekking route, you will pass through several traditional villages inhabited by the Tamang and Sherpa communities. This provides an opportunity to immerse yourself in the local culture, interact with the friendly locals, and gain insights into their way of life.
While the Everest and Annapurna regions attract a significant number of trekkers, the Kalinchowk Trek offers a quieter and more off-the-beaten-path experience. It is less crowded compared to some of the more popular trekking destinations, allowing you to enjoy the tranquility of the mountains.
Apart from trekking, the Kalinchowk area also offers other adventure activities such as paragliding, cable car riding and skiing during the winter season. These activities add an extra element of excitement and thrill to the overall trekking experience.
The duration of the trek can vary depending on your preferences and fitness level. Typically, the Kalinchowk Trek takes around 4 to 6 days to complete, including travel time from Kathmandu. A visit to Kalinchowk Temple is an route possible to explore at any time throughout the year.
How much does for Kalinchowk Trek Package Cost?
The cost of the Kalinchowk trek package with a Gokyo Trek Agency (a local agency in Kathmandu Nepal) ranges between US$ 185 to US$ 450. Certainly, the Kalinchowk cultural tour cost totally depends upon the group size and the types of transportation you choose. Typically, the trip price includes transportation, accommodation, guide and Porter, food, permit cost, etc.
We also have discount deals for tour leaders. For example, if you could bring 10+ travelers (except you) to your trip, you are treated as a group leader. So you can hike Kalinchowk for free of cost.
However, we often arrange private trips in order to avoid group tours with strangers. A private tour gives you a better experience on your hikes. If you value personalization, flexibility, and in-depth experiences, a private trip customized to your personal needs will be the best option.
It is the standard trip package price for 4 days trek. If you are 2 tourist Kalinchowk trek cost US$ 298 for 4 days trek as given on the above trekking plan. We can modify the trek route and price as per your wish also. Here is the price list for Kalinchowk treks.
Price Per Person for 4 days hikes in the Kalinchowk territory.
| Number of Tourist | Price Per Person |
| --- | --- |
| 1 Person | US$ 450 |
| 2 Person | US$ 298 |
| 3 Person | US$ 298 |
| 4 to 6 person | US$ 265 |
| 7 to 9 Person | US$ 220 |
| 10 and more than 10 Person | US$ 185 |
If you're wondering to know about what is included and what is excluded from this trip price, kindly check on the cost given on a tab button.
Itinerary
Kalinchowk Trek itinerary details
Because of Kalinchowk Bhagwati sanctuary and cable car ride, Kalinchowk Darsan is a very popular. Therefore, book your hiking trips with Gokyo Treks agency and get special seasonal deals. A visit to Kalinchowk is a cultural trek in Nepal and take a look the best itinerary as per given here for your reference.
1 Day
Arrival at Kathmandu airport. Kathmandu tour – World Heritage sites in Kathmandu, 3-4 hours.
Upon arrival in Kathmandu, Tribhuwan International Airport, we will receive you with a private vehicle and take you to your hotel in Thamel Kathmandu. Ammar Guni will brief you about your city tour.
We start our day trip visiting world heritage sites located in Kathmandu city. The sightseeing spot covers mainly Boudhanath Stupa and a Pashupatinath temple, the main Hindu and Buddhist pilgrimage sites in Kathmandu. Pashupati temple is a Hindu holy temple where the cremation takes place by the holy river Bagmati. Later on, we visit Kathmandu Durbar Square to see its ancient monuments and Kumari Temple. Kumari is a living goddess temple dedicated to Taleju Bhawani.
2 Day
Drive from Kathmandu to Charikot (1,554m). Hike to Kuri Village (3,447m/11,310 feet), 6-7 hours
On the first day of your Kalinchowk trek, you will start by driving from Kathmandu to Charikot. Charikot is a town located in the Dolakha district of Nepal, and it serves as the starting point for the trek. The drive from Kathmandu to Charikot takes approximately 4 to 5 hours, covering a distance of around 132 kilometers.
After reaching Charikot, you will begin your hike towards Kuri Village. Kuri Village is the base camp for the Kalinchowk trek, situated at an altitude of 3,447 meters. The hike from Charikot to Kuri Village takes around 4 to 5 hours, depending on your pace and fitness level.
During the hike, you will ascend through beautiful landscapes, terraced fields, and charming villages. You will also pass through dense forests of rhododendron and pine, which add to the natural beauty of the trail. Along the way, you may encounter locals going about their daily activities and get a glimpse of their traditional lifestyle.Upon reaching Kuri Village, you will be greeted with stunning views of the surrounding mountains and the serene environment of the village. Kuri Village has several teahouses and lodges where you can rest and spend the night. You can enjoy the warm hospitality of the locals, savor delicious meals, and prepare for the next day's trek.
3 Day
Kuri Village to Kalinchowk Bhagwati Temple Hiking and Return to Kuri Village, 2 hours.
On the second day of your Kalinchowk trek, you will embark on a hike from Kuri Village to Kalinchowk Bhagwati Temple and then return to Kuri Village. This is the main highlight of the trek as you visit the sacred temple and enjoy the stunning mountain views.
The hike from Kuri Village to Kalinchowk Bhagwati Temple takes approximately 2 hours, depending on your pace and weather conditions. The trail gradually ascends through rocky terrain and alpine meadows, offering glimpses of the majestic Himalayan peaks as you go higher.
Upon reaching the Kalinchowk Bhagwati Temple, you will be rewarded with breathtaking panoramic views of the surrounding mountains, including Langtang, Ganesh Himal, Shisha Pangma, Dorje Lakpa, and Gauri Shankar. Kalinchowk temple itself is perched at an altitude of 3,842 meters, adding to the spiritual and serene atmosphere.
Take some time to explore the temple premises, offer prayers, and soak in the spiritual ambiance. You can also enjoy a packed lunch or snacks while enjoying the spectacular views from the temple area.
After spending a memorable time at the temple, you will retrace your steps and hike back to Kuri Village. The return journey takes approximately 1 to 2 hours as you descend the trail. Once you reach Kuri Village, you can relax, interact with locals, and enjoy the tranquil environment.
In the evening, you can witness a beautiful sunset over the mountains if the weather permits. The sky turns golden, casting a magical glow on the snow-capped peaks, creating a memorable sight. You will spend the night at a teahouse or lodge in Kuri Village, enjoying a warm meal and reflecting on the day's experiences.
4 Day
Trek down to Charikot Bazaar and drive back to Kathmandu, 6 hours
On the third day of your Kalinchowk trek, you will trek down from Kuri Village to Charikot Bazaar and then drive back to Kathmandu, marking the end of your trekking adventure.
A trek from Kuri Village to Charikot Bazaar involves descending the trail, which takes approximately 3 to 4 hours, depending on your pace and fitness level. Continue to pass through lush forests, terraced fields, and picturesque villages, allowing you to enjoy the natural beauty of the region one last time.
As you descend, you may have the chance to interact with locals and learn more about their culture and way of life. It's a great opportunity to appreciate the simplicity and tranquility of the rural communities in this part of Nepal.
Upon reaching Charikot, you will have some free time to explore the town, rest, or have a meal at a local restaurant. Charikot is a small bustling market town with a vibrant atmosphere, offering a glimpse of local trade and daily activities.
Afterward, you will board a vehicle for the drive back to Kathmandu, which takes approximately 4 to 5 hours, depending on traffic conditions. The drive will take you through scenic landscapes and winding roads, allowing you to relax and reflect on your trekking experience.
Once you reach Kathmandu, you will be dropped off at your designated location, marking the end of your Kalinchowk trek. You can now enjoy the comforts of the city, reminisce about the beautiful memories, and perhaps plan your next adventure in Nepal. You can do some last-minute shopping in Thamel for buying souvenirs for your family and relatives. In the evening, join a typical Nepali dinner with the Gokyo Treks agency. In this way, the Kalinchowk circuit trek finishes, and we wish you a wonderful journey back home.
Not satisfied with above plan?
Interested in planning a custom trip? this might take 2 to 3 minutes.
Cost
How much does Kalinchowk Trek price?
Short hikes near Kathmandu to Kalinchowk Trek price US$ 298 per person on a double occupancy basis. For the deluxe and luxury trekking tour plan, we add a 3-5 star category hotel deluxe air-conditioned room in Kathmandu with breakfast. Likewise, a private room with an attached toilet/bathroom on possible places on trekking days. AND WE ARE OPEN TO CUSTOMIZING YOUR TOUR AND PACKAGE PRICE AS PER YOUR REQUIREMENTS.
Soft adventure Kalinchowk hiking packages price includes:-
Kathmandu Tribhuwan international airport transfer with a private car/van on your arrival.
Single night double bedroom accommodation in a tourist standard hotel in Kathmandu.
3 Breakfast set, 3 lunch, and 2 Dinner [main course] serve with a cup of tea/coffee during the Kalinchowk tours.
2 Nights double bed room Guest house accommodation while you are on Kuri village.
Kathmandu to Kuri village and return transfer with a private car.
English speaking license holder mountain trekking guide on Kalinchowk trek route.
Kathmandu city world heritage sites Tour Guide with a Private Car Transfer.
Updated Kalinchowk trek map and trip completion Certificate after the successful trip – keep them as a souvenir.
Nepal Government Tax, VAT, and as well as Company service charge.
The cultural Kalinchowk circuit trekking package price excludes:-
Lunch and Dinner during the staying in Kathmandu
Any kinds of battery charges, laundry service, phone calls during the hikes.
World heritage sites entrance fee [Pashupatinath, Boudhnath and Kathmandu durbar square].
Traveler personal trekking equipment .
Personal nature expenses, all types of drinks, and bar bills.
Cable car ride tickets.
Donation and monuments entrance fees.
Gratuities for guide [Tip is a culture, so they expect highly].
Other things which are not mentioned above
Group join
We can organize private Kalinchowk Trekking starting on any date that works for you. Please contact us for more information.
FAQ
Question: Is pick up service available on my arrival day in Kathmandu town?.
Answer: Yes sure. Provide us with your flight details so we will come to pick up you at Kathmandu international airport to transfer you to your hotel.
Question: Do I need the experience to do Kalinchowk Trekking?.
Answer: Not really. Kalinchowk is an easy hike that doesn't requires previous hiking experience.
Question: Can I store my luggage/stuff in Kathmandu?
Answer: Yes, you can leave your luggage at your hotel or at our office. Store your stuff in the Gokyo Treks agency office is for free.
Question: Is the Kalinchowk trekking Safe for the Solo Female Trekkers?
Answer: Absolutely yes. Nepal is a safe country to travel to for solo travelers; this trek is perfectly safe for solo female trekkers also. We have been organizing the trek even for a solo female traveler and its safe.
Question: What kind of food & Lodges can I expect in Kalinchowk Trek?.
Answer: We do provide you a tourist standard accommodation hotel in Kuri village, every hotels attach restaurants. They cook a delicious range of mostly vegetarian such as Pasta, tuna bakes, noodles, potatoes, eggs, curry rice, bread, soups, and fresh vegetables.
Question: Can I charge my digital camera or other batteries on my trip?.
Answer: Yes, you can. We recommend you bring an extra pair in case. Remember to bring your own adapters.
Question: How about the road condition from Kathmandu to Kalinchowk?
Answer: The road from Kathmandu to Kalinchowk is half blacktop (pitched), and half-harsh, where the initial 80 km of the piece is smooth, and the rest 70 Km is rough terrain.
Question: When is the best time to visit Kalinchowk Temple?
Answer: The best opportunity to visit Kalinchowk is throughout the colder time of year somehow from November to March. They are the best months to explore Kalinchowk tours.
Question: How long is Kalinchowk Cable Car ride?
Answer: Kalinchowk Cable car ride is a distance of 2.5 km and will take a span of 6 minutes approx.
Question: When should I book my trip and what are the payment terms?.
Answer: Because our trips book up months in advance, we recommend booking early to avoid any kind of misunderstanding. We will, of course, make every effort to accommodate last-minute bookings. And regarding the deposit, we prefer a 20 % advance deposit of the total price of the trip in order to confirm your reservation before you arrive in Nepal. And the rest of the payment can be made after your arrival in Nepal.
Question: Do I need walking poles?
Answer: Walking poles are useful but not compulsory.
Question: How much additional money do I need per day?
Answer: You can allocate US$ 10 – 15 for a lunch/dinner in Kathmandu and it depends on your spending habits. US$ 4 to 6 US$ each day will be enough to buy bottles of water, chocolates, tea coffee, and some drinks while you are on your trek.
Kalinchowk trek route highlights
Kalinchowk Bhagwati Temple dedicated to Goddess Kali, and it holds great religious significance for Hindus and Buddhists.
Also believed that offering prayers at the temple can fulfill one's wishes and bring good fortune.
Panoramic Mountain Views including Langtang, Ganesh Himal, Shisha Pangma, Dorje Lakpa, and Gauri Shankar.
Many visitors prefer to stay overnight near the temple to witness the sunrise or sunset over the Himalayas.
The journey to Kalinchowk Bhagwati Temple itself is filled with natural beauty.
Local Culture and Traditions of Tamang and Sherpa communities of their unique culture, traditions, and way of life.
Cable car riding, horse riding, hiking or paragliding and exploring the nearby areas.
The serene and peaceful environment around Kalinchowk Bhagwati Temple offers a tranquil and spiritual atmosphere.
Kalinchowk Trek notes
Hikes Kalinchowk information stated above is just a sample guideline that we provide to our guests. Solo Trek on Kalinchowk is also possible but as you travel privately, the total cost is basically higher.
However, the Kalinchowk trek itinerary is possible to modify according to guest requests to accommodate their specific requirements. Local politics, landslides, cancellation of local flights, weather, transport, or a multitude of other factors that are beyond our control can result in a change of itinerary on the spot.
What makes Kalinchowk Trek special?
Kalinchowk Darsan provides a glimpse into the traditional lifestyle, culture, and customs of the Kalinchowk region, where Sherpa and Tamang re mainly inhabitants. These communities have their own unique traditions, festivals, and religious practices that are distinct from other parts of Nepal.
However, we at Gokyo Treks and Expedition believe in quality service and your safety and satisfaction which is a prime concern. We are a team of professional, skilled guides, and licensed local guides who know the destination much better than others. Besides that, we give benefits to the local communities and help to conserve natural resources which reduced costs and consumption.
Kalinchowk Trek Traveller's Review
There are no reviews yet. Be the first one to write one.
From US$ 474
5% Off
US$ 298
| | |
| --- | --- |
| No. of people | Price Per Person |
| 1 | USD 450 |
| 2 | USD 298 |
| 3 | USD 298 |
| 4 - 6 | USD 265 |
| 7 - 9 | USD 220 |
| 10 + | USD 185 |
Book Now
Customize Trip
Cost & Departures
Your Trip Your Style!
ITINERARY, COST, DEPARTURES, will adjusted according to your GROUP SIZE NEED TIME
Book with Confidence
Local Guides Company.
18 Years in Business.
Lowest Price Guaranteed.
100% Customizable Trips
Excellent Customer Service
Hassle Free Booking.
90 % Repeated customers
Highly Recommended agency
Private/group tour options