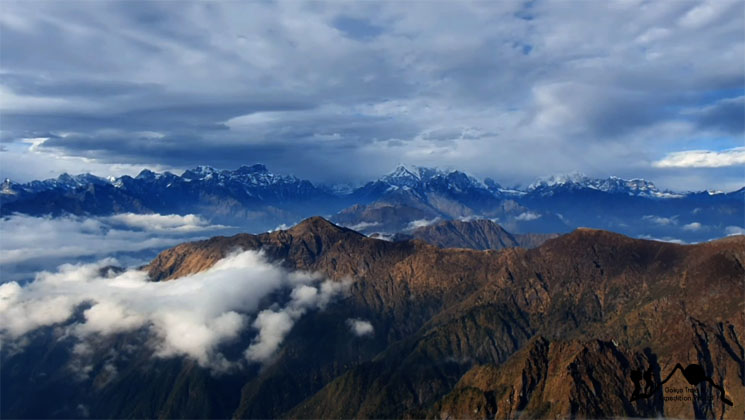 Mundum Trek Summary
Duration of Trek: 13 Days
Trek Difficulty : Easy to Moderate grade
Highest Elevation: 4,153m / 13,626 feet
Trekking Hour: 6 Hours
Group-Size: 2 – 12 People
Best Time: October to May
Trip Mode: Alpine Camping
Foods on Trek Route: Breakfast, Lunch, and Dinner
Transportation: Car/Bus
Overview
The Mundum Trek is one of the most popular trekking trails that goes through quiet mountains in the eastern piece of Nepal. Halesi Mahadev temple with Mundum Trek likewise offers sublime Himalayan mountains view, green valleys, and lavish woods along the path. Travel across the gorgeous towns along the path of Kirat Rai and the Limbu public.
In addition, Tourists can see 5 of the 8,000-meter summits of Mt. Everest, Lhotse, Shishapangma, Makalu, Cho Oyu..etc. Travelers can experience the social wealth of the ethnic Kirat Rai individuals, the occupants of the eastern mountains, who live in the district and this heavenly book direct their social and cultural life.
Halesi Mahadev is a very famous sacred temple also a part of Pashupatinath of Eastern Nepal. This place is also known as Halesi Maratika which is one of the most ancient holy places of Nepal famous among Hindus & Buddhist devotees. It is said that the Buddhists Guru Padmasambhava also known as the second Buddha and his sacred consort Mandarava attended various forms of hidden teachings of Buddha Amitabha in this beautiful natural cave.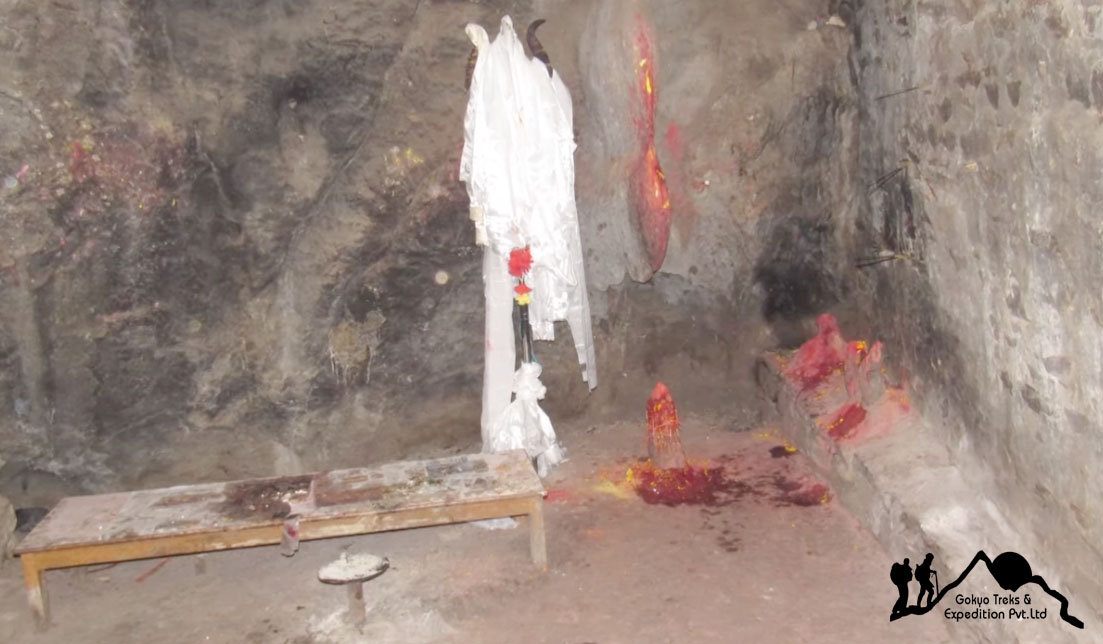 As the path wanders through the settlements where the ethnic Kirati individuals have been staying for a very long time, you will get to intently know their special culture and way of life. This outing has obtained the name to feature the social experience of the locale notwithstanding the miracles of nature and the mountains.
Exploring the Mundum trekking trail name is derived from this area of strength the social act of Kirat individuals living in the locale. Mundum is the strict sacred writing of Kirati individuals that starts from the delightful Diktel Bazaar and goes through a few native ethnic towns up to Silichung peak viewpoint 4,153m.
How much is the Mundum Trail Package Trek Cost?
The Mundum trek cost depends upon the group size you are coming to and the service you choose. The cost of the Mundum Trek Package with a Gokyo Treks Agency ranges between US$ 1225 to 1780. We also have special travel deals for group leaders. For example, if you could bring 10+ travelers (except you) on your trip, you are treated as a group leader. So you can hike Mundum Trail for free of cost. Taking flights saves your time and riding the bus reduces trip expenses.
It is the standard trip package price for 13 day Kirat Rai cultural trek. If you are 2 people Mundum Trek cost US$ 1498 for 13 days trek according to the Khaling rai cultural trekking plan. We can modify the trek routes and the prices according to your wishes. Here is the price list for the Mundum treks.
Price Per Person for 13 days for Mundum trekking
| Number of Tourist | Price Per Person |
| --- | --- |
| 1 Person | US$ 1780 |
| 2 Person | US$ 1498 |
| 3 Person | US$ 1460 |
| 4 to 6 person | US$ 1375 |
| 7 to 9 Person | US$ 1290 |
| 10 and more than 10 Person | US$ 1225 |
If you're wondering to know about what is included and what is excluded from this trip price, kindly check on the cost given on a tab button.
Itinerary
Mundum trek itinerary detail
This Mundum trail opened up just in January 2018 for travelers. This Silichung hill trek itinerary is compared to most walks in this region leading up to the hill station. Eastern Nepal's Mundum Trek route is designed for globe trotters who wish to hike to the spectacular mountain but are restricted time-wise. Travelers who wish to trek in a more relaxed manner can try this itinerary however if this route does not suit you then send us an inquiry for a tailor-made itinerary.
01 Day
Arrival at Kathmandu valley. Kathmandu sightseeing, 4 hours
Upon arrival in Kathmandu, Tribhuwan International Airport, we will receive you in a private vehicle and drop you at the hotel in Kathmandu town. If you have time permits, we visit Swayambhunath stupa, Kathmandu durbar square, and Asan tole. Our representative will introduce the guide and cook and as well as brief you Mundum cultural trek plan.
02 Day
Drive from Kathmandu to Halesi Mahadev Temple or Maratika Cave (3,100m/10,171 feet), 7 hours
To begin your cultural Mundum Trek Itinerary, Guide will meet and greets you on your breakfast time and you should reach Halashi temple by Bus drive in roughly 7 hours. Halesi is mostly known as Maratika Cave or Maratika Monastery among Buddhists of the Khotang district in Nepal.
Even flight service [extra cost] is available from Lamindada but the flights are not often get canceled. Thus, we recommend our visitors on either roadway or Heli tour to Halesi Mahadev as there is a Helipad near Halesi Mahadev temple. The roadway tour to Halesi takes you from Kathmandu to Khurkot following the unpaved way from Kotari to Ghurmi, and then Jayaram Ghat to Halesi Bazar.
Halesi is rich in its natural beauty and has its own religious and cultural importance linked with Mandarava, Padmasambhava, and lifetime. It is said that the Halesi Cave has been used as a residence for 6000 years inside the temple. The Halesi Cave placed in between the holy rivers of Dudh Kosi & Sun Kosi above the hill. The temple of lord Shiva is inside the Halesi cave.
03 Day
Morning, Visit the entire temple and drive out to Diktel Bazaar (1,650m/5,413 feet), 2 hours
Mainly, there are three mysterious caves in Halesi which are believed to be the three eyes of lord Shiva. An image of lord Shiva can be seen in the first cave which is renowned with the name Haleshwar Mahadev whereas an image of Nandi can be seen in the second cave. It is said that Halesi Cave was the home of Lord Shiva while hiding from the demon Bhasmasur.
Around 11:30 am, catch a coach to Diktel Bazaar which takes about 2 hours to complete 32.8 kilometers. The drive gives a more vast experience of the Nepalese lifestyle from the Coach window as well as a highway in Nepal. Meet the entire camping crew in Diktel Bazaar and we enjoy exploring the local market and sleeping in a local guest house with traditional dinner.
04 Day
Trek to Chakhewa Village (2,300m/7,546 feet), 6 hours
Our team will offer the special bed tea early morning. The kitchen crew will prepare the breakfast for you while Mundum Trekking Guide will show you around the Diktel Market highlights.
Later breakfast, we start our first-day hike of the Mundum trail to Chakewa. This is about 24 Kilometers but an easy hike. Today we will cross the beautiful villages of Dorap Chiuri Danda and Dobela. This part of Mundum trekking gives you a truly rural experience above then expectations. Overnight at Chakewa campsite/homestay.
Optional Day tour at Tamke Danda.
In your interest, we can drive to Chakewa Village and visit the Tamke Danda hill station at 3,010 m. Hike to reach Tamke Hill is possible in 3-4 Hours of drive, which is only possible with a drive to Chekewa from Diktel Bazar. As per your wish, we can manage and arrange the Tamke hill hike at an extra price.
05 Day
Trek to Dhotre (2,752m/9,029 feet), 6 hours.
Interested hikers can have a short excursion to Dhotre Village to get in touch with the culture of the Rai and Kirat people. Our guide will help to make your dream true. Enjoy the breakfast and start the up stair hiking.
06 Day
Trek to Hans Pokhari (3,122m/10,243 feet), 7 hours.
It's short and easy as well full of views. You will cross Chhimalung Pass, the beautiful Mani wall of Phokte, the hill point of Chautara, Mattim Danda, and the religious temple of Baspani Devisthan, and reach our camp at Mailung also spoken as Hans Pokhari.
07 Day
Trek to Rawa Dhap (3,426 m/11,241 feet), 7 hours
Hikers will get connected with Kirat and Rai people more closely and see hanging cultivated fields with their traditional work.
Pass the Kirat Rai Villages like Satdobato, Hyakule, and Lauri Bina and reach our camp of Rawa Dhap. Rawa Dhap is a splendid base of Laure Hill.
08 Day
Salpa Bhanjyang trekking (3,348m/10,985 feet), 7 hours.
Hike distance that we spend today is short but offers amazing side trips. Walk slowly with getting in touch with the Rai and Kirat people and their lifestyles.
Likewise, you cross the mani wall of Nikasa, the mani of Handi lake, and Mani wall of Salpa Pass. Salpa pass is also known as Kulu Pankha Bhanjyang where we rest overnight.
09 Day
Explore Silchung Hill (4,200m/13,780 feet), 5 hours.
As we plan to go hill station, walk early morning to Silichung viewpoint at 4,153 meters to get spectacular scenery. Not only the Himalayas, the deep valleys, green nature, and white Himalayas make this the best and most peaceful viewpoint. In clear weather, travelers can see the 5 tallest peaks in the world and many other peaks in a row.
Mt. Everest, Kanchenjunga, Cho Oyu, Lhotse, and Makalu all are 8000 meters above the peaks. In addition, Thamserku, Kangtega, Amadablam, Dorje Lakpa, Kusum Khungurung, and Numbur are also visible from here.
10 Day
Trek to Hyakule (2,972m/9,751 feet), 7 hours
Hike down to Hyakule by following the same trail we used enjoying the missing attraction and interesting places and things. Overnight at Kyakule.
11 Day
Trek to Hans Pokhari (2,962m/9,718 feet), 3 hours.
Today also hike back to the same trail till the end of the day. The downhill walk to Hans pokhari is the shortest and sweetest day comparing other travel days of the Mundum trekking route. In your interest, you can extend this to the next village at Maiyung Peak or Ekrate.
12 Day
Trek to Bhojpur (1,600m/5,250 feet), 6 hours
It's the longest day hike to reach Bhojpur Bazar we have to cover about 21 Kilometers but in low altitude and relatively downhill will make this journey easy. However, it's the final day of Mundum trail hikes so we will have a grand party with the trekking crew.
13 Day
Drive back to Kathmandu city (1,350m/4,429 feet), 10 hours.
Get ready have an early breakfast and catch a coach back to Kathmandu. The journey back to Kathmandu city takes about 9 to 10 hours depending upon the traffic jam. The guide will assist you with all your needs and queries on the road. Transfer to the hotel in Thamel and enjoy the complementary cultural dinner program. The trip is finished.
Not satisfied with above plan?
Interested in planning a custom trip? this might take 2 to 3 minutes.
Cost
How much does the Mundum trek package price?
Trek to Mundum trail package price US$ 1498 per person is the standard trek price on double occupancy basis. For the deluxe and luxury trekking tour plan, we add a 3-5 star category hotel deluxe air-conditioned room in Kathmandu with breakfast. Likewise, a Tent camping accommodation in possible places. AND WE ARE OPEN TO CUSTOMIZING YOUR TOUR AND PACKAGES PRICE AS PER YOUR REQUIREMENTS.
Mundum trek Package Include:
Kathmandu international airport transfer by private vehicle car/van as per the trekking group size.
Single night double bedroom accommodation in a Tourist standard hotel in Kathmandu city.
12 Breakfast, 12 Lunch, and 12 Dinner served with hot Tea/coffee during the camping trek.
Necessary camping equipment (2 Man tent, Dining & toilet tent, sleeping bags, Bed Pillows, and Mattress) on the trek route.
MUndum trail trek permits including TIMS.
Bus transfer from Kathmandu to Diktel Bazaar and from Bhojpur to Kathmandu as per plan.
English-speaking license holder mountain trekking guide.
Professional / strong porter during the trekking (2 guest luggage = 24kg) is equal to 1 porter basis.
Salary, food, accommodation, and travel insurance for guide and porter.
On the first day Kathmandu sightseeing as per the itinerary with a tour guide service.
Trek completion Certificate – Keep yourself as a souvenir.
Agency's duffel bag (50 liters capacity), and trek poles if Necessary – return after the trek.
First aid medical kit including Oximeter to check your Oxygen level, Pulse rate to monitor every day to prepare for high altitude risk.
In a worst case, help with all Helicopter Rescue and evacuation arrangements (but not the rescue bills).
Nepal Government Tax, VAT, and as well as Company service charge.
Mundum trek Package Excludes:
Lunch and Dinner during the stay in Kathmandu city.
Any kinds of battery charges, laundry service, and phone calls during the trek.
Sightseeing in Kathmandu by Private vehicle according to programs.
Personal trekking gears and Clothing.
Personal nature expenses, drinks and bar bills.
Nepal Visitor travel insurance which covers emergency Rescue and Evacuation.
Any donation and monument entrance fees.
Gratuities for guide and porters [Tip is a culture, so they expect highly].
Other things which are not mentioned above.
Group join
We can organize Kirat and Khaling Rai cultural trek with a Silichung hill starting on any date that works for you. Please contact us for more information.
FAQ
Question: I am an independent trekker, do I need experience for the Mundum trek?.
Answer: In short, normal health is enough for Mundum Trekking. The Trekking Trail of Mundum arrives at just 4,200 meters above ocean level as the most extreme height and can finish typical grade, you needn't bother with any favorable to even out of healthy.
Question: Is pick up service available on my arrival in Kathmandu?.
Answer: Yes sure. Please provide us with your flight details and request us for pick up. Our representative will come to pick up you at Kathmandu international airport.
Question: Can I store my luggage/stuff in Kathmandu?
Answer: Yes, you can leave your luggage/stuff at your hotel or at our office. Store your stuff in the Gokyo Treks agency office for free.
Question: Is this trekking Safe for Solo Female Trekkers?
Answer: Absolutely. Nepal is a safe country to travel to for solo travelers; this trek is perfectly safe for solo female trekkers. We have been organizing the Mundum trek even for solo female travelers since its establishment.
Question: What kind of accommodation can I expect on Mundum Trek?.
Answer: We provide you tourist standard accommodation in Kathmandu and tent camping during the trekking routes. You will have a tent accommodation with a nice mattress, blankets, and a Pillow. However we recommend you take your own sleeping bags if you have one with you otherwise, we can manage while you are in Kathmandu.
Question: What kind of food can I expect on a camping trek?.
Answer: Our professional cook cooks a delicious range of mostly vegetarian such as Pasta, tuna bakes, noodles, potatoes, eggs, curry rice, bread, soups, and fresh vegetables. Fresh vegetables are available during the hiking season.
Question: What opportunities will I have for a shower along the Mundum trek?.
Answer: As you are on the camping trek, we do provide you hot water bucket, then you will take a bucket shower.
Question: How do I get drinking water on the Mundum trek?.
Answer: We do provide you filter/ purified water as the normal water is available at the campsite or en route.
Question: Can I charge my digital camera or other batteries on my trip?
Answer: Very less chances to charge the battery therefore, bring an extra pair in case. Remember to bring your adapters! And we recommend you take extra batteries along with you.
Question: Are there any communication facilities?.
Answer: Travellers will have telephone services as well as 3G internet service. Buy a data pack to get a call and internet facilities.
Question: When should I book my trip and what are the payment terms?
Answer: Because our trips book up months in advance, we recommend booking early to avoid any kind of misunderstanding. We will, of course, make every effort to adapt to last-minute bookings.
And regarding the deposit, we prefer a 20% advance deposit of the total price of the trip in order to confirm your reservation before you arrive in Nepal. And the rest of the payment can be made after your arrival in Kathmandu.
Question: Who will carry my luggage on the Mundum trek?
Answer: We provide porters to transfer your luggage. As we are a responsible trekking tour operator agency, every porter carries a maximum of 24 kilos of your backpack which means 2 guests (12 kg luggage of each guest): 1 porter basis.
Question: How much distance do I walk each day?
Answer: You mainly cover each day can vary greatly due to gradient, terrain, and altitude. As such it is very hard to give specific distances for each day, however, you have to be prepared to walk for roughly about 5 hours each day.
Question: Do I need a walking pole for the Mundum trek?
Answer: It is better to hike with walking poles. Learn how to use trekking poles for balance and stability, whether on the sidewalk or on trails. Walking poles can help prevent slips and falls. They are just recommended but not compulsory.
Question: How much additional money do I need per day?
Answer: You can allocate US$ 08 – 10 for lunch/dinner in Kathmandu and it depends on your spending habits. US$ 7 to 10 US$ each day will be enough to buy bottles of water, chocolates, tea coffee, and some drinks while you are on your hike.
Mundum trek highlights.
A beautiful trek to experience Khaling Rai and Kirat tradition and their daily lives.
Stunning view of Mera Peak, Mt. Everest, Makalu, Cho Oyu, and many other mountains.
The diversity of flowers and the butterflies at this altitude are truly amazing.
Silent trail, only some special wilderness trekkers can hike with full camping gear.
Notes for Mundum trekkers!
The Mundum trek is popular as a cultural trek in eastern Nepal is possible only tent trekking. However, the camping trek daily plan is possible to customize at your request to accommodate your specific requirements. Local politics, landslides, cancellation of local flights, weather, transport, or a multitude of other factors that are beyond our control can result in a change of itinerary on the trip.
It is, however, very unlikely that the itinerary would be substantially altered. If alterations are necessary the leader will decide the best alternative option, taking into consideration the best interests of the whole group. When a change does occur, we do everything we can to minimize its effect, but we cannot be responsible for the results of changes or delays.
"What makes Mundum trek special?"
Hike at Mundum trail is not an adventure but its new trekking trail explores the cultural riches of the ethnic Kirati people, the inhabitants of the eastern hills and mountains. The cultural trail connects with the holiest sacred pilgrimage place of Halesi Mahadev Temple, one of the very important Hindu religious sites in Nepal. Mundum is a tent camping trail that is suitable for all age groups and is promoted as an all-season trekking destination in eastern Nepal.
However, We at Gokyo Treks and Expedition believe in quality services. First safety and success is our concern.
We are a team of professional, experienced, and licensed local guides who know the destination much better than others. Furthermore, we give benefits to the local communities and help to conserve natural resources which reduced costs and consumption.
Mundum trek review
There are no reviews yet. Be the first one to write one.
From US$ 1520
2% Off
US$ 1498
| | |
| --- | --- |
| No. of people | Price Per Person |
| 1 | USD 1780 |
| 2 | USD 1498 |
| 3 | USD 1460 |
| 4 - 6 | USD 1375 |
| 7 - 9 | USD 1290 |
| 10 + | USD 1225 |
Book Now
Customize Trip
Cost & Departures
Your Trip Your Style!
ITINERARY, COST, DEPARTURES, will adjusted according to your GROUP SIZE NEED TIME
Book with Confidence
Local Guides Company.
18 Years in Business.
Lowest Price Guaranteed.
100% Customizable Trips
Excellent Customer Service
Hassle Free Booking.
90 % Repeated customers
Highly Recommended agency
Private/group tour options