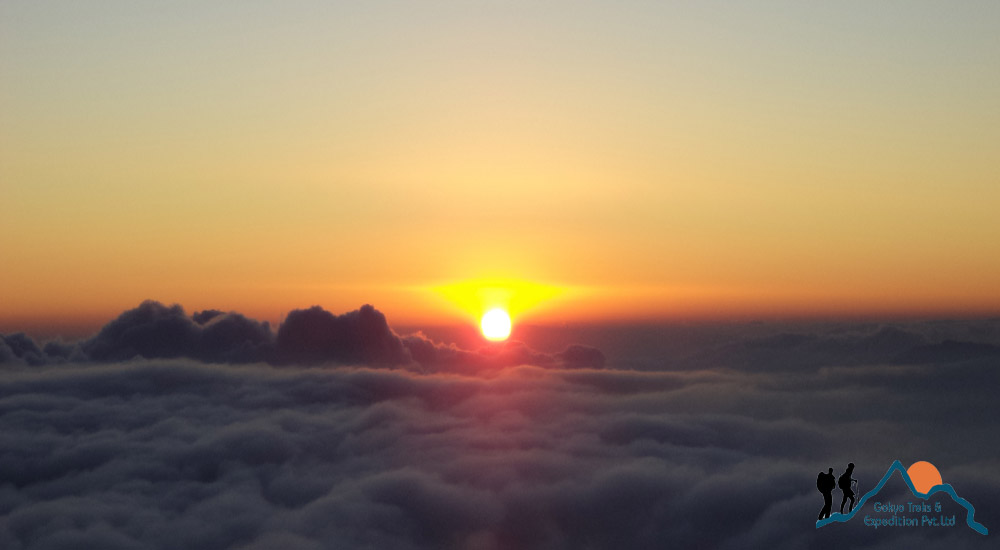 Nagarkot Sunrise Tour Summary
Best time: Before 8-9:00 AM [every day].
Tour Difficulty: Easy Tours
Group-Size: 1 – 15 Tourist
Best Months: March, April, May, October, November and December.
Activity Hour: 7/8 Hours
Transportation: Private Car/Jeep / Hiace Van
Get an amazing experience of watching a Himalayan Sunrise from Nagarkot hill station. Visit the oldest Changu Narayan Temple dedicated to Lord Bishnu, considered the oldest temple in Nepal. Explore the former Newari houses throughout the Bhaktapur royal palace excursion.
Nagarkot viewpoint is located about 25 miles east of Kathmandu, the capital city of Nepal. It is on the northeastern edge of the Kathmandu Valley at a rise of 2,175m or 7,136 feet above sea level. The Nagarkot hill station is one of the most popular day tours to see prestigious dawn perspectives on the Himalayas. You can see Mount Everest with its snow-bested tops from a perception tower.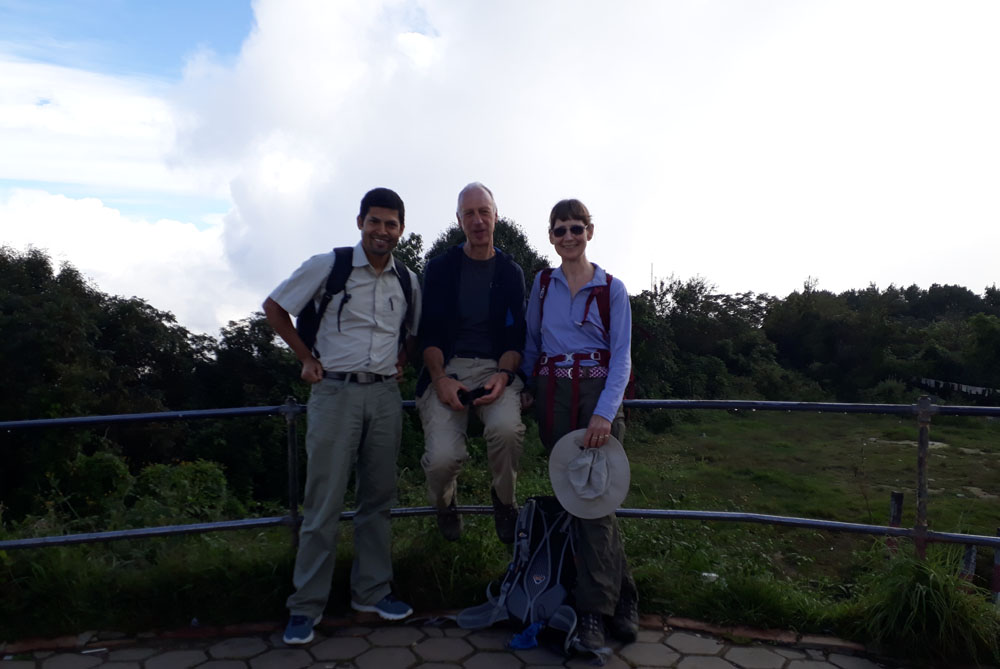 Furthermore, hike to Changu Narayan, situated at Bhaktapur hilltop. And possible to hike from Byasi, the Tourist bus park near Bhaktapur palace. Later to visit the Changu Narayan temple tourist can hike from Changu Narayan to Bhaktapur durbar main square as it's a single-day tour. This sanctuary is committed to master Vishnu and is held in unique love by Hindu individuals. This sanctuary is viewed as the most established sanctuary throughout the entire existence of Nepal.
The majestic town Bhaktapur is a living portrayal of how the whole Kathmandu Valley would have looked like during the medieval period. Appreciate the previous heavenly design, out of this world sanctuaries worked in pagoda style, fine earth stoneware, and enormous imperial patios whose presence goes back to the twelfth century.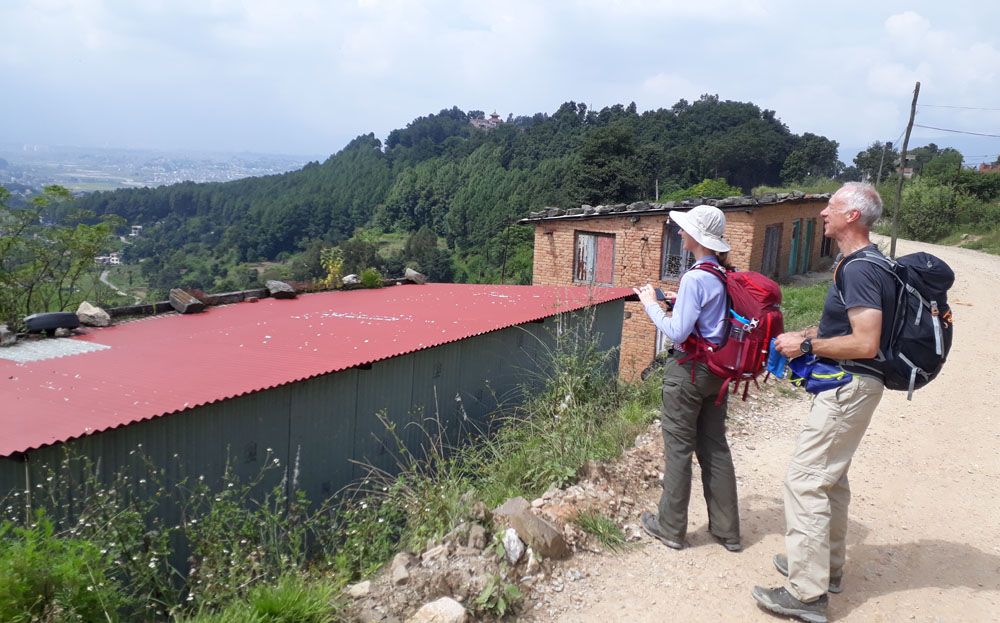 How much is for Nagarkot Sunrise Tour Cost?
The cost of the Nagarkot sunrise package tour with a Gokyo Treks local agency in Nepal ranges between US$ 25 to 85. Typically, the package tour cost will vary as per group size and the type of vehicle you want to choose. It is the standard trip package price that includes a driver, a car, and a professionally licensed tourist guide.
Have in mind that, we also have a discount offer for tour leaders, if you could bring 10+ travelers (except you) on your trip, you are treated as a group leader. So you can travel to Nagarkot free of cost.
It is the standard trip package price for a single-day tour. If you are 2 people Nagarkot sunrise tour costs US$ 50 as per the given travel plan. We can modify the sightseeing places and prices as per your demand. Here is the price list for the Nagarkot sunrise and hike to Changu Narayan temple including the sightseeing on Bhaktapur Durbar square.
Price Per Person for a single day tour to Nagarkot/Changu Narayan temple and Bhaktapur palace:-
| Number of Tourist | Price Per Person |
| --- | --- |
| 1 Person | US$ 85 |
| 2 Person | US$ 50 |
| 3 Person | US$ 35 |
| 4 to 6 person | US$ 33 |
| 7 to 9 Person | US$ 30 |
| 10 and more than 10 Person | US$ 25 |
If you're wondering to know about what is included and what is excluded from this trip price, kindly take a look as given below.
Nagarkot Sunrise Tour itinerary detail
---
Hike at Nagarkot for Sunrise with Trip To Changu Narayan and Bhaktapur tour
In the early morning, we drive from Kathmandu to Nagarkot hill station to get sunrise. The non-stop overland drive with a private car takes about 90 minutes to reach Nagarkot tower. If you are fortunate and if the climate is clear, you may see the Himalayan range which incorporates the Langtang, Ganesh Himal, Annapurna ad many other towering Mountains including Mount Everest.
Later Nagarkot sunrise tour, we take breakfast and begin for little hiking to reach Changu Narayan Temple. Visit the ancient square of Bishnu temple and its surroundings before heading down to Bhaktapur's town. Hike to the Bishnu temple of Changu Narayan shrine is also popular to watch the beautiful view of Bhaktapur town.
Take a look at the ancient Bhaktapur town of its world heritage sites including Dattaraya square, 55 window palace, Vatsala Temple, Statue of Bhupatindra Malla, Nyatapola Temple, lion's gate, Golden gate, Pashupatinath temple …etc. Return to Kathmandu after visiting Siddha Pokhari. The total length of this day tour takes about roughly 8 hours. Trip finish.
Sunrise from Nagarkot hill tour package highlights
Discover the sky touching tallest mountains of Earth.
Ancient Newari town Bhaktapur, UNESCO world heritage sites.
Get to know the ancient Changu Narayan Temple and Bhaktapur royal palaces.
Dattatraya Square is one of the most charming squares of Bhaktapur which has more temples, ponds, and museums.
Reaching a height of 33 m (108.26 feet), the Nyatapola temple dominates the skyline of Bhaktapur and is the tallest monument there.
Hike the Palaces to get a better understanding with a private tour guide.
What's included in the Nagarkot sunrise tour package cost:-
Professional and experienced English Speaking tourist guide for about 7/8 hours.
Comfortable private vehicle to transfer you while you are sightseeing for 7/8 hours
Nepal Government Tax, VAT, and as well as Company service charge.
Tour Certificate as a special gift from the Gokyo Tour Agency.
What's not includes on sunrise tour package:-
Nepal entry visa fee cost US$ 40.
Food and accommodation while you are staying in Nepal.
Changu Narayan temple and Bhaktapur durbar square entrance fees
Guest travel insurance and Tip for guide.
Any other things which are not mentioned above
Sunrise and sunset from Nagarkot Hill
At the point when the rays of the rising sun fall on top of the mountains and make the snow sparkle, you will get to understand what the material resembles once nature begins to paint. The delicate orange shade of the sun, and the ruddy weaknesses fanning out in the blue sky, featuring the brilliant diagram of the mountain, seem to be every one of the tints of the variety range have become an integral factor.
Fortunately, in Nagarkot, you can awaken to such amazing perspectives consistently. Explorers can see the mountain view of Annapurna, Manaslu, Ganesh Himal, Langtang, Jugal, Rolwaling, Mahalangur, and Numbur-these are the 8 Himalayan mountain ranges possible to view from the Hill.
As a matter of fact, Dawn and dusk time are relying on the month you travel to Nagarkot ridge. Take a reference for dawn/dusk time from Nagarkot as given here. Yet, for a precise dawn/dusk time, simply email us.
| Months | Sunrise Time | Sunset Time | Day Light |
| --- | --- | --- | --- |
| January Month | 06:53:37 AM | 05:29:21 PM | 10.6 hours |
| February Month | 06:40:34 AM | 05:52:23 PM | 11.2 hours |
| March Month | 06:12:26 AM | 06:10:21 PM | 12.00 hours |
| April Month | 05:39:20 AM | 06:26:25 PM | 12.8 hours |
| May Month | 05:14:35 AM | 06:44:15 PM | 13.5 hours |
| June Month | 05:06:30 AM | 06:58:29 PM | 13.9 hours |
| July Month | 05:16:26 AM | 06:59:08 PM | 13.7 hours |
| August Monthly | 05:32:32 AM | 06:40:28 PM | 13.1 hours |
| September Month | 05:47:43 AM | 06:08:11 PM | 12.3 hours |
| October Month | 06:02:23 AM | 05:34:19 PM | 11.5 hours |
| November Month | 06:22:30 AM | 05:11:24 PM | 10.8 hours |
| December Month | 06:44:28 AM | 05:10:18 PM | 10.4 hours |
Sunrise from Nagarkot hill tour [Departure & Return] information
We offer the traveler pick up customer's Hotel within Kathmandu valley. Departure Time at 4:15 AM. Likewise, Our Professional Guide and the luxury vehicle will reach your hotel to pick you up approximately 10 – 30 minutes prior to this time.
What to expect on Nagarkot hill station tour
Your professional – expert Guide picks you up from your hotel and drives you to Nagarkot hill station. The journey takes approximately 1 hour of car movement. Reach Nagarkot and enjoy watching the Himalayan Sunrise from the Tower. You can see the magnificent view of the Himalayan Mountains wrapped in a morning glow. Feel the marvelous nature and energy of the sun throughout the body.
Likewise, interested clients may easily hike for about 2 hours to get to Changu Narayan Temple for the purpose of sightseeing. Later on, Travelers can ride a private vehicle down to town at Bhaktapur durbar square for the oldest city tour. Visiting that palace, we return to your hotel in Kathmandu city.
The Entrance fees (admission ticket paid by Guest)
Nagarkot hill entrance fees for travelers – totally free.
Changu Narayan Temple entrance fee for a traveler – US$ 3 per head.
Bhaktapur Durbar square entrance fee for a traveler – US$ 15 per head.
Cancellation Policy and Refund Policy
For a full refund, cancel at least 24 hours prior to the departure date of the tour experience. Learn more about cancellations and refund policy Terms and condition.
"What makes Nagarkot Bhaktapur Tours special?"
Opportunities for challenging Nagarkot tour – sightseeing and pleasant strolls are scattered all over this planet. just need to know where to find them. We at Gokyo Treks believe in quality services. Your safety and satisfaction is our concern. We are a team of professional, experienced, and license local guides who know the destination much better than others.
Nagarkot Sunrise combine with Changu Narayan and Bhaktapur tour notes:
The Nagarkot Sunrise tour itineraries are subject to change due to the condition of the weather. This is a Guideline for showing tentative monuments and temples during your sightseeing.
Nagarkot Sunrise Tour Review
Nagarkot hiking Tour was great
Ammar Guni (my guide) and Manoj (driver) were great and punctual. Although it was, unfortunately, cloudy morning and during the sunrise, I could see some mountains for a few minutes. Because the clouds came very quickly over the mountains.
Likewise, it was a lovely hike down the mountain with great views. Definitely, an easy and quick hike took 1.5 hours and all downhill but it was so nice to pass through the village and see how the locals live. I felt very comfortable and safe the whole time. Thanks Gokyo treks arranging our great trip 😊

Response from Gokyo Treks Nepal
Thank you Sophie Russell for your time to review for Nagarkot Sunrise tour with me Ammar Guni. I hope to serve you for your next trip in the Himalayas
Nagarkot Sunrise to Changu Narayan hiking Tour with Ammar
Nagarkot sunrise with Bhaktapur City Tour with Guide Ammar. It was an amazing day trip with Ammar Guni! His knowledge on every aspect of Nepal and the daily life of their local people was great. The sunrise from Nagarkot was not the best as it was a cloudy morning reaching the hill station.
In fact, the guide told us some of the mountain names. Despite clouds, we had a great hike to Changu Narayan temple, as well as Bhaktapur royal palace a UNESCO heritage site. Fabulous hike with stunning sightseeing. The private aspect of this tour is so agreeable! Highly suggest.

Response from Gokyo Treks Nepal
Thank you Anastasia for sending us the Nagarkot tour review. I am hoping to serve you again for your next trip to the Nepal Himalayas.
Nagarkot Sunrise Best Tour
Ammar Guni was a great and professional guide. He picked up at 4:25 am in the morning for express drive to Nagarkot Tower. We reach Nagarkot Tower and catch the sunrise right in time. Mr, Guni told us the great stories about Hindu temples, and heritage sites in Bhaktapur and Changu Narayan. I and my family were very happy with his service. Thanks Ammar for arranging such a great trip

Response from Gokyo Treks Nepal
Thank you, Viktor, for your time to review for Nagarkot Sunrise tour with a Gokyo treks agency in Nepal.
Nagarkot Hill just perfect
I was lucky to have Ammar Guni as my guide for Nagarkot and Bhaktapur tours. It was a great experience. We had a great morning with fine views of snowy peaks. The nature walk from Telkot to Changu Narayan was beautiful to see fertile lands and bricks factory but encountered with some drops of rains in between.
He took me through a really nice and easy route and it was an experience I'll never forget. If you have a chance to go and hike with him you won't regret it.
Response from Gokyo Treks Nepal
Thank you Melanie for your time to send the Nagarkot Sunrise Tour review. We hope to serve you again.
Book a Nagarkot Sunrise with Changu Narayan Hike and Bhaktapur Durbar Square Tour with us and save discounts on time.
From US$ 87
2% Off
US$ 50
| | |
| --- | --- |
| No. of people | Price Per Person |
| 1 | USD 85 |
| 2 | USD 50 |
| 3 | USD 35 |
| 4 - 6 | USD 33 |
| 7 - 9 | USD 30 |
| 10 + | USD 25 |
Book Now
Customize Trip
Cost & Departures
Your Trip Your Style!
ITINERARY, COST, DEPARTURES, will adjusted according to your GROUP SIZE NEED TIME
Book with Confidence
Lowest Price Guaranteed.
100% Customizable Trips
Excellent Customer Service
Hassle Free Booking.
90 % Repeated customers
Highly Recommended agency
Private/group tour options
Local Guides Company.