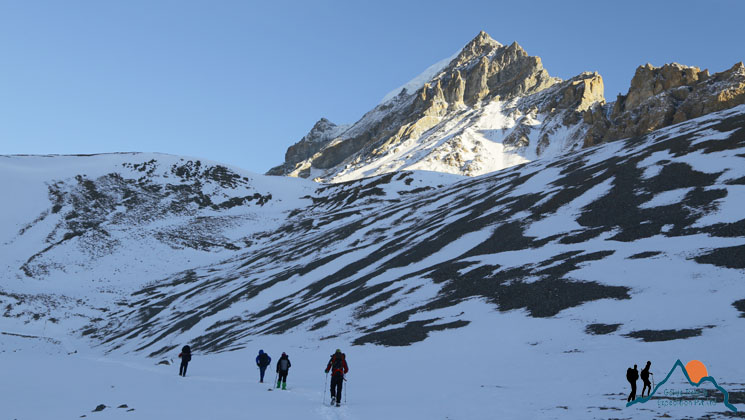 Seven Pass Trek Summary
Trek Duration: 21 Days
Trek Difficulty: Moderate grade
Highest Altitude: 5,322m/17,461 feet
Trekking Hour: 6 hours daily
Seven Pass Trek Group-Size: 1 – 15 People
Best Time: March, April, May, October, November and December
Trip Mode: Lodge + Tent camping
Foods on hiking trail: Breakfast, Lunch, and Dinner
Transportation: Car/Jeep/bus
Overview
Seven Passes Trek is a pure adventure hiking route that passes Annapurna's high mountains valley. Visitors can hike at the Annapurna circuit to achieve new experiences in hiking life. With the change of the vast majority of the exemplary Annapurna Circuit Trekking route to earth's rough terrain, the appeal of journeying in the locale has not seen a lot of development.
Majestic 7 passes Annapurna trek covers Kuchumro Pass 4,900m, Yarcha Pass 4,834m, Meta Pass 4,635m, Phu Pass 5,043m, Naar Pass 5,322m, Kangla 5,306m, Thorung La 5,416m. The figure of travelers in the spot has remained practically something very similar for quite a long while and the number of journey days has dropped.
Furthermore, Annapurna Seven Pass Trek has as of late come up as an amazing option in contrast to the adventurers who need to travel longer in the tranquil mountain wilderness. 7 Passes journey in the Annapurna territory takes you to more than Seven high mountain passes that connect the striking Marshyangdi valley. About 3 weeks trek in 7 high pass routes is surely feasible for everyone.
Hikes especially in spring months (March, April, and May) are remarkable because of the blooming multicolored Rhododendrons. Likewise, hiking in the autumn months (September, October, and November) is also a top time to explore seven passes hiking route. In addition, tramping at these seven passes is tough in the winter months but the remaining months are good to go.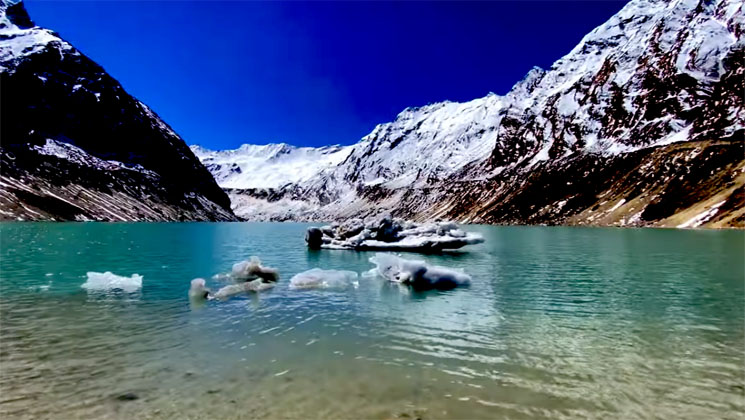 How much does Seven Pass Trek Package Cost/Price?
The cost of the Seven pass trek package with a Gokyo Treks Agency (local trek operator agency Nepal) ranges between US$ 1880 to US$ 2498. Certainly, the trip package cost will vary according to the group size you travel to and the service you choose. Additionally, we have also seasonal discount deals. For example, if you could bring 10+ travelers (except you) to your hikes, you are treated as a group leader. So you can hike the seven passes in Annapurna free of cost.
However, we often arrange private trips in order to avoid group tours with strangers. A private tour gives you a better experience on your hikes. If you value personalization, flexibility, and in-depth experiences, a private trip customized to your personal needs will be the best option.
It is the standard trip package price for 21 days trek. If you are 2 Tourists the 7 passes trail Annapurna cost US$ 1998 for 21 days trek according to the given trekking plan. We can modify the trek route and the prices according to your wishes also. Here is the price list for Seven passes treks.
Price Per Person for 3 weeks hike in Annapurna Seven pass route.
| Number of Tourist | Price Per Person |
| --- | --- |
| 1 Person | US$ 2498 |
| 2 Person | US$ 1998 |
| 3 Person | US$ 1990 |
| 4 to 6 person | US$ 1975 |
| 7 to 9 Person | US$ 1950 |
| 10 and more than 10 Person | US$ 1880 |
If you're wondering to know about what is included and what is excluded from this trip price, kindly check on the cost given on a tab button.
Itinerary
Seven-pass trek itinerary details.
The 7 passes hike itinerary is a relatively easier hike comparing other nature trails in the Annapurna section. Travelers who have wishes to cross over Thorong la pass hiking without descending down to Besisahar trail then try for Annapurna round short trek – 10 Days this link to get an appropriate choice. Besides that, the hikers who wish to walk the Annapurna downhill after seven passes hiking route then follow the below travel plan.
1 Day
Arrival at Kathmandu valley
Upon arrival at Tribhuwan International Airport, receive you with a private vehicle and transfer to the hotel in Thamel. The accommodation is on a bed with a breakfast plan. Permit arrangements. Our representative will brief you on the Seven passes trek Annapurna programs.
2 Day
Overland Bus drive to Besi Sahar (760m) and Local jeep drive to Chamje (1,400m/4,593 feet), 6 hours.
Early morning, the guide will come to pick you up at your hotel at 6.00 am in the morning. Taxi ride to Gongabu Bus station to catch a coach to Besi Sahar. Kathmandu to Besisahar distance is 185-kilo meters and takes about 7 hours bus ride. The journey passes several impressive hills and valleys including the view of the snowy mountains.
Later Lunch at Besi Sahar, we take a local jeep (passenger collection basis) to Chamje passing Syange waterfall. While riding the Jeep, tourists can see a waterfall and hot spring on Marsyangdi Riverside. Jagat is another bigger village that offers basic to comfort lodges but we continue our journey to Chamje.
3 Day
Nache village trekking (2,200m/7,218 feet), 6 hours.
The trail today continues countering the hill after crossing the small bridge all the while getting a glance of a jeep passing on the other end beyond the Marshyangdi River. We choose to tramp through the classical trail to touch Tal waterfall. Tal is a beautiful village situated on the bank of the Marshyangdi River and stays with trekkers' lodges. Spending roughly 2 hours, the mountain trail leads us to Kroto village. Ascending some other hours, we reach Nache village. Nache is a village situated on a hilltop with around only 40 households and a few homestays.
4 Day
Trek to Kromtong village (2,975m/9,761 feet), 6 hours.
Wake early morning to capture a glimpse of Annapurna and Manaslu. Later breakfast, descend towards Alubari passing Pine trees and tiny YAK trails that are made by the local shepherds.
5 Day
Dharmasala trekking (3,665m/12,025 feet), 6 hours.
Our hike ascends across the Dona river, with the two steep cliffs as we continue up to Dharmasala. Himalayan Langur monkeys, Ghoral, Thar, and Himalayan Griffon animals are seen on a clear weather day along the journey. In addition, Nomads can watch the impressive mount Manaslu's super view during their staying here. Dharmasala is a truly amazing inhabitant of the pasturelands of the Marshyangdi basin.
6 Day
Dona Lake Hike (4,250m/13,944 feet), 7-8 hours.
Walk to Dona Lake through the multiple colorful rhododendron forest. Hike the frigid Lake, the highlight of the day tour with added mount Manaslu superior view and a large cave. Visit Dona lakeside and return to Dharmasala to stay overnight.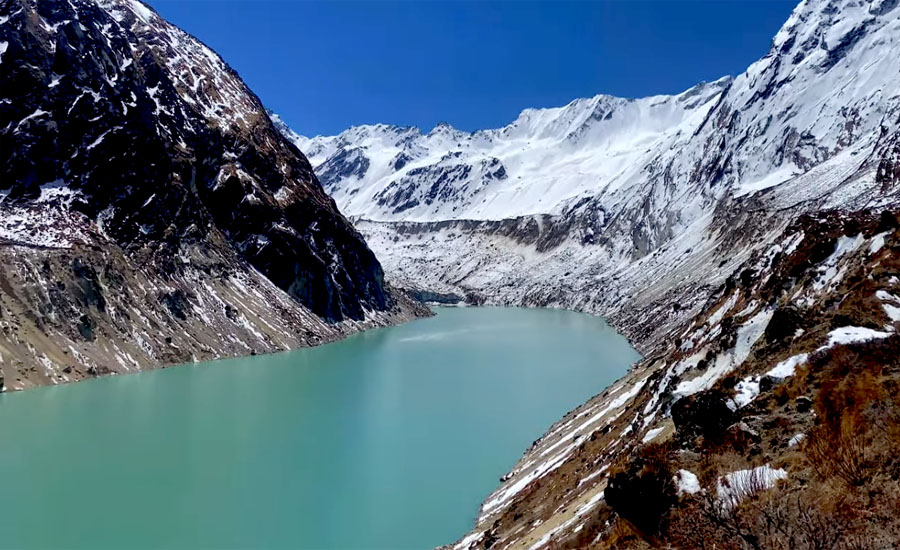 7 Day
Dharamshala to Bijay Phedi (3,915m/12,845 feet), 4-5 hours
The present walk today is again exceptionally delightful. Nature's path goes through the rhododendrons forests with dazzling perspectives on Annapurna II, Lamjung Himal, and Manaslu. After two or three hours of a hike through the timberland, we pass Kapribai Cave. About one hour hike, we reach Kyudanda Cave. Continue our journey over a field encompassed by mountains and proceed towards Bijay Phedi stream to set up our camping.
8 Day
Bijay Phedi to Tripple Pass (4,480m/14,699 feet) and to Gho town (2510m), 7-8 hours
The journey today is tough, so we start early morning to get Tripple pass, the highest point. Campers can see an excellent view of Annapurna II, Lamjung Himal, and Kangaru Himal, with lake Dona in the valley underneath. Towards the far west, we can see the pinnacles of Anapurna III and furthermore Tilicho top. In the wake of investing some energy at the high pass, a 5-hour steep plummet starts through a woodland, right until we arrive at Gho hamlet. The path isn't obvious and at places, it is extremely steep making it possibly deceptive. We need to walk intimately with the gathering during this slide.
9 Day
Gho to Tachai Trekking (2,340m/7,677 feet), 5-6 hours
Gho is a tiny stop on around Manaslu trail for certain lodges. There are extraordinary perspectives on the western substance of Manaslu mountain. Several hour's trips following Dudh Khola will carry us to Tilche, a Gurung and Ghale residence, where the hiking groups will stop for lunch. After 3 hours of a ramble, we reach Tachai. Tachai is an extremely pleasant rural village with terraced farmlands and excellent conventional houses. The excursion today is around 9 kilometers including rambling and climbing.
10 Day
Shonglai Trekking (3,360m/11,024 feet), 4-5 hours
We walk passing water factory and it's terraced ranches where we can frequently run over Langurs. After the terraced ranches, the path climbs steeply up the tall verdant inclines and shrubberies. A couple of spots request to get down on the ground. After some hours of ascends, we arrive at an edge from where voyagers can achieve the best viewpoint of Annapurna, Lamjung, and Manaslu.
11 Day
Kuchumru Phedi Trekking (4,900m/16,077 feet), 6-7 hours
The hiking path today is long. Annapurna II and Lamjung Himal take off up towards the eastern sky en route. We climb a risky path in the middle of 2 monster rocks going about as an entryway. The entire rambling journey is genuinely compassionate with a delicate move up a valley that extends up as we pull closer.
12 Day
Phedi to Namakyu (4,445m/14,584 feet) Via Kuchumro pass (4,900m/16,077 feet) and Yarcha Pass (4,800m/15,749 feet), 6 hours
The trip starts with a sensitive soaring and soon we cross short steep sections until we appear at the bottom of Kuchumro pass. About 90 minutes hike leads up Kuchumro Pass. Tourists can view the best of the Annapurna mountain range from the highest point of Kuchumro la. After the pass, we drop on a simple and delicate downhill and again leap on a delicate slope to cross the Yarcha pass.
During the rainstorm season, crowds of sheep, goats, and yaks are brought here for grazing. There are little safe huts here for the herders. Locals have teemed this valley who come to gather the most costly spice on the planet, "Yarcha Gumba", The Himalayan Viagra!. The cost of a kilogram of Yarcha Gumba (Himalayan viagra) brings up to US$ 50,000 in the global market. Late examinations have shown that Yarcha Gumba helps to fix dysfunctions in the lungs and kidneys. This is really a caterpillar that is assaulted by spores and kills the host and develops as a mushroom from the dead caterpillar. Likewise, we set up our campsite at Kang Guru Himal Base Camp.
13 Day
Namakyu to Meta town hiking (3,560m/11,680 feet), 6-7 hours
The path follows the shape at the mountain edge fundamentally the lower part of Kang Guru peak. The excursion today is around 12 kilometers with a mindblowing splendid journey. En route, the local people assembled a path on a practically inconceivable steep side of the cliff. They have in a real sense crushed tree signs into the mass of the mountainside and over it, rocks are laid to take away. Despite the fact that the path looks not really encouraging, it is in reality quite amazing as stacked yak trains stroll across this path during the Yarcha Gumba picking season.
14 Day
Trek to Chyaku Lodge (3,700m/12,140 feet), 5-6 hours
Today, the path wanders along the edge passing a portion of the one-of-a-kind, bright Tibetan Buddhist chortens that Nar and Phu are well known for. The hiking route is simple after the form and is set apart by tremendous states of exceptionally old juniper trees and beautiful shrubberies at the edges. This day specifically is extremely delighted with gigantic blanketed tops toward the East and an emotionally dry scene toward the west and north. Chyaku is a huge rural field where they develop grain and potatoes and maintain goats and sheep.
15 Day
Phu Trek (4,080m/13,386 feet), 4-5 hours
An hour stroll from Chyaku carries us to another delightful Khampa settlement called Kyang. Wonderful perspectives on the Annapurna II, emotional stone bluffs, and the delightful Khampa settlement of the sheepherders make this spot incredibly beautiful. After Kyang the path enters a thin crevasse and is sliced through close to the vertical stone massif. About 2 hours journey across these picturesque gullies and canyons, trekkers climb steeply through sensational stone arrangements to the Phu passage. The hikers can see the village itself, the old "dzong" (Tibetan-style fortification), and the remaining parts of two demolished fortresses, amazingly arranged on the flatlands before the town.
16 Day
Rest and acclimatization
Phu is perhaps the remotest town of the Himalayas. The set of experiences is gone back 900 years and various contentions between the Tibetans and individuals of Phu have been recorded. A multi-day rambling and climbing journey from this town take you to the Tibetan boundary. In addition, Phu is a gateway to enter Mustang via the Saribung pass.
As an acclimatization day, holidaymakers can investigate the townspeople who are seen turning their yak and sheep fleece, ladies weaving floor coverings from yak fleece, beating mustard seeds into the glue for oil, or approaching their other everyday errands. We will scale to the highest point of the town for stunning perspectives on Mt. Kang Guru and Himlung Himal. In the early evening, curious campers could visit the Tashi Lakhang Monastery.
17 Day
Phu to Loang Trek (4,680m/15,355 feet), 6-7 hours
The path leads into a domain that is natural just to the neighborhood yak herders who put in a couple of months here throughout the mid-year for Yak grouping. The path climbs consistently from Phu right to the highest point of the phu pass (5,050m). We jump on a delicate inclination pass at 4680m to a Yak field where we fix our campsite to stay overnight.
18 Day
Nar village hiking (4,110m/13,485 feet), 8-9 hours
The path begin to climb consistently on a free rock making the ascension harder. About 4 hour's hike the path leads to Nar Pass at 5,400 meters. The perspectives are remunerating with a 360-degree view of Annapurna II, III, and IV, Lamjung, and to the extent Tilicho Peak toward the south, and Himlung, Nemjung, and Kang Guru Himal toward the east. After a pass, we plummet steeply again on a free rock trail several hours will carry us to Nar. Today's venture is around 13 kilometers that need to complete.
19 Day
Nar to Kangla Phedi Trek (4,630m/15,191 feet), 2-3 hours
Nar is a delightful town with interconnected houses similarly as in Phu. As we stroll past the town and think back, the town of Nar looks wonderful chose an evened-out terraced ranch with Kang Guru as a background. Two hours of easy hikes will carry us to Kang La Phedi, where there are two coffee bars.
20 Day
Hike at Kang La Pass (5,306m/17,409 feet) and a trip to Ngawal (3,675m/12,058 feet), 9 hours
Today is a difficult day that we need to complete 13 kilometers distance over the high mountain Kang La pass. The trail climbs progressively not very steep at the outset towards the high pass. Just before the pass, we need to climb steeply on a curve trail until we arrive at the highest point at Kang La. Excursionists can get amazing views of Mount Annapurna II, Gangapurna, and Tilicho Peak all above 7000 meters. The path down gets going steep on the drained legs after the sublime downhill. There are delightful stone arrangements along the hiking route, pass Milarepa caves before we arrive at Ngawal, on the upper Pisang trek route of the Annapurna Circuit. Milerepas are Buddhists who are yogis and artists who deny the world and live in caves to contemplate and compose sonnets that dispense the more profound implications of life. We show up at Ngawal in the late evening and stay at a moderately current and delightful guest house with wifi, sweltering showers and agreeable beds, and delectable food. It is a decent hotel to unwind in the wake of a tedious day's walk.
For the individuals who need to proceed with this trip to cross either Mesokanto La Pass across the glacial lake Tilicho or Thorong la pass hike and end the journey in Jomsom, they will follow the accompanying travel plan.
21 Day
Descend to Dhikur Pokhari, 4 hours. Drive out to Besi Sahar, 4-5 hours Jeep drive.
Tourists can check out their holiday style either hiking over Thorong la or Mesokanto la. Otherwise, we walk downhill through an extremely picturesque trail at the edge of the valley towards Pisang bridge. Amazing perspectives on the Annapurna II and III rule the horizon towards the south face. Upper Pisang is a wonderful customary town with bee colony cluster houses, firmly identified with Tibetan design. Around 8-kilo meters journey brings us down to Dhikur Pokhari. Dhikur Pokhari is a beautiful spot where you can see the Annapurna 4 reflection over the Dhikur Pokhari.
After lunch, we drive downhill to Besi Sahar with a private jeep which is around 4 hr 41 min (79.3 km) through Besisahar – Chame Sadak. At Besi Sahar, you can praise your final night gathering of the journey in light of the fact that the following day you drive straightforwardly to Kathmandu and there will not be an opportunity to say goodbye to your trekking team.
22 Day
Drive out to Kathmandu city, 7 hours. Goodbye Kathmandu.
After breakfast, In the morning time, we drive back through the scenic countryside, and during the route will stop for lunch on the Malekhu highway. Drive another 4 hours to reach Kathmandu city. On arrival at Kathmandu, the guide will transfer you to your hotel or we drop you at the Kathmandu international airport for departure flights. Trip Finish.
Not satisfied with above plan?
Are you interested in planning a custom trip? this might take 2 to 3 minutes.
Cost
How much does the Seven pass trek package price?
Hike to Seven pass trek package price US$ 1998 per person is a standard package trip on a double occupancy basis. For the deluxe and luxury trekking tour plan, we add 3-5 star hotel accommodations on your staying in Kathmandu with breakfast. AND WE ARE OPEN TO CUSTOMIZING YOUR TOUR AND PACKAGES PRICE AS PER YOUR REQUIREMENTS.
Annapurna Seven passes trek package price includes:-
Kathmandu international airport transfer by private vehicles.
2 nights double bedroom Tourist standard accommodation in Kathmandu with Breakfast plan.
Guest house accommodation in possible places during the mountain trekking days.
Tent camping accommodation in Annapurna 7 passes trekking routes.
Necessary camping equipment (Tents, Kitchen supplies,) during the 7 passes hike Annapurna.
Fully escorted trek with English-speaking license holder local guide and each 1 guest 1 Porter basis.
Professional cook, Sherpa, and kitchen helpers according to the group size.
21 Breakfast, 21 Lunch, and 20 Dinner served with Tea/coffee on camping trekking days.
Annapurna Conservation Area permits and TIMS permit for Trek tours
Micro Bus transfer from Kathmandu – Besisahar and from Besisahar – Kathmandu.
Private Jeep transfer from Besisahar – Chamje village – Besisahar as per the above plan.
Food, accommodation, salary, and Insurance for Nepali camping trekking staff (Guide, porters, cook) .
Seasonal fruits like apples and pomegranates as a dessert after dinner for Annapurna seven passes trekking.
Latest Seven pass trek map and trek completion certificate – keep them as a souvenir.
Agency's duffel bag (50 liters capacity), and trek poles if Necessary – return after the trek.
First aid medical kit including Oximeter to check your Oxygen level, Pulse rate to monitor every day to prepare for high altitude risk.
In a worst case, help with all Helicopter Rescue and evacuation arrangements (but not the rescue bills).
Nepal Government Tax, VAT, and as well as Company service charge.
Seven pass trek package price excludes:-
Lunch and Dinner during the staying in Kathmandu and Pokhara city.
Any kinds of battery charges, laundry service, phone calls, and hot showers during the trekking.
Traveler's personal trekking equipment's and clothes.
Personal nature expenses, all types of alcoholic drinks en route.
Travel Insurance which covers emergency rescue, evacuation, personal loss, or damage.
Any donation and monument entrance fees.
Gratuities for guide, cook, and porters [Tip is a culture, so they expect highly].
Group join
We can organize a private trip to Seven pass trek in the Annapurna territory starting at any date if that works for you. Please contact us for more information regarding trip price and group join.
FAQ
Question: Is pick-up service available on my arrival day in Kathmandu?
Answer: Yes sure. Provide us with your flight details and request to pick up from TIA. Our representative will come to pick up you at Kathmandu international airport.
Question: Do I need the experience to do 7 pass trek?.
Answer: It is an easy hike suitable for keen hikers who can walk around 4 hours daily with a lightweight daypack. For Annapurna 7 passes trekking route, if you have a little experience hiking in the mountains would be better.
Question: What kind of accommodation can I expect on Annapurna 7 high passes hiking?
Answer: We do provide you tourist standard accommodation in Kathmandu and during the trekking routes. The rooms along the routes are clean with a cozy bed, nice mattress, and blankets. Nevertheless, we recommend you take your own sleeping bags if you have one with you otherwise, you may rent a sleeping bag from the Thamel gear store in Kathmandu.
Question: What kind of food can I expect in seven passes trek in Annapurna?.
Answer: Seven-passes trek solo is also possible using tent accommodation en route. Likewise, in camping outdoors, our professional cook cooks a delicious variety of mainly vegetarian foods. They are like Pasta, tuna bake, noodles, potatoes, eggs, bread, soups, and vegetable rice. In addition, Dinner, and breakfast we provide in the same lodge you spend the night every day and Lunch will serve on the way to the next place where tourist hikes.
Question: What opportunities will I have for a shower along with express Seven passes trek Annapurna?.
Answer: We do provide you a hot water bucket then you will take a bucket shower along with the camping adventures.
Question: How do I get drinking water on the Seven pass group trek?.
Answer: Trippers can buy mineral water en route individually. But we advise against buying mineral water in plastic bottles, as currently there are no rules for disposing of plastic waste. So please buy a metal bottle, so we serve you aqua tablets to purify normal water and will serve you along the hiking days.
Question: Can I charge my digital camera or other batteries on my trip?.
Answer: Less chance to recharge the battery. Thus, we advise you to bring an extra pair in case. Remember to bring your adapters! An extra battery will be recommended.
Question: Are there any communication facilities en route?
Answer: Often, you get telephone services as well as 3G internet. So, buy a local Sim card to get a data pack.
Question: Can I use credit cards in seven passes trekking?.
Answer: No! So, for the nature trail, you need to have cash Nepali rupees because credit cards work only in the bigger city areas.
Question: When should I book my trip and what are the payment terms?.
Answer: Because our trips book up months in advance, we recommend booking early to avoid any kind of mix-up. We will, of course, make every effort to accommodate last-minute bookings. And regarding the deposit, we prefer a 20% advance deposit of the total price of the trip in order to confirm your reservation before you arrive in Nepal. And the rest of the payment, you can pay us upon your arrival at the Kathmandu office, Nepal.
Question: Who will carry my luggage on 7 passes adventure trek?
Answer: We do provide porters to transfer your luggage. As we are a responsible trek operator agency, each of our porters carries a maximum of 25 kilos of your backpack.
Question: How much distance do I walk each day?
Answer: When walking in the mountains, the distance you cover each day can vary greatly due to gradient, terrain, and altitude. As such it is very hard to give specific distances for each day, however, you have to be prepared to walk for roughly about 5 hours each day.
Question: Do I need walking poles?.
Answer: It is better to hike with walking poles. Learn how to use trekking poles for balance and permanence, whether on the sidewalk or on trails. Walking sticks can help prevent slips and falls. They are just recommended but not compulsory.
Question: How much additional money do I need per day?
Answer: You can allocate US$ 08 – 10 for a lunch/dinner in Kathmandu and it depends on your spending habits. US$ 7 to 10 US$ each day will be enough to buy bottles of water, chocolates, tea coffee, and some drinks while you are on your trek.
Seven pass trek Highlights
Pristine Dona Lake glacier offers turbulent river gorges with nice waterfalls.
The Kangla pass hilltop offers an extraordinary view of Annapurna mountains and forest
Buddhist Milerapa caves and Buddhist tradition.
The best impressive view of Mount Manaslu, Tilicho Lake, Ganesh Himal, Annapurna family, and its surroundings.
Majestic waterfalls, wilderness Nar – Phu and Marshyangdi River valley.
Notice for 7 passes visitors
7 Passes trail in Annapurna is safe for solo trekkers, even for solo female trekkers. The local Nepali people are often seeing many tourists walk across their villages every year, and many of them are extremely friendly and welcoming to trekkers. Solo travelers can hike privately but better to go in a group to share prices and experiences.
Hiking at seen passes itinerary is subject to change due to a condition outside of our control. This is a Guideline showing tentative camp night stops. Tourists can spend most of their spare time rambling and climbing. Physical, technical, and natural conditions may change the daily travel plan.
"What makes Seven pass trek special?"
An opportunity for challenging hiking routes is pleasant and is scattered all over the world. You need to be aware of where to find them. We believe in quality services. Your safety and satisfaction is our concern. We are a team of professional, experienced, well-trained, and licensed local guides who know the destination much better than others.
Seven Passes Trek Review
7 Passes Trek with Gokyo Agency
Ammar Raj Guni is a perfect and very reliable agent for arranging your trekking. He has also much experience as a guide, so he always knows where he is talking about. His prices are really competitive.
His calculations were transparent, our trek was some days longer than arranged, but in the end, we got no unexpected costs. He works with local people from the small villages and he treats them very socially. So during the two days, we stayed at his house, we felt very comfortable. I strongly recommend his agency if you're visiting Nepal. – Johannes and Rico, Tirol, Austria.
Response from Gokyo Treks Nepal
Thank you Johannes for your time to review 7 passes trek in the Annapurna region. We hope to serve you again in Nepal.
From US$ 2575
3% Off
US$ 1998
| | |
| --- | --- |
| No. of people | Price Per Person |
| 1 | USD 2498 |
| 2 | USD 1998 |
| 3 | USD 1990 |
| 4 - 6 | USD 1975 |
| 7 - 9 | USD 1950 |
| 10 + | USD 1880 |
Book Now
Customize Trip
Cost & Departures
Your Trip Your Style!
ITINERARY, COST, DEPARTURES, will adjusted according to your GROUP SIZE NEED TIME
Book with Confidence
Local Guides Company.
18 Years in Business.
Lowest Price Guaranteed.
100% Customizable Trips
Excellent Customer Service
Hassle Free Booking.
90 % Repeated customers
Highly Recommended agency
Private/group tour options