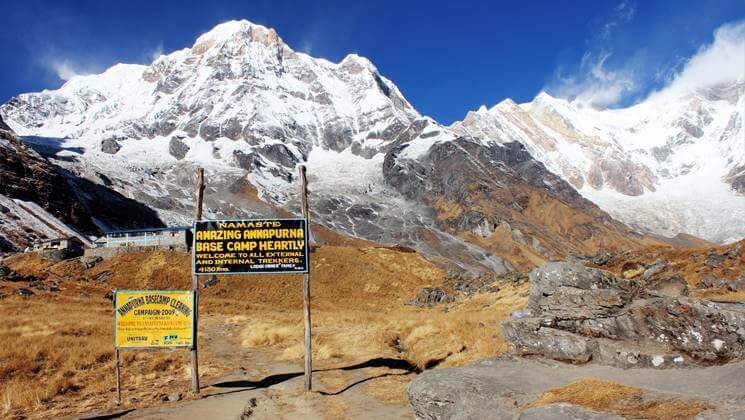 Overview
Abc trek is an outstanding active holiday for nepal holiday lovers. For those travellers who plan to visit annapurna base camp trek 8 days are just perfect multi day tours. Base camp annapurna possible to visit in 7 or 10 days also.
Annapurna base camp trek is equally popular as a short annapurna base camp trek – abc trek 7/8 days in Nepal. Basecamp annapurna hike is the most beautiful trek of annapurna region of Nepal. Travel to reach basecamp is just an easy trail in the first part then walk through the narrow valley within the forest and rocky moraine trail. Get an amazing abc trek 7 days deal and make your awesome trip in Annapurna.
Trip annapurna base camp or annapurna trek is travelers dream to check their ability to go higher. The most demanding ABC trek combines with some of the most scenic mountains scenery, providing a fascinating insight into the modern mountain lifestyles.
Before you making a plan to visit abc trekking, read about annapurna base camp trek blog written in our website seriously. If you are beginner trekkers or experienced travelers, the annapurna base camp trek – abc trek difficulty is equal for them. The trail starts with easy ascending through the fertile land, forest, and rocky mountain trail to moderate difficulty reaching at base camp. And on your descend, you can cover Ghorepani and poon hill hiking before reaching Pokhara city.
It was immersed in the beauty of the lush landscape and walk along the rhododendron and oak trees to appreciate the splendor of Annapurna massif. Furthermore, Mt. Annapurna 1st, 8th tallest mountains on earth is one of the most magnificent peaks in the world. Express Annapurna base camp trek takes you through the fascinating traditional Gurung ethnic group and their villages who will greet you with warm hospitality.
The annapurna base camp trek 10 days is also the best way to visit to cover almost all highlighted areas along the trek route. Visit the most annapurna base camp trek 7 days blog to get better information even for 12 days annapurna base camp trek. You can do short annapurna trek together with your family members checking base camp trek distance.
But before making a plan to annapurna base camp trek altitude, it would be better to have some basic hiking exercise at your home country. It helps your body to acclimatize easily with base camp weather. Walking without any experience at home can also possible to complete abc trek.
Base camp trek annapurna is also popular as sanctuary trek. In addition, it is a short annapurna trek best to beginner trekkers for trekking in Nepal Himalayas. You can check the annapurna base camp trek 10 days because it is the best popular trek itinerary. Check the sanctuary trek how many days? and annapurna trekking tour cost in the package. Be sure that abc trek 8 days hiking is almost the best trips in complete Annapurna range.
Trek to Annapurna base camp trek will be even more interesting in spring as the whole forest along the trail turns red, pink and white with rhododendron flowers.
Besides that, adventure base camp hiking is called also an express Annapurna trek. This trek is possible to do in any time throughout the year.
Itinerary
Abc trek 7 days itinerary details.
7 or 8 days abc hiking or annapurna base camp trek 7 days itinerary compared to most walks in this region leading up to the base camp Annapurna. The annapurna base camp trek distance is roughly 115 kilometers and walks around 12 kilometers every day. The particular basecamp trek route is design for world-explorer who wish to hike to the base camp in a more relaxed manner, take a look this itinerary Annapurna Base Camp Trek – 13 Days which would be a more appropriate choice. However, for special travelers who wish to reach at Annapurna base camp quickly and have roughly about 7/8 days time then follow this itinerary.
Day 1
Arrival at Kathmandu valley
Upon arrival in Kathmandu, Tribhuwan International Airport, we will receive you with private vehicle and transfer to hotel in Kathmandu within breakfast plan. Our representative will give you information about further programs.
Day 2
Overland drive to Nayapool Bazaar via Pokhara city. Trek to Birethanti (1015 m), 8 hrs
At morning, our short abc trekking guide come to pick up you at hotel and escort to the bus station. You will drive with the beautiful rivers Trisuli and Marsyangdi. These pristine rivers are most popular for rafeeting adventures.
Pokhara town is another popular for the panoramic view of the majestic Himalayas such as Annapurna, Machapuchare in the north, Dhaulagiri in the west, Lamjung Himal and Manaslu in the east.
Around 7 hours of drive-by Bus, we reach Nayappol Bazaar passing by Pokhara city, a beautiful city of lakes, ancient caves, Buddhist and Hindus temples. As you arrive here, hike about 30 minutes further to get Birethanti village. Birethanti is a large community village with many shops and guesthouses.
Day 3
Trek to Chomrong village (2,140m/6,998 feet), 7 hours
From Birethanti bazaar, turn the right to Modi river bank, the trail continues through flat cultivated lands, rice terraces, beautiful villages and small rivers we reach at Jhinu hot spring. The trail climbs steadily up the side of the valley to Chomrong village. Furthermore, Chomrong is a big village of Gurung settlements, also a place to watch the eye-catching view of Mt Hinunchuli, Annapurna south, and the virgin peak Mount Fishtail (Machhapuchhre).
Day 4
Chomrong to Himalaya Hotel (2,870m/9,385 feet), 7 hours
Today, we continue our first step hike with stone step to the river Chomrong, cross the river and hike to Sinuwa village hill where the views are just fabulous. Some lodges are staying in Sinuwa hill to spend overnight. Continue our hiking journey walking with dense forest to get the bamboo place. Bamboo is a place stays with some nice lodges with hot showers. On the way, we will see the wildlife like wild boar, monkey, rhesus and other wild birds including Danphe pheasant.
Day 5
Trek to Machapuchhare Base Camp (3,700m/12,099 feet), 6 hours
Today, we start to go over Deurali viewpoint and then walk further to Fishtail basecamp. There are two different trails ahead of us; we follow the best way according to the season to Bagar and to Machapuchhare base camp (MBC). These areas are the most possibility for avalanches and always be careful during the journey.
Moreover, you should have good information from your experienced guide who is organizing by Gokyo Treks & Expedition, before you start your journey to MBC. Take it seriously because there are already a lot of people who lost their lives here from viewpoint to Bagar. After Bagar, you are in safe hike to abc.
Day 6
Annapurna Base Camp hike (4,130m/ 13,505 feet) & descend downhill to Dovan, 9 hours
Afeeter sunny breakfast, walk all the way uphill to the abc. The trail follows the left-hand tributary of the Modi khola. You can see the sunrise with a natural Panoramic spectacular view from the viewpoint of majestic basecamp.
As you are standing over viewpoint, we can see Annapurna 1st, Annapurna south, Barah Shikhar, Tent peak, Machapuchhare Hiunchuli, and many more snow-capped mountains as well as glacier. Having hot and delicious breakfast in basecamp lodge, just descend downhill walk to Machapuchhare base camp. We can meet the crew and take all kinds of stuff descend down to Dovan passing several green valley and villages.
Day 7
Dovan to Jhinu Hot spring (1,500m/4,905 feet), 6 hours
The trail descends to Jhinu Danda leads through bamboo and Rhododendron forest with superb mountain views from Sinuwa village. Have in mind, the trail from Dovan to Bamboo is most subject to avalanches also. The trail leads down and up to stone steps to Chhomrung village. And then descend down to Jhinu Danda where we can enjoy with natural hot spring in the banks of Modi River.
Day 8
Jhinu to Motque walk & drive out to Pokhara city. Flyout to Kathmandu. Final departure day
Today, trek leads through intermittent bamboo and mixed forest. During the journey, you can pass through several villages, farmlands terraces. Reaching Motque, take a private jeep to Pokhara town. If you have enough time? make Pokhara city tour with the same guide.
If you do not have enough time in your holidays in Nepal, on the same day, catch either yeti air or Buddha air flight from Pokhara to Kathmandu around 2 pm (flight cost is extra USD 100 Per each foreigner). you can fly out to Kathmandu city.
Optional: If you are traveling within a tight budget? take a normal night tourist bus back to Kathmandu town. Afeeter refreshments at Gokyo Treks Nepal sales office, we drop you in Kathmandu International Airport onward your final destination. Wish you a wonderful journey. Trip finish
Cost
How much does abc trek 8 days cost?
The best abc trek 7 days is available now on USD 595 per person basis. But of course, the trip price will vary according to group size. Taking flights to and from Pokhara saves your time and riding the bus reduces the trip expenses.
For the deluxe and luxury trekking tour plan, we add Kathmandu – Pokhara – Kathmandu round trip airfare, 3-star category hotel deluxe air-conditioned room in Kathmandu (BB PLAN) and 2-star hotel standard accommodation in Pokhara (BB plan) with attached bathroom while on trekking on possible places. AND WE ARE OPEN TO CUSTOMIZE YOUR TOUR AND PACKAGES PRICE AS PER YOUR REQUIREMENTS. International tour leaders are highly encouraged to get discount and attractive complimentary.
abc trek 8 days cost includes:
Kathmandu international airport transfer by private vehicles.
2 nights in twin sharing on tourist standard accommodation in Kathmandu.
Meals on full board: Breakfast, Lunch and Dinner each day during the trekking days
Tourist Bus transfer from Kathmandu – Nayapool for guest, nepali guide & porter.
Fully escorted trek with fluent English speaking license holder local guide and each 2 guest 1 Porter basis.
Annapurna Conservation Area permits and TIMS permits for Trekking tours
On return from Motque to Pokhara Fewa lake side transfer with private jeep.
Tourist Bus transfer from Pokhara Fewa lake side to Kathmandu near Thamel for guest, nepali guide & porter.
All land transportation as per written on above itinerary.
Food and accommodation and salary of Nepali trekking staffs.
Insurances of guide and porters.
Nepal Government Tax, VAT and as well as Company service charge.
A special gifeet from our company.
abc short trek 7 days cost excludes:
Nepal entry visa fee cost US$ 40.
Lunch and Dinner during the staying in Kathmandu and Pokhara city.
Any kinds of battery charges, laundry service, phone calls and hot shower during the trekking.
Personal trekking equipment and Clothing.
Personal nature expenses, any drinks and bar bills.
Your travel insurance (it is mandatory in case of emergency).
Any donation and monuments entrance fees.
Tips for the crew (Note : TIPS is not compulsory but highly expected)
Any other things which are not mentioned above
Group join
We can organize private abc trek 8 days starting at any date that works for you. Please contact us for more information.
April 05, 2020 – April 12, 2020
April 20, 2020 – April 28, 2020
April 25, 2020 – May 03, 2020
May 05, 2020 – May 13, 2020
May 10, 2020 – May 18, 2020
May 15, 2020 – May 23, 2020
May 25, 2020 – June 03, 2020
June 01, 2020 – June 08, 2020
Guaranteed – Trip is Guaranteed to run.
Available – Trip is available to run if minimum group size is filled
Limited – Only few space available
FAQ
Question: Is pick up service available if my arrival day in Kathmandu?
Answer: Yes sure !! If you provide us your flight detail then you should do request then our representative will come to pick up you on Kathmandu international airport.
Question: Do I require the experience to complete abc trek 7 days?
Answer: It is appropriate for sharp trekkers/walkers who can stroll around 4 or 5 hours in multi-day, with a lightweight daypack. For this trekking, on the off chance that you have about the little experience would be better.
Question: What sort of convenience would I be able to expect on ABC trek?
Answer: We give you visitor standard convenience in Kathmandu and amid the trekking courses. the rooms along the courses are perfect with a comfortable bed with a pleasant sleeping cushion and covers. Anyway, we prescribe you to take your very own camping beds whether you have one with you else, you may lease it while you are in Kathmandu.
Question: What sort of nourishment would I be able to expect in cabin ABC trek 7 days?
Answer: All the visitor houses/holds up in Annapurna trek, they have connected eatery and they cook a tasty scope of for the most part vegan, for example, Pasta, fish heats, noodles, potatoes, eggs, dhal bhat, bread, soups, crisp vegetables (assortment relies upon the season)
The supper and breakfast are given in a similar cabin you go through the night consistently and Lunch will be given while in transit to the following spot where you are going.
Question: What openings will I have for a shower along with express abc trekking 7 days?
Answer: Tea house trekking every one of the cabins they have a shower which you can get it someplace paying and someplace without paying to be that as it may in the event that you are in outdoors trekking – we give you high temp water basin then you will take a container shower.
Question: How would I get drinking water on express abc trek 7 days?
Answer: Most out of every other place on earth stays inn and shops where you can ready to purchase mineral water and you can get it for drinking yet anyway we exhort against purchasing mineral water in plastic containers, as of now there are no arrangements for discarding these. Rather, we give you bubbled water or bringing chlorine tablets to purge the typical water as the ordinary water is accessible in campground/along the way.
Question: Can I charge my computerized camera or different batteries on my outing?
Answer: Along the base camp 8 days trekking, there will be more opportunities to charge the battery. We prescribe you bring an additional match for on the off chance that. Make sure to bring your connectors! An additional battery will be recommended.
Is there any correspondence offices on abc trek 8 days?
Answer: In this trekking course you can get telephone utilities just as web benefits as well.
Question: Can I use Visas in short abc stop trek 7 days?
Answer: No! Along these lines, for the trekking courses, you need money Nepali rupees since charge cards work just in the greater city areas.
Question: When should I book my excursion and what is the terms of the installment?
Answer: Because our excursions book up a very long time ahead of time, we prescribe booking right on time to keep away from any sort of misconception. We will, obviously, bend over backward to suit a minute ago appointments.
What's more, with respect to the store, we incline toward 20% development store of the complete cost of the trek so as to affirm your reservation before you touch base in Nepal. Furthermore, whatever remains of the installment can be made after your landing in Nepal.
Question: Who will convey my gear on abc trek 8 days?
Answer: We give watchmen to exchange your baggage. As we are a capable trekking visit administrator organization, every one of our doormen conveys the limit of 25 kilos of your knapsack which implies 2 visitors (12.5 kg gear of every visitor): 1 watchman premise.
Question: How much separation do I walk every day?
Answer: When strolling in the mountains, the separation you cover every day can change incredibly because of the angle, territory, and elevation. In that capacity it is difficult to give explicit separations on every day, be that as it may, you must be set up to walk generally around 5 hours each day.
Question: Do I require strolling surveys?
Answer: Walking pools are prescribed however not mandatory.
Question: Is it possible to rent a guide for abc trek 8 days? how to hire a local trek guide?
Answer: Yes of course. If you are not happy to go with the complete abc trek 8 days full board package trip, still you can hire our expert guide to make your holiday tour safer. However, visit a guide and porter hire or email us for your detail travel inquiry.
Question: How much extra cash do I require per day?
Answer: You can apportion US$ 08 – 10 for a lunch/supper in Kathmandu and it relies upon your ways of managing money. US$ 7 to 10 US$ every day will be sufficient to purchase jugs of water, chocolates, tea espresso, and a few beverages while you are on trek.
abc trek highlights
Annapurna mountain within 360 deg angle standing in Annapurna base camp view point.
Walk through the cultivating fields and watch the splendid views of Annapurna mountain ranges.
Jhinu Natural hot spring and nice waterfalls along the trek route
Get an experience about various communities like Gurung and other ethnic groups and their local lives.
Base camp annapurna – abc trek 8 days note for travelers
As the information stated above is just a guide and standard template what we provide you, however, the trip can be customized at your request to accommodate your specific requirements. Local politics, landslides, cancellation of local flights, weather, transport or a multitude of other factors that are beyond our control can result in a change of itinerary during on trip.
It is, however, very incredible that the itinerary would be extensively altered. If alterations are necessary the leader will decide the best alternative option, taking into consideration the best interests of the whole group. Where a change does occur, we do everything we can to minimize its effect, but we cannot be responsible for the results of changes or delays.
"What makes abc trek 8 days special ?"
Opportunities for challenging trekking or hiking and pleasant strolls are scattered all over this planet; you just need to know where to find them. We at Gokyo Treks and Expedition believe in the quality services. Your safety and satisfaction is our concern. We are a team of professional, experienced, well trained and licensed local guides who know the destination better. Not only this but also we give benefits to the local communities and helps to conserve natural resources which reduced costs and consumption.

Great organisation by Gokyo treks company with all the information outlined below! Sriram and jayaram, our guides, we fantastic. They were both very knowledgeable, organized and motivating when we needed an extra push. The food and accommodation were organized well and no issues encountered. Would recommend this company for this visiting. – Parisa Zarringhalam, London, England

Amazing trek to ABC with Nepali Friends
Finally…. we did our trekking to ABC.
It has long journey for us, and its really worthy…. to see spectacular view all the way and especially our way from MBC (Machhapuchhere base camp) to ABC (Annapurna base camp) .
At first we are not sure can we finish our trek to ABC or not.
Together with gokyo trek and expedition, we prepare our journey and route, no doubt they has experience and make our trekking much easier. – Nurhayati Noer, Jakarta, Indonesia

Being a novice trekker Gokyo's organised trek with extremely helpful and encouraging guides Shree Ram and porters made it a very memorable experience. Would highly recommend them to anyone who wishes to trek in Nepal, especially at a very reasonable price without any compromise on the quality! – Sangeetha Thomas, London, England

Organised by the company we had one guide, a guide/porter and an additional 2 porters between 5 of us. Really great bunch to help us along the trek making sure we had everything we needed, calling ahead to book accommodation, organising our food and also internal flights. They can pretty much accommodate for anything of you ask and are all very knowledgable about the trek and Nepal. In addition they were all great to just hang out with and have a laugh.
Truly unforgettable experience. Thank you all very very much. – Christian Laub London, United Kingdom.

Amazing Annapurna Base Camp Experience!
I am a Malaysian who did the 10-day Annapurna Base Camp trek alone with Ram as my guide. This was my first time in Nepal and I have to say that I am highly satisfied with Gokyo Treks. Ammar handled everything from the moment I landed in Kathmandu airport. I had nothing to worry about! The professionalism and hospitality were amazing!
Ram was fantastic as my guide! And my Dhal Bhat buddy! He had very funny jokes and had the local knowledge to point out the things that I would have never noticed myself. He also always went out of the way to make sure I was taken care of all the time.
I had a great time with these guys! At last, I would highly recommend Gokyo Treks to anyone looking to do a trek in Nepal. – Christpher Sien Kuala Lumpur, Malaysia.

ABC Trek with Gokyo Treks
My friend and I hiked the ABC trek through Gokyo Treks and it was a wonderful experience. We were very grateful for our guide Lila, as he took great care of us. Our experience would not have been the same without him, especially as it was during monsoon season and we had to take a few detours because of rain. Gokyo treks is a reputable and honest company, and they did everything they could to make our trip the best possible. I would highly recommend! – Caroline Schauder, Washington DC, District of Columbia

It was an amazing experience, friendly and great service mind with full of experience tour guide Ram and porter Ram. From the time of welcome, we got great services throughout the trip. Thank you Gokyo Treks for providing us a wonderful memory. – Kanjana Emawat, Bangkok, Thailand
Trip Price : USD 599 Per Person
Duration of Trek: 07 Days
Trip Grading: Easy to Moderate
Max Altitude: 4,190m / 13,743 feet
Trekking Hour: 6 Hrs
Group-Size: 2-25 People
Best Time: Oct -May
Trip Mode: Guest House
Meal on Trek: Breakfast, Lunch, Dinner
Transportation: Car/Plane/bus
Cost & Departures
Your Trip Your Style!
ITINERARY, COST, DEPARTURES, will adjusted according to your GROUP SIZE NEED TIME
Inquiry Now
Customize Trip
Book with Confidence
Lowest Price Guaranteed.
Excellent Customer Service
Easy and Hassle Free Booking.
90 % Repeated customers
Travelers Recommended agency
Local Guide's owned company.
Reference person of Gokyo Treks !
Contact in Germany
Klaus Kummer : +49-367-2351-957
Roland Stich: +49-0271-870-031
Dr. Lars : +49-3641-5395-160
Contact in USA
John Erwin: 212-222-6389
Beth Pekol, Chicago: +1 312-364-8924
Eve Quesnel, California: 530-5879-113
Contact in Australia
Mark Panico: +61-402-526-430
Dr. Chris Hislers: +61-419-556-381

Contact in Austria
Verena Laner: +43-650-7110-301
Dorothee Plunger:+43-512-565-255

Contact in Switzerland
Dominik Lee, Zürich: +41-079-3826-028