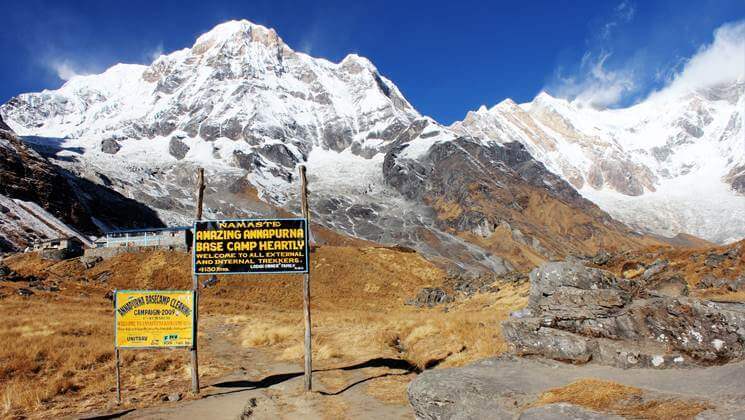 Annapurna Sanctuary Trek Summary
Hike Duration: 6 Nights 7 Days
Trip Mode: Guest House Basis
Annapurna Sanctuary Trek Difficulty: Easy to moderate
Highest Altitude: 4,130 meters
Trek Hour: 6 Hours daily
Hiking Group-Size: 1 – 14 People
Best Time: March, April, May, October, November and December
Meals on Trek: Breakfast, Lunch, and Dinner everyday
Transport: Car/Plane/bus
Overview
The Annapurna Sanctuary Trek is the most popular trek destination in the Annapurna region. The amazing Annapurna Sanctuary trek itinerary is combined with some of the most spectacular mountain scenery, providing a fascinating insight into the modern way of life in the Nepal Himalayas.
Sanctuary Annapurna trek offers a brilliant range of mountain scenery, and charming Gurung and Magar villages. And their slate-roofed houses, incredible rhododendron forests ablaze with ivory, rose, apricot, and crimson bouquets, and deep sub-tropical valleys are all set below the Annapurna and Dhaulagiri Himalaya range.
Furthermore, immerse in the beauty of the lush landscape and walk along the rhododendron and oak trees to appreciate the splendor of Annapurna massif. Basically, the best Annapurna sanctuary trek difficulty is starting from easy to moderate difficulty.
Sanctuary trek route is possible to complete in 7 days. Backpacker – trail runners can make it within 5 days also. You might extend 2 or more days on request to get a better encounter. Best Annapurna base camp trek simply recognizes it as a sanctuary trek in Nepal.
Annapurna sanctuary trek vs Annapurna circuit
The Annapurna sanctuary trek has a maximum elevation of around 13,780 feet, whereas the Annapurna circuit trek takes you to over 17,770 feet above sea level. So, you see that there is a difference of almost 4,000 feet in the two hikes, which is quite a lot.
Moreover, trek into the Annapurna sanctuary, and you will have an Annapurna massive intended to fulfill the dream to encounter significant mountain holiday trekking tours in Nepal. The total distance for the sanctuary trek route covers around 115 kilometers and you will be walking 12 to 16 kilometers every day. This trail is a popular one and is usually busy with trekkers from all over the world.
Mount Annapurna 1st, the 8th tallest mountain on earth is one of the most magnificent peaks in the world. Moreover, you can see other outstanding Machhapuchhre – Fishtail (6,997m), Annapurna South, Annapurna 3, Annapurna 4, Lamjung Himal, Gangapurna, and Hiuchuli peaks in a range.
How much does for Annapurna Sanctuary Trek Package Cost?
The cost of the Annapurna sanctuary trek package with a Gokyo Treks agency (a local company in Nepal) ranges between US$ 350 to US$ 580. The sanctuary trek price will vary as per the group size you are traveling to and the service you choose.
We have also a discount offer for international group leaders for a hike in Annapurna. For example, if you could bring 10+ travelers (except you) on your trip, you are treated as a group leader. So you can hike the Annapurna Sanctuary free of cost.
However, we basically arrange private trips in order to avoid group tours with strangers.
A private hiking tour gives you a better experience on your hikes. If you value personalization, flexibility, and in-depth experiences, a private trip customized to your personal needs is the best option.
It is the standard trip package price for 7 days trek. If you are 2 people sanctuary trek cost US$ 470 for 7 days trek as per the given trekking itinerary. We can modify the trek route and the price as per your demand. Here is the price list for the Annapurna sanctuary trek.
Price Per Person for 7 days sanctuary Trekking
| Number of Tourist | Price Per Person |
| --- | --- |
| 1 Person | US$ 580 |
| 2 Person | US$ 470 |
| 3 Person | US$ 450 |
| 4 to 6 person | US$ 398 |
| 7 to 9 Person | US$ 375 |
| 10 and more than 10 Person | US$ 350 |
If you're wondering to know about what is included and what is excluded from this trip price, kindly check on the cost given on a tab button.
Itinerary
Annapurna Sanctuary Trek itinerary details
Amazng sanctuary Annapurna trek is a classical style trek with 7 days itinerary compared to most walks in this region leading up to the base camp viewpoint. The particular Annapurna sanctuary trek route is designed for world travelers wishing to hike to the sanctuary in a more relaxed manner, take a look at this itinerary Annapurna Base Camp Trek – 9 Days which would be a more appropriate choice. Moreover for travelers who wish to reach the sanctuary of Annapurna quickly but are walking with limited time wise look at this special itinerary.
01 Day
Express drive to Nayapool via Pokhara city. Trek to Birethanti (1015m/3,330 feet), 8 hours
In the morning, our trek staff will pick up you at a hotel and escort you to the bus stand. Drive to Pokhara passing several beautiful rivers Trisuli and Marsyangdi, very popular for rafting. Pokhara is very popular for the panoramic view of majestic mountains and is Annapurna, Machapuchare in the north, Dhaulagiri in the west, Lamjung Himal, and Manaslu in the east.
You pass Pokhara city (a beautiful town of lakes and caves, and Buddhist and Hindu temples) to reach a new bridge. Trek about 30 minutes further to get to Birethanti settlement. Birethanti is a large village with many shops and guesthouses.
02 Day
Chomrong village trek (2,170m/7,120 feet), 7 hours
From Birethanti bazaar, turn the right to Modi river bank the trail continues through the flat cultivated lands, rice terraces, beautiful villages and small rivers we reach Jhinu Hot spring. The trail climbs steadily up the side of the valley to Chomrong village. Chomrong village is a very good place to get a brilliant Himalayan view of mount Annapurna south, Hiunchuli, and the holy fishtail. Chomrong is the biggest Gurung settlement and is an attraction to watch their culture and tradition.
03 Day
Chomrong to Himalaya Hotel (2,920m/9,580 feet), 6/7 hours
Today, we will our first step with stone step to Chomrong river, cross the river and hike to Sinuwa village where, there are few lodges. Walk with dense forest to bamboo lodges and guest houses. On the way, you might see wildlife like wild boar, monkeys, rhesus, and other wild birds including the Danphe pheasant. You can see a borderline of Annapurna sanctuary holy place mountain nearby the Himalayan hotel.
04 Day
Machapuchhare Base Camp Trek (3,700m/12,099 feet), 5/6 hours
Hike at Deurali viewpoint and walk further to MBC. There are two different trails ahead of us; we follow the seasonal safe path to Bagar and to MBC. There are possible places for avalanches and always be careful during the journey. Before heading to the MBC trek, gather the avalanche's spot en route. Avalanches are mostly happening from Hinko cave until Bagar but later on, the hiking trail is safe.
05 Day
Annapurna Sanctuary Trek (4,130m/13,50 feet) & descend to Dovan, 7/8 hours
After sunny breakfast, walk all the way uphill to the ABC. The beaten path follows the left-hand tributary of the Modi Khola. You can see the sunrise with a natural spectacular Panoramic view from the base camp viewpoint. A clear view of Annapurna 1st, South Annapurna, Barah Shikhar, Tent peak, Machapuchhare Hiunchuli, and many more snow-capped mountains, as well as the glacier, is visible. Having breakfast in ABC, just descend down to Machapuchhare base camp and more beautiful landscapes. We can meet the crew and take all stuff descend down to Dovan lodge passing several green hills and villages.
06 Day
Dovan to Jhinu Hot spring hiking (1,780m/5,840 feet), 6 hours
Trial descends to Jhinu Danda leads through bamboo and Rhododendron forest with superb mountain views from Sinuwa village. Have in mind, that the trail from Dovan to Bamboo is most subject to avalanches also. The trail leads down and up to stone steps to Chhomrung village. Walk downhill to Jhinu Danda and enjoy with natural hot spring on the banks of the Modi River.
07 Day
Jhinu to Siwai trekking (1,320m/4,331 feet), 2/3 hours. Drive out to Pokhara city, 2 hours
After breakfast, an easy trail leads to Samrung/Jhinu bridge. Continue trek about 2/3 hours further to reach a local bus station at Siwai junction. Your friendly trek guide from the Gokyo agency will arrange a local jeep (shared basis) to return to Pokhara Phewa lakeside.
During the jeep journey, you can move through numerous localities, terraced and as well as flat land to Birethanti lodges. Check out the Annapurna preservation post and continue to drive to Pokhara. The overland drive takes about two hours to reach zero kilometers. And we take a private cab to your hotel in Phewa lakeside. Trip finish.
Not pleased with above Itinerary?
Interested on planning custom trip? This might take a minute or two.
Cost
How much does Annapurna Sanctuary Trek price?
Sanctuary Annapurna trek price USD 470 per person on a double occupancy basis. Taking flights to and from Pokhara saves your time and riding the bus reduces the trip expenses. For the deluxe and luxury trekking tour plan, we add Kathmandu – Pokhara – Kathmandu round trip airfare, 3-star category hotel deluxe air-conditioned room in Kathmandu (BB PLAN), and 2-star hotel standard accommodation in Pokhara (BB plan) with attached bathroom while on the trek on possible places. AND WE ARE OPEN TO CUSTOMIZING YOUR TOUR AND PACKAGE PRICE AS PER YOUR REQUIREMENTS. International tour leaders are highly encouraged to get discounts and attractive complimentary.
The Annapurna Sanctuary Trek Package Price Includes:
Single night Double bedroom accommodation in a Tourist standard hotel in Pokhara.
7 Breakfast, 7 Lunch, and 6 Dinner during the trekking days.
Guest house double bedroom accommodation private room [common toilet] en route.
Annapurna Conservation Area permits and TIMS permits for Trekking tours
Bus transfer [sharing basis] from Kathmandu to Nayapool Bazaar on the first day.
Bus/Jeep transfer [sharing basis] from Sewai to Pokhara on a final day.
Fully escorted trek with English-speaking license holder trekking guide.
Trekking Guide's Insurance, Food and accommodation, and salary.
Seasonal fruits like apples and pomegranates as a dessert after dinner for sanctuary trekking.
Updated Annapurna sanctuary trek map 1 piece for each guest.
Agency's Certificate of appreciation after the successful sanctuary trekking.
Nepal Government Tax, VAT, and as well as Company service charge.
Annapurna Sanctuary Package Price Excludes :
Nepal entry visa fee US$ 40.
Lunch and Dinner during the staying in Pokhara city.
Any kinds of battery charges, laundry service, phone calls, and hot showers during the trekking.
Tourist's Personal trekking gears .
Nature of personal expenses, all types of drinks, and bar bills.
Trekking porter to transfer your luggage for the Annapurna sanctuary trek route.
Travel Insurance which covers emergency Rescue and Evacuation.
Any donation and monuments entrance fees.
Gratuities for guide and porters [Tip is a culture, so they expect highly]
Any other things which are not mentioned above
Group join
We can organize private Annapurna sanctuary trekking or express Annapurna sanctuary lodge trek starting at any date that works for you. Please contact us for more information.
| Departure Date | Availbility | Price | Book |
| --- | --- | --- | --- |
| 10 Feb, 2023 – 16 Feb, 2023 | Avaiable | 470 | |
| 20 Feb, 2023 – 26 Feb, 2023 | Avaiable | 470 | |
| 10 Mar, 2023 – 16 Mar, 2023 | Avaiable | 470 | |
| 20 Mar, 2023 – 26 Mar, 2023 | Avaiable | 470 | |
| 25 Mar, 2023 – 31 Mar, 2023 | Avaiable | 470 | |
| 05 Apr, 2023 – 11 Apr, 2023 | Avaiable | 470 | |
| 10 Apr, 2023 – 16 Apr, 2023 | Avaiable | 470 | |
| 20 Apr, 2023 – 26 Apr, 2023 | Avaiable | 470 | |
| 25 Apr, 2023 – 01 May, 2023 | Avaiable | 470 | |
| 10 May, 2023 – 16 May, 2023 | Avaiable | 470 | |
| 20 May, 2023 – 26 May, 2023 | Avaiable | 470 | |
| 10 Sept, 2023 – 16 Sept, 2023 | Avaiable | 470 | |
| 20 Sept, 2023 – 26 Sept, 2023 | Avaiable | 470 | |
| 05 Oct, 2023 – 11 Oct, 2023 | Avaiable | 470 | |
| 10 Oct, 2023 – 16 Oct, 2023 | Avaiable | 470 | |
| 20 Oct, 2023 – 26 Oct, 2023 | Avaiable | 470 | |
| 25 Oct, 2023 – 01 Nov, 2023 | Avaiable | 470 | |
| 05 Nov, 2023 – 11 Nov, 2023 | Avaiable | 470 | |
| 10 Nov, 2023 – 16 Nov, 2023 | Avaiable | 470 | |
| 20 Nov, 2023 – 26 Nov, 2023 | Avaiable | 470 | |
| 05 Dec, 2023 – 11 Dec, 2023 | Avaiable | 470 | |
| 20 Dec, 2023 – 26 Dec, 2023 | Avaiable | 470 | |
Guaranteed – Trip is Guaranteed to run.
Available – Trip is available to run if minimum group size is filled
Limited – Only few space available
FAQ
Question: Do I need the experience to do Annapurna Sanctuary Trek?.
Answer: Not really but it is suitable for keen trekkers/walkers who are able to walk around 4 or 5 hours a day, with a lightweight day pack. For this trek, if you have a little experience would be better.
Question: Is pick up service available on my arrival day in Kathmandu?.
Answer: Yes sure. Provide us with your flight details. Our representative will come to pick up you at Kathmandu international airport.
Question: Can I store my luggage/stuff in Kathmandu or in Pokhara?
Answer: Yes, you can leave your luggage at your hotel or at our office. Store your stuff in the Gokyo Treks agency office for free.
Question: Is this trekking Safe for Solo Female Trekkers?
Answer: Absolutely. Nepal is a safe country to travel to for solo travelers; this trek is perfectly safe for solo female trekkers. We have been organizing the Annapurna base camp trek even for solo female travelers since its establishment.
Question: What kind of accommodation can I expect on Sanctuary Annapurna Trek express?.
Answer: We provide you with tourist standard accommodation in Kathmandu and during the trekking routes. The rooms on hikes are clean with a cozy bed with a nice mattress and blankets. Despite that, we recommend you take your own sleeping bags if you have one with you otherwise, you may rent them while you are in Kathmandu.
Question: What kind of food can I expect on the sanctuary Annapurna lodge trek?.
Answer: All the sanctuary guesthouses en route, have attached restaurants. They cook a delicious variety of mostly vegetarian such as Pasta, tuna bakes, noodles, potatoes, eggs, dhal, rice, bread, soups, and fresh vegetables. Dinner and breakfast are provided in the same lodge you spend the night every day. Likewise, Lunch will provide on the way to the next place where you hike.
Question: How do I get drinking water on Sanctuary Trekking?
Answer: You can buy bottles of mineral water but however we advise against buying mineral water in plastic bottles, as currently there are no provisions for disposing of these waste items. Instead, you can buy boiled water or bring AQUA tablets to purify the normal water as the normal water is available almost everywhere en route.
Question: Can I charge my digital camera or other batteries on my trip?.
Answer: At sanctuary lodges en route, you can recharge your digital devices. We recommend you bring an extra pair in case. Remember to bring your adapters! An extra battery will be recommended.
Question: Are there any communication facilities on short Annapurna sanctuary treks?.
Answer: In the sanctuary hiking route, you can get telephone services as well as the internet.
Question: Can I use credit cards in sanctuary trek?.
Answer: No. You need to have cash Nepali rupees because credit cards work only in the bigger city areas.
Question: When should I book my trip and what are the payment terms?.
Answer: Because our trips book up months in advance, we recommend booking early to avoid any kind of misunderstanding. We will, of course, make every effort to accommodate last-minute reservations.
And regarding the deposit, we prefer a 10% advance deposit of the total price of the trip in order to confirm your reservation before you arrive in Nepal. And the rest of the payment can be made after your arrival in Nepal.
Question: Who will carry my luggage on Annapurna Sanctuary Treks?.
Answer: We provide porters to transfer your luggage at an additional cost. As we are a responsible trekking tour operator agency, each of our porters carries a maximum of 25 kilos of your backpack which means 2 guests (12.5 kg luggage of each guest): 1 porter basis.
Question: Is it possible to rent a guide? how to hire a local trek guide?.
Answer: Yes of course. If you are not happy to go with the complete full board package trip, still you can hire our expert guide to make your holiday tour safer. However, visit a Annapurna guide and porter hire or email us for your detail travel inquiry.
Question: How much distance do I walk each day?
Answer: When walking in the mountains, the distance you cover each day can vary greatly due to a gradient, and terrain altitude. As such it is very hard to give specific distances on each day, however, you have to be prepared to walk roughly about 5 hours each day.
Question: Do I need special trek poles for mountain hiking?.
Answer: It is better to hike with walking poles. Learn how to use trekking poles for balance and stability, whether on the sidewalk or on trails. Walking poles can help prevent slips and falls. They are just recommended but not compulsory.
Question: How much additional money do I need per day?
Answer: You can allocate US$ 08 – 10 for a lunch/dinner in Kathmandu and it depends on your spending habits. US$ 7 to 10 US$ each day will be enough to buy bottles of water, chocolates, tea coffee, and some drinks while you are on your trek.
Annapurna Sanctuary Trek Highlights
Explore Annapurna Himalayas within 360 deg angle from ABC (Annapurna Sanctuary).
Hike across the cultivated fields to get splendid views of the Dhaulagiri and Annapurna mountains.
Natural hot spring of Jhinu with nice waterfalls along the trek routes
Get an experience about various communities like Gurung and other ethnic groups and their local lives.
Is the Annapurna sanctuary trek in December / January / February possible?
Yes, trekking in the Annapurna base camp or sanctuary is always possible. December / January / February is a winter month in the Annapurna region. December starts to winter in the Himalayas. January and February are the coolest time and the trail gets adventures. The weather temperature is a little cold higher up (-10C/14F to – 15C/ 5F) and it can dump snow on the trail at any time of year.
Trekking in December can be excellent, but with little risk. The trail has some of the most possible avalanche areas, so do not trek alone. Sometimes, even in December / January / February, you may undergo environmental conditions like in the high season. Hike to Annapurna sanctuary is a tough and adventurous journey in winter, so book your hikes with us to go safe.
Moreover, the Annapurna region is located in the central but western part of Kathmandu, the capital of Nepal. Nepal is a small country but it has a diversity of mystical landscapes including flat land to the high Himalayas. It is the country of Lord Buddha and Mount Everest is 8,848 meters above sea level.
The best time to visit the sanctuary Annapurna trek is either in Spring (March to May) or Autumn (October to December) at this time the weather is very clear. So you can see the pristine Himalayas and beautiful landscapes. 
In spring the whole forest turns red, pink, and white with rhododendron flowers. An express Annapurna sanctuary trekking route is possible to visit at any time throughout the year except during winter storms.
Annapurna sanctuary trek return with a helicopter flight.
Have in mind that some travelers don't like to return with the same trail thus they choose a helicopter flight as an optional tour. Annapurna Base Camp Helicopter tour either from Kathmandu or from Pokhara is one of the most popular trips in Nepal. Fly out from Annapurna base camp is the easiest way to get to Annapurna's highest mountain glimpse quickly as it takes only 30 minutes to return to Pokhara and 30 minutes more to Kathmandu.
Annapurna sanctuary trek notice for Nepal visitor
Annapurna sanctuary trek solo is also possible for this sanctuary trekking with us. If you dream to hike privately then ask us for a special plan otherwise, you can join the group departure on the above-given dates.
Likewise, the Annapurna sanctuary information stated above is just a guideline and standard template. However, the trip is possible to customize at your request to accommodate your specific requirements. Local politics, landslides, cancellation of local flights, weather, transport, or a multitude of other factors that are beyond our control can result in a change of itinerary en route.
It is, however, very incredible that the itinerary would be extensively altered. If alterations are necessary the leader will decide the best alternative option, taking into consideration the best interests of the whole group. When a change does occur, we do everything we can to minimize its effect, but we cannot be responsible for the results of changes or delays.
What makes Annapurna Sanctuary Trek special?
Opportunities for challenging trekking or hiking like pleasant sanctuary hikes are scattered all over the planet earth. You just need to know where to find the right hikes that suit you. First safety and success satisfaction is our prime concern. We at Gokyo Treks believe in quality services.
We are a team of professional, experienced, and licensed local guides who know the destination much better than others. Not only this but also we give benefits to the local communities and help to conserve natural resources which reduced costs and consumption.
Annapurna Sanctuary Trek Review
The best ABC – Sanctuary trek
Organized by the company we had one guide, a guide/porter, and an additional 2 porters between the 5 of us. Really great bunch to help us along the trek making sure we had everything we needed, calling ahead to book accommodation, organizing our food, and also internal flights.
They can pretty much accommodate anything if you ask and are all very knowledgeable about the trek in Nepal. In addition, they were all great to just hang out with and have a laugh.. Truly unforgettable experience. Thank you all very very much

Annapurna Sanctuary + Gokyo Ridge Trek
It was a pleasure to trek with Gokyo Treks from the beginning to the end. The three of us spent the whole month in Nepal and got a little bit of everything. Planning was such a breeze. Normally my girlfriend plans out the itinerary, but since we were really busy in the months before the trip, we decided to go with an agency for the treks we wanted to do. In the month leading up to the trip, we were in constant contact with Ammar to plan the treks. We told him what we wanted and he made it happen.
Once we met up with Ammar in Kathmandu, he went through the itinerary and broke down the cost for the treks and for the days. He was very transparent and detailed with the price. We knew how much we were paying for everything at all times.
The itinerary was well planned for both treks. It was not rushed and we had plenty of time to acclimatize (very useful if you are coming from sea level). Bimal was our guide and we had an amazing time with him. We meshed really well with him on ABC and we asked if he could join us on the Gokyo Ri trek. He always made sure we were taken care of and feeling well throughout the hike. This mattered a lot at higher altitudes (especially for me). He was a great guide who taught us a lot about the culture and the mountains and it was a pleasure to trek and hang out with him.
Overall, I would highly recommend Gokyo Treks. Without Ammar and his team, we would have been very lost. They made it very easy to just go Trek and not worry about the headache of booking and planning everything. Next time we visit Nepal, we will definitely use Gokyo Treks again.
Annapurna Sanctuary Trek Review
It was an amazing experience, with friendly and great service mind with full of experience tour guide Ram and porter Ram. From the time of welcome, we got great services throughout the trip. Thank you Gokyo Treks for providing us with a wonderful memory

The best scenic Sanctuary Annapurna Trek
Finally…. we did our trekking to Annapurna sanctuary
It has long journey for us, and it's really worth it…. The best splendid view all the way and especially our way from Machhapuchhere base camp to Annapurna base camp).
At first, we are not sure can we finish our trek to ABC or not.
Together with Gokyo Trek and Expedition, we prepare our BASE CAMP JOURNEY, no doubt their experience make our trekking much easier

From US$ 500
5% Off
US$ 470
| | |
| --- | --- |
| No. of people | Price Per Person |
| 1 | USD 580 |
| 2 | USD 470 |
| 3 | USD 450 |
| 4 - 6 | USD 398 |
| 7 - 9 | USD 375 |
| 10 + | USD 350 |
Book Now
Customize Trip
Cost & Departures
Your Trip Your Style!
ITINERARY, COST, DEPARTURES, will adjusted according to your GROUP SIZE NEED TIME
Book with Confidence
Lowest Price Guaranteed.
100% Customizable Trips
Excellent Customer Service
Hassle Free Booking.
90 % Repeated customers
Highly Recommended agency
Private/group tour options
Local Guides Company.