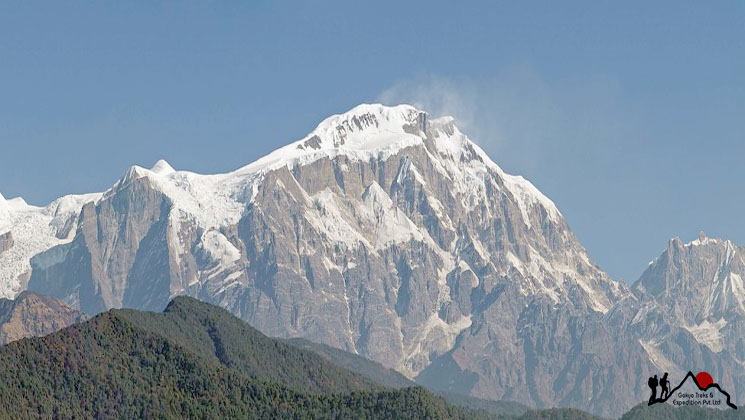 Lamjung Himal Trip Summary
Lamjung himal trek length: 6 Days
Lamjung himal trek difficulty: Easy Grade
High Altitude: 4,500m/14,765 feet feet
Trekking Hour: 6 Hours daily
Hiking Group Size: 1 – 12 People
Best Time: March, April, May, October, November and December
Trip Mode: Tent Camp basis
Meals on Trek Route: Breakfast, Lunch, and Dinner
Transportation: Car/Plane/bus
Overview
The Lamjung Himal trek is very famous for the beaten hiking trail, located in the foothills of Lamjung mountain in the Annapurna region. Hike lamjung mountain is a less crowded trek route and offers an impressive view of the north-central Himalayas of Nepal.
Hike the Lamjung Trail offers picturesque Gurung inhabitants and brilliant mountain scenery including Annapurna II, Annapurna IV, and Lamjung Himal itself. Likewise, if you are a professional camper and want to explore the typically hidden trail in Annapurna, the Lamjung trek would be the right holiday for you.
Lamjung mountain trail takes us across the Marsyangdi Valley into a serene locale occupied by Gurung individuals. As we reach Telbrung Danda's tough path, we become more acquainted with the space on the south side of Lamjung top which is characterized by the vague east-west orientated edge known as the Rambrong Danda.
From our 2 most noteworthy camps we can climb up to high perspectives; the first at the northern finish of the Telbrung Danda and the second at the western finish of the Rambrong Danda. Known as Rambrong West Summit (4500m) this is perhaps the best perspective possible, with a display that reaches out from Fish Tail (6,997m) in the west to Manaslu (8,163m) and Himal Chuli in the east.
We then, at that point leave effectively for more than a brief time by means of beautiful setting up camp spots and a mix of edges, at long last dropping down to the lovely cultivating town of Tasting in the valley of the Madi Nadi.
There are no cabins in this piece of Annapurna subsequently we need a tent for setting up camp. Our journeying group will set up a tent camp at any place we can discover water and this implies we can get to some lovely wild country.
Remote journeying, full-administration setting up camp, and heavenly setting up camp spots, along with magnificent mountain views and the opportunity to meet the inviting neighborhood individuals, make this one for epicureans of Himalayan travel.
In addition, the trek to Ghalegaon hill station will be more interesting in spring as the whole forest along the trail turns red, pink, and white with rhododendron flowers and as it easy grade trek, the trek can be done at any time throughout the year.
How much is the Lamjung Himal Trek Package Cost?
The cost of the Lamjung Himal trek package with a local Gokyo Trek Agency ranges between US$ 1590 to US$ 2190. Of course, lamjung Himal trek package cost will depend upon the group size you are traveling to and the service you choose. However, in the given package price includes transportation, a guide, porters, hotels and food accommodation and hiking permits, facilities.
We also have discount deals for trek group leaders. For example, if you could bring 10+ travelers (except you) on your trip, you are treated as a group leader. So you can hike lamjung himal for free of cost.
However, we often arrange private trips in order to avoid group tours with strangers. A private tour gives you a better experience on your hikes. If you value personalization, flexibility, and in-depth experiences, a private trip customized to your personal needs will be the best option.
It is the standard trip package price for 13 days trek. If you are 2 people Lamjung Himal trek cost US$ 1675 for 13 days trek plan. We can modify the trek route and the prices as you wish also. Here is the price list for the Lamjung Himal treks.
Price Per Person for 13 days hikes in Annapurna territory.
| Number of Tourist | Price Per Person |
| --- | --- |
| 1 Person | US$ 2190 |
| 2 Person | US$ 1675 |
| 3 Person | US$ 1675 |
| 4 to 6 person | US$ 1650 |
| 7 to 9 Person | US$ 1625 |
| 10 and more than 10 Person | US$ 1590 |
If you're wondering to know about what is included and what is excluded from this trip price, kindly check on the cost given on a tab button.
Itinerary
Lamjung Himal trek itinerary details
Hike to Lamjung Himal is an off the beaten path nature trek in Nepal that is loved by every nature lover. Travelers go to visit Lamjung mountain hiring the best gear and with a tent camping. If you are an independent trekker who wishes to hike quickly but walk within a limited time-wise then ask us for a tailor-made itinerary.
01 Day
Arrival at Kathmandu valley
Upon arrival in Kathmandu, Tribhuwan International Airport, we will receive you in a private vehicle and transfer you to a hotel in Kathmandu. Our representative will brief you Lamjung Himal trek information.
02 Day
Drive from Kathmandu to Besi Sahar drive, 7-8 hours
Meet the guide and drive to the Gongabhu Bus station to take a bus to Besi Sahar. We will have 2 stops (breakfast and lunch) to stretch our bodies in between the journey. This is a first opportunity to test the Nepali staple of Dal Bhat (rice and dal) typically presented with hot vegetable or meat curry.
Before long leaving Mugling, we arrive at the unassuming community of Dumre, close to the Marsyangdi River. Besisahar used to be the beginning stage for the exemplary Annapurna Circuit journey, yet these days the jeep street proceeds a lot further northwards.
03 Day
Baglungpani Trek (1,650m/5,413 feet), 4 hours
Visitor can hike through the edges of Besi Sahar and over a space of pleasant, terraced farmland. The hiking trail goes with the rice, millet, and grain-rich fields cooperating with local people.
In the middle of the excursion, you can appreciate the picturesque mountains see, and developed farmlands. Vacationers can see predominantly the Annapurna tops (2 and 4), Fish Tail, Lamjung Himal (6,983m), Manaslu (8,163m), Himal Chuli, and Baudha Himal.
The Guide and Sherpa will set up a tent and serve you juice on your landing in Baglung Pani campground. Baglungpani is a little edge-top settlement, with a couple of shops, several fundamental cabins, a school, and a well-being post.
04 Day
Hike to Ghanpokhara via Ghale Gaon (2,200m/7,218 feet), 4-5 hours.
This part of Nepal is home to people of the Gurung ethnic group, who are of Tibetan descent and are believed to have migrated to Nepal in the 6th century. Gurkha soldiers serving in the British Army have traditionally been recruited from amongst the Gurung people.
Our route today mostly follows an undulating jeep track along the ridge, heading northwards and then off-road uphill to reach the larger settlement of Ghalegaon (2030m), one of the wild honey gatherings in Nepal.
We hike across the traditional Gurung houses and local people tending their water buffalo, goats, and chickens. The trek heads down into the valley to the west, to the large Gurung village of Bhujung. We will follow the ridge northwards from here to reach Ghan Pokhara.
05 Day
Bhaisi Kharka Trek (2,850m/9,351 feet.), 5-6 hours
We follow the Telbrung Danda trail, for the most part northwards and with lamjung culminations. Climb the scene that blends open, inferior rhododendron timberland, for certain stands of greater kharkas where the nearby individuals brush their domesticated animals during the rainstorm months.
Our short-term camp is at Bhaisi Kharka (2,850m), a name which means bison field. There are a couple of brief shepherd's hovels in this clearing in the timberland and it makes an extraordinary spot to camp with perspectives of Himal Chuli and Bhauda Himal.
It is obvious not many travelers come thusly. There are no tea houses now, nor any proof of past journeying camping areas. So near the Annapurna Circuit but then up until this point!
06 Day
Rambrong Lower Basecamp trek (3,765m/12,353 feet), 5 hours
Campers hike further using the shepherds' path over woodland on the east side edge, and toward the north, we can see Telbrung ridgeline which seems to lose itself among an assortment of captivating rough slopes that make up the Rambrong Danda, a higher edge which is orientated east to west.
Following the edge of a bend trail, we acquire stature consistently then more steadily across the rhododendrons and some bamboo trees. Travelers can see delightful mountains see also.
Over the timberline, the last hour of walk, prompts camp at the spot we call Rambrong Low Basecamp arranged on 3,765m. This is a wonderful setting up camp put on an open edge with sees every which way.
Past the profound valley of the Marsyangdi River, the triple pinnacles of Manaslu, Peak 29, and Himal Chuli are conspicuous toward the east and north-east, while in front of us, toward the north, we can see the low culminations of the Rambrong Danda, with Lamjung Himal and Annapurna 2 ascending past.
07 Day
Rambrong Low Basecamp day tour. Hike to the viewpoint. 4 hours
Today, we hike the Telbrung Danda hill station about 4,100 meters above Marsyangdi valley to get better scenery. Tourists can get a brilliant view of Manaslu Mountain and Marsyangdi tal itself.
08 Day
Trek to Rambrong West Summit (4,500m/14,765 feet). Camp at Rambrong Basecamp (3850m), 5-6 hours
We hike Telbrung ridge via a rocky trail which has enough evidence in the form of old stone steps that these trails were possibly more often used in the past by pilgrims en route to holy lakes such as Dudh Pokhari near the Namun La.
Hike further to Rambrong West Summit (4,500m) which looks out across a small mountain lake towards the Annapurnas. Mount Machhapuchhre, Annapurna 2, 4, Lamjung Himal, Manaslu, and Himal Chuli are the top mountains to see from the Rambong summit.
09 Day
Haju Dobato Trekking (3,420m/11,221 feet) on the Karpu Danda, 4-5 hours
Presently, we climb the Madi Nadi which streams southwards from Annapurna II Mountain. The way for the most part downhill through blended rhododendron, berberis, bamboo, and juniper timberland. Arrival at an open brushing region at Bheda Kharka, to arrive at our camp on the edge of the Karpu Danda. As you reach on camping spot, you can partake in the perspective of Fishtail and the Annapurna family which are especially great as the sunsets.
10 Day
Deurali trek (3,000m/9,843 feet) and hike further to Tanting village (1,650m/5,414 feet), 6 hours
The path today is simpler and drifts downhill and uphill passing the slopes and the valleys to Deurali for a mid-day break. Later lunch, we start our excursion to Madi Nadi passing terraced farmland, high over the valley floor, then, at that point proceed with our plunge on town trails to the charming Gurung town of Tanting town, where we set up our last tent setting up camp occasion.
You will have an amazing perspective on the conventional houses, Lamjung Himal and Annapurna 2. In the evening, Excursionists will host a trip finish get-together festival with the Gokyo trek team. The complete separation from Haju Dobato to Deurali (6 kilometers) and to Tanting is 7 kilometers.
11 Day
Tanting Besi trekking, 2 hours and drive to Phewa lakeside Pokhara town (2:30 Hours).
Later breakfast, nature trek goes further with rich farmland, with dissipated homesteads and a lot of freedom to meet the cordial neighborhood individuals.
There are still somewhat not many external guests in this piece of Nepal and we can expect a warm greeting and a bright 'namaste' from everybody that we meet.
At Tanting foothill (besi), pack your hiking gear, and board our vehicle for a short drive to Nepal's second touristic city of Pokhara. Showing up in Phewa lakeside Pokhara, really look at the inn, wash up and tidy up, we will have some extra energy to meander by the lake or to sit in the nursery of one of the amazing lakeside cafés and appreciate the perspective on the Annapurnas. Contrasting the chronicled town Kathmandu, Pokhara is a city of lakes.
12 Day
Pokhara city Tours with a local Guide [a full day Pokhara city tour: 7 hours]
In the morning, take your delicious breakfast and continue to drive for Pokhara city tours. Today, we visit the great landmarks of Pokhara city which are given below.
Devi's fall sightseeing
Devi's fall is one of the popular tourist spots in Pokhara. The place is also famous as a Patale Chango (waterfall), nearly 2 kilometers southwest of Fewa Lakeside in Pokhara. According to the famous belief that a foreigner named David was swept away into this waterfall and disappeared. It has made gorges and flows throughout the caves. Hire a professional guide to get exclusive tour information.
International Mountain Museums
The International Mountain Museum is a place to get mountaineering history. It includes the highest mountains, summit height, trekking peaks, climbing activities, climbing life, and the lifestyle in the Himalayas, and their challenges.
Seti Gorge sightseeing – Seti river sightseeing
This River flows near the city area by making its way to the underworld. It appears in some places and the view is thrilling from the Mahendra Pul. The River flows powerfully by making a deep gorge and dreadful speed.
Boat on Phewa Lake – boating tourism
It is the second largest lake in Nepal and a central tourist attraction in Pokhara paradise. It is also a spot for water fun activities like boating and kayaking. Mainly the hotels, restaurants, and shops located on its edge. The magnificent views of the Annapurna Himalayan range are dazzling from the lake.
Barahi temple sightseeing
Barahi temple is a famous religious monument in Pokhara, is on the edge of Phewa Lake. It is a two-storied pagoda-style Hindu temple. Visitors should ride the boat to reach the Barahi shrine premises.
13 Day
Fly to Kathmandu city. Walk to the International airport (25 minutes).
Travelers can fly from Pokhara to Kathmandu after breakfast and immediately walk further to the international terminal hall to catch their midday return flight. Your hiking guide will help you to arrange all properly without any hassle. Trip finish
Not satisfied with above plan?
Are you interested in planning a custom trip? this might take 2 to 3 minutes.
Cost
How much does the Lamjung Himal trek package price?
The cultural Lamjung Himal trek package cost USD 1675 per person is the standard trek price on double occupancy basis. For the deluxe and luxury plan, we add Pokhara to Kathmandu flights. Likewise, a 3-5 star category hotel deluxe air-conditioned room in Kathmandu and in Pokhara with a breakfast plan. AND WE ARE OPEN TO CUSTOMIZING YOUR TOUR AND PACKAGES PRICE AS PER YOUR REQUIREMENTS.
Lamjung Himal trek package includes:
Kathmandu international airport transfer by private vehicles.
Single night in double bedroom tourist standard accommodation in Kathmandu with breakfast.
2 nights Tourist standard accommodation in Pokhara with Breakfast Plan
12 Breakfast, 11 Lunch, and 11 Dinner serve with hot tea/coffee at the hiking trail.
Tent camp accommodation (require camping equipment such as Member tent, Dinning tent, kitchen tent, toilet tent, mattress, Pilows..etc while on a trek.
Pokhara to Kathmandu flight ticket with airport departure taxes.
Micro Bus transfer from Kathmandu Bus Park to Besisahar for guest and guide on day second.
Bus transfer from Pokhara to Kathmandu for hiking crew (cook and sherpas).
A professional cook, kitchen helper, and other required porters as per group size.
Fully escorted trek with an English-speaking license holder local guide and each 1 guest 1 Porter basis.
Annapurna Conservation Area permits and TIMS permits for Trekking tours
Pokhara city day tour (Pokhara city sightseeing) as above plan transfer by private vehicle.
Insurance, accommodation, food, and well-paid salary for all Nepali trekking staff.
Lamjung Himal trek map and Trekking T-Shirt, and trip achievement certificate – Keep yourself
Agency's duffel bag (50 liters capacity), and trek poles if Necessary – return after the trek.
Seasonal fruits like apples and pomegranates as a dessert after dinner for Lamjung Himal base camp trekking.
First aid medical kit including Oximeter to check your Oxygen level, Pulse rate every day to save for high altitude risk.
In a worst case, help with all Helicopter Rescue and evacuation arrangements (but not the rescue bills).
Nepal Government Tax, VAT, and as well as Company service charge.
Lamjung Himal trek package excludes:
Lunch and Dinner on your stay in Pokhara and Kathmandu town.
Any kinds of battery charges, laundry service, phone calls, and during the trekking.
Trekker's personal trekking equipment's .
Personal nature expenses, donation, and bar bills.
Travel Insurance which covers emergency rescue, evacuation, personal loss, or damage.
Monuments entrance fees.
Gratuities for guide, cook, and porters [Tip is a culture, so they expect highly].
Any other things which are not mentioned above.
Group join
We can organize a private Lamjung Himal trek starting on any date that works for you. Please contact us for more information.
FAQ
Question: Do I need the experience to hike Lamjung Himal Trail?
Answer: Actually lamjung mountain trek route is suitable for enthusiastic trekkers who can walk around 4 or 5 hours a day, with a lightweight daypack. If you have about a little experience already it would be better otherwise, you can trek slow to walk at your own pace to complete it.
Question: Is pick up service available on my arrival day in Kathmandu town?
Answer: Yes sure. Provide us with your flight details and request us for pickup. Our representative will come to pick up you at the international airport, in Kathmandu.
Question: Can I store my luggage/stuff in Kathmandu?
Answer: Yes, you can leave your luggage at your hotel or at our office. Storage of your stuff in the Gokyo Treks agency office is free.
Question: Is this camping outdoor Safe for Solo Female Trekkers?
Answer: Absolutely yes. Nepal is a safe country to travel to for solo travelers; this type of camping trek is perfectly safe for solo female trekkers. We have been organizing the trek even for solo female travelers since its establishment.
Question: What kind of accommodation can I expect on lamjung camping trek?
Answer: We provide you tourist standard accommodation in Kathmandu and tent camping accommodation on trekking routes. Be that as it may, we advise you to take your own sleeping bags if you have one with you otherwise, you may rent or buy gear while you are in Kathmandu.
Question: What kind of food can I expect on a camping trek?
Answer: Lamjung Himal trek is a full camping-based trek in Nepal. So our professional cook cooks a delicious range of mostly vegetarian meals. They are Pasta, tuna bake, noodles, potatoes, eggs, rice with vegetable curry, bread, and soups.
Question: How do I get drinking water on lamjung trail express?
Answer: During the trekking route there is often possible to buy mineral water en route. However, we advise against buying mineral water in plastic bottles, as currently there are no provisions for disposing of these. Instead, we provide you aqua filter water, as they are safe drinking water taken from normal taps.
Question: Can I charge my digital camera or other batteries on my trip?
Answer: Less chance to recharge the battery. We recommend you bring an extra pair in case. Remember to bring your adapters! An extra battery is highly suggested.
Question: Are there any communication facilities on the Lamjung trek?
Answer: Yes, on this trekking route often get a phone signal. Thus, buy a local Sim card to get connected for phone calls and buy a data pack to use internet service.
Question: Can I use credit cards in Lamjung Himal Trail?
Answer: No! You need to have cash Nepali rupees because credit cards work only in the bigger city areas.
Question: When should I book my trip and what are the payment terms?
Answer: Our camping tours book up months in advance, we recommend booking early to avoid any misunderstanding. We will, of course, make every effort to accommodate last-minute bookings.
And regarding the deposit, we prefer a 20% advance deposit of the total price of the trip in order to confirm your reservation before you arrive in Nepal. And the rest of the payment can be made after your arrival in Nepal.
Question: Who will carry my luggage on the Lamjung Himal trek?
Answer: We do provide porters to transfer your luggage. As we are a responsible trekking tour operator agency, each of our porters carries a maximum of 25 kilos of your backpack which means 1 guest: 1 porter basis.
Question: How much distance do I walk each day?
Answer: When walking in the mountains, the distance you cover each day can vary greatly due to gradient, terrain, and altitude. As such it is very hard to give specific distances for each day, however, you need to prepare to walk for roughly about 5 hours each day.
Question: Do I need walking poles?
Answer: It is better to hike with walking poles. Learn how to use trekking poles for balance and stability, whether on the sidewalk or on trails. Walking poles can help prevent slips and falls. They are just recommended but not compulsory.
Question: How much additional money do I need per day?
Answer: You can allocate US$ 08 – 10 for a lunch/dinner in Kathmandu and it depends on your spending habits. US$ 7 to 10 US$ each day will be enough to buy bottles of water, chocolates, tea coffee, and some drinks while you are on your trek.
Lamjung Himal trek highlights
Magnificent edge top journeying occasion in Nepal with flawless setting up camp spots.
Awesome mountain view from Rambrong West Summit at 4,500 meters.
Get an amazing experience staying in a Tent camping in wilderness campsites
The best view of Machhapuchhre, Annapurna 2, Lamjung Himal, Manaslu, and some more
Get a chance to see the domestic honey hunting with super delicious foods.
Lamjung himal trek note
The Lamjung mountain hiking trail information as stated above is just a sample guideline that we serve you. However, the trip is possible to customize at your request to accommodate your specific requirements. Local politics, landslides, cancellation of local flights, weather, transport, or a multitude of other factors that are beyond our control can result in a change of travel plan during on trip.
It is, however, very unlikely that the tour itinerary would be substantially altered. If alterations are necessary the leader will decide the best alternative option, taking into consideration the best interests of the whole group. When a change does occur, we do everything we can to minimize its effect, but we cannot be responsible for the results of changes or delays.
What makes Lamjung Himal trek trip special?
Opportunities for challenging trekking and pleasant nature hikes are scattered all over the mountain planet. You just need to know where to find them. We at Gokyo Treks and Expedition believe in quality services. First safety and success satisfaction is our prime concern.
We are a team of professional, trained, and licensed local guides to know the destination better than others. Moreover, we give benefits to the local communities and help to conserve natural resources which reduces costs and consumption.
Traveller's Review
Beautiful Camping Trail Lamjung Himal
Very spectacular, totally off the beaten track over the Marsyangdi valley was great, along the riverside through rhododendron forests. We saw special honey hunting in Ghale gaun village and en route a group of Monkeys. Not a tough trek but we spent a day tour in Pokhara town was amazing. Thanks, Ammar and Gokyo Treks agency for arranging us a great trip for us.
Response from Gokyo Treks Nepal
Thank you dear Lee Hui for lamjung Himal trek review. We are hoping to welcome you again for your net trip in the Himalayas.
From US$ 1726
3% Off
US$ 1675
| | |
| --- | --- |
| No. of people | Price Per Person |
| 1 | USD 2190 |
| 2 | USD 1675 |
| 3 | USD 1675 |
| 4 - 6 | USD 1650 |
| 7 - 9 | USD 1625 |
| 10 + | USD 1590 |
Book Now
Customize Trip
Cost & Departures
Your Trip Your Style!
ITINERARY, COST, DEPARTURES, will adjusted according to your GROUP SIZE NEED TIME
Book with Confidence
Local Guides Company.
18 Years in Business.
Lowest Price Guaranteed.
100% Customizable Trips
Excellent Customer Service
Hassle Free Booking.
90 % Repeated customers
Highly Recommended agency
Private/group tour options