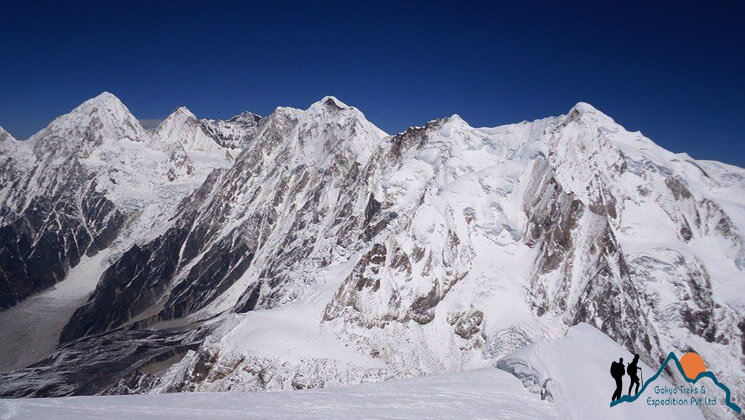 Larkya Peak Climbing Summary
Climbing duration: 18 Days
Larkya peak climbing Difficulty: Moderate to Strenuous
Highest Altitude: 6,249m/20,503 feet
Daily Trek Hour: 6 hours daily
Group Size Minimum : 2 – 12 People
Trip Mode: Lodge + Alpine Camping
Climb Best Time: April, May, June, September, October, November
Meals: Breakfast, Lunch, and Dinner
Transportation: Jeep / bus
Overview
The Larkya peak climbing is off a beaten path trek route situated at 20,503 feet in the Manaslu range in the western part of Gorkha, Nepal. Majestic Larke peak enables you to explore the Manaslu conservation area and the Tibetan face of Nepali people and their cultures.
Furthermore, climbing Larkya peak offers a first-rate view of the complete Manaslu range including Mount Manaslu and Samdo Peak. In addition, you can see the most outstanding landscapes and snowy mountains on the Tibet side.
(view from Dharmasala hiking )
The climbing trip ascends across the farmland, villages, and forest of Rhododendrons, conifer, oaks, and pines. In the spring season, the forest looks enchanting with blossoms all around. Moreover, passing fascinating scenery.
Therefore, we follow the narrow Budhi Gandaki River gorge in Nubra valley until we ascend to the large alpine grassland where the glacier meets the meadow.
In addition, Mountain Yaks are grazing around with the backdrops of snowy peaks of Manaslu, Samdo ridge. Adventure Larkya peak climbing excursion is possible at any time (except winter) throughout the year.
How much is the Larkya peak Climb Package Cost/Price?
The cost of the Larkya peak climbing package with a Gokyo Treks Agency (local climbing operator agency in Nepal) ranges between US$ 2825 to US$ 3399. Of course, the Larkya peak climbing package cost will vary as per the service you choose. However, in the given package cost includes transportation, a guide, porters, hotels and food accommodation and hiking permits, facilities.
It is the standard climbing package price for 18 days climb. If you are 2 people Larkya peak Climb cost US$ 2998 for 18 days of summit climbing according to the given trekking plus climbing plan. We can modify the climbing itinerary and the prices according to your wish. Here is the price list for the Larkya peak climb.
Price Per Person for 18 days for Larkya peak climb.
| Number of Tourist | Price Per Person |
| --- | --- |
| 1 Person | US$ 3399 |
| 2 Person | US$ 2998 |
| 3 Person | US$ 2975 |
| 4 to 6 person | US$ 2950 |
| 7 to 9 Person | US$ 2925 |
| 10 and more than 10 Person | US$ 2825 |
If you're wondering to know about what is included and what is excluded from this trip price, kindly check on the cost given on a tab button.
Itinerary
Larkya peak climbing itinerary detail
The particular Larkya peak climbing route is designed for professional travelers who want to climb larkya peak. Many people write that Larkya peak is a Larke peak. Travelers who wish to climb larkya trekking and climbing in a more relaxed manner then try this itinerary, nevertheless, if this itinerary is not fit for you then send us an inquiry for a tailor-made itinerary.
1 Day
Arrival at Kathmandu valley
Arrival in Kathmandu, Tribhuwan International Airport. We will receive you in a private vehicle and transfer you to Kathmandu. Our representative Ammar will brief you on larky climbing information around Manaslu trek programs.
2 Day
Overland drive from Kathmandu to Soti Khola (730m/2,395 feet), 8 hours
Trek staff will come to your Hotel early in the morning to pick you up. Drive to the Bus park to get an express coach to Soti Khola passing Arughat Bazaar. The overall journey takes roughly seven-eight hours to reach Soti Khola. Stay overnight in a lodge.
3 Day
Soti Khola to Machha Khola trek (930m/3,051 feet), 5 hours.
The trail descends slowly until you climb again to a mountain ridge to Almara. Pass the tiny sal forest trail to cuts into another side of the river to enter Budhi Gandaki River.
4 Day
Machha Khola to Jagat village trekking (1,410m/4,626 feet), 5 hours.
At Khrola best, there is a natural hot spring called "Tatopani". The trail follows woody areas towards Dovan. Below Dovan, there is a huge rapid at Budhi Gandaki. As the elevation increases, the rapids and the scenery subdues a complete transformation. At Jagat, there is a police station to check your Manaslu area-controlled region trek permits and climbing peak permits.
5 Day
Trek to Dyang village (1,800m/5,905 feet), 7 hours.
After ascending to the terraced hill of Saguleri and view of Sringi Himal (7,177m). We continue towards Sirish Gaon, Gandaki valley narrows from herewith soaring precipitous walls.
6 Day
Dyang to Ghap village trekking (2,160m/7,087 feet), 6 hours.
Follow the trail upstream of Dyang River – a tiny village of few houses. We walk across a newly built rock tunnel. At Ghap, the Tibetan culture begins with Mani stones and chortens all around.
7 Day
Ghap to Lhogaon trek (3,180m/10,433 feet), 7 hours.
Follow the path lined with houses that are interspersed with cultivated fields. At Namrung village, there is a police check post again. After Namrung, across the Hinan river coming from Linda Glacier and continue on to Sho hamlet. Naike peak, Manaslu north (7,774 m), and Manaslu (8,150 m) central are just incredible. Lho Gaon is a small settlement that stays with normal lodges where we stay overnight.
8 Day
Lhogaon to Samagaun Trekking (3,530m/11,581 feet), 4 hours.
Hike further with the stone gate and long Mani stone wall after Lho village with a full view of Peak 29 ahead. You can make a side excursion to the Pungent Glacier safari at Manaslu base camp. Sylla village offers an outstanding Manaslu massif less than 2-kilo meter distance.
Walk further following the moraine and glacier excursion towards Samagaun. From Samagau village, it takes another twenty minutes to walk further to reach Sama Gompa for a night halt.
9 Day
Half day explore Samagaun than Samdo trekking (3,690m/12,106 feet), 3-4 hours
We spend almost a half-day excursion in order to acclimatize. Adjust to the thinning air hiking at Birendra lake connect with the Manaslu glacier. You can visit Phungen Gomba to visit one of the oldest gompas in the Manaslu area.
Lunch at Samagaon, we climb a terraced hill on the opposite bank of Budhi Gandaki River from here toward a most remote permanent settlement to Samdo village. Roughly about 200 locals are living in this village.
10 Day
Rest at Samdo village. Optional full-day trip to Tibet Border, 8-9 hours.
Today is a rest day to acclimatize at a higher altitude. Interested climbers can hike with a Guide either samdo ridge or longer hikes to the Tibet border at Riu la pass. On the same day, our entire crew will check all of the camping gear that we need for the next days.
11 Day
Larkya Base Camp trek (5,135m/16,848 feet), 4-5 hours.
We start our hikes with the tent to Larke base camp at 16,848 feet on the foothills of Larke peak. After the classical Manaslu trek route, we walk over the rocky moraine trail to get off-road to the glacier safari camp at Larke base camp. Check your climbing gear and get climbing instructions with your Larkya climbing guide.
12 Days
Climb at Larkya advance base Camp (5,480m/17,980 feet), 3-4 hours.
We ascend over the rocky moraine trail to reach the advanced base camp. Climbing Larke advance basecamp is another adenture trail as the climbers should cross over the Himalayan Glacier. The climbers will have an excellent view of Nubry valley, glacial lakes, and the trail to Tibet also en route.
13 Days
Climbing Larke Peak Summit day (6,249m/20,503 feet). Descend to Normal Base Camp, 8 hours.
Cheak the weather and get ready with all climbing gears and the guide will leads a head and fix the climbing route. Reaching the summit is a tough adventure but the majestic Himalayan view makes your journey calm down. Return all the way downhill to reach a normal base camp to stay overnight.
14 Days
Reserve day or the weather contingency.
It is not 100% sure that we reach the summit on day 13. Therefore, day 14th is used as a contingency in case we are unable to get a summit for any reason. If the weather gets exceptionally unfavorable we wisely have to postpone the program. Sometimes somebody in the group may get some problems acclimatizing well enough to ascent. If the trip goes smoothly, we continue to cross over Larke la pass to set up a campsite at Bimthang ground.
15 Day
Cross Larkya La (5,106m/16,752 feet) and trek to Bimtang (3,720 m), 7 hours.
A challenging hike goes further Cho Chanda and then slowly heads steeply uphill towards the snowed-up Larke la pass. The hilltop Larke la pass offers just a magical Panorama view of Himlung Himal (7,126m), Cheo Himal (6,820m), Gyagi Kung, Kang Kuru (6,981m), and the Annapurna II (7,937 m).
The trail roughly about 200 meters after the pass is steep descent downhill and a difficult part all the way through the moraines to the grassy downhill. After the grassy rocks, your trip downhill to the big open sandy ground to Bimtang at 3,720 meters is a safe.
16 Day
Tilche village trek (2,300m/7,546 feet), 7 hours.
The route gets easier walking through Rhododendrons forest and local Tilje village. Tilche is one of the biggest Gurung villages on the Manaslu circuit trekking routes. Many trekkers stay overnight in Goa, but there are not many lodges and especially in the peak season they are overbooked.
17 Day
Trek to Dharapani (1,860m/6,102 feet), 1 hour. Drive out to Besisahar, 4 hours.
An easy downhill hike today touches the Annapurna circuit trek main trail. Follow the trail Marshyangdi River downstream, passing through the scattered villages and crossing the iron bridge, and we reach Dharapani village. Taking a regular local jeep (passenger collection basis), drive downhill to Besisahar passing scenic waterfalls, hydropower and fertile landscapes.
18 Day
Return with Overland Bus to Kathmandu city, 7-8 hours
After breakfast, In the morning time, we drive back through the scenic countryside and during the route will stop for lunch in Malekhu highway. Drive another 4 hours to reach Kathmandu city and transfer to your hotel. In the evening, we serve you farewell dinner in a Nepali typical restaurant.
19 Day
Kathmandu international airport drop off
Today, we drop you to the Kathmandu international airport for your further flights back to home. Trip Finish.
Not satisfied with above plan?
Are you interested in planning a custom trip? this might take 2 to 3 minutes.
Cost
How much does Larkya peak climbing package price?
The most scenic and adventure Larkya peak climbing package price US$ 2998 is the standard trek price on double occupancy basis.
For the deluxe and luxury climbing plan, we add a 3-5 star category hotel deluxe air-conditioned room in Kathmandu with a breakfast plan. Likewise, Tourist standard accommodation with attached bathroom/toilet in possible places en route (except climbing days). AND WE ARE OPEN TO CUSTOMIZING YOUR TOUR AND PACKAGES PRICE AS PER YOUR REQUIREMENTS.
Larkya Peak Climbing Package Price Includes:-
Kathmandu International airport transfer by private car/van/bus.
Guided sightseeing tour in Kathmandu valley with private car/van/bus.
2 nights double bedroom accommodation in a Tourist standard hotel in Kathmandu.
17 Breakfast, 17 Lunch, and 17 Dinner while on trekking and climbing days in Manaslu.
Accommodation in a tented camp during the climbing days 3 nights 4 days (Samdo – Larkya Peak Summit – Larke Bazaar) on double bedroom tent, dining tent, toilet tent, Kitchen tent, staff tent, and Kitchen utensil, etc.). And lodge basis accommodation in other trekking days.
Staff: (English-speaking Trekking guide, 1 Cook cum helper, & necessary porters.
Professional Climbing Guide (Guide's salary, climbing equipment, Bonus, insurance]. (1 climbing guide: up to 4 Tourist basis.
An assistant guide will provide for 5 plus group tourists.
Group climbing equipment including harness, ropes, ice screws, carbine, snow bars, eight-figure, etc.
Larkya peak climbing permit/s & other necessary fees (US$ 350) and Manaslu restricted area permit (US$ 100) per person.
Trekking permits: Manaslu and Annapurna conservation entrance permit price.
Insurance, Salary, Food, Drinks, Accommodation, and Transportation for Nepali climbing staff.
First aid medical kit including Oximeter to check your Oxygen level, Pulse rate every day to prepare for high altitude risk.
In a worst case, help with all Helicopter Rescue and evacuation arrangements (but not the rescue bills).
Agency's duffel bag (50 liters capacity) and trekking poles if Necessary – return after the trek.
Farewell dinner within Typical Restaurants in Kathmandu.
Nepal Government Tax, VAT, and as well as Company service charge.
Larkya peak climbing package price exclude :
Nepal entry visa fees.
Lunch and Dinner during the staying in Kathmandu city.
Any kinds of battery charges, laundry service, phone calls, and hot showers during the trekking.
Collective equipment such as a Climbing Rope, Ice screws, Snow bars, Tent, and Snow Sawel.
Personal trekking and climbing equipment and Clothing.
-10 comfort fresh Sleeping bag rental cost per piece US$ 2 per day.
Personal nature expenses, any types of drinks except climbing days and bar bills.
Travel Insurance which covers emergency rescue, evacuation, personal loss, or damage.
Any donation and monument entrance fees.
Gratuities for climbing staff [Tip is a culture, so they expect highly].
Any other things which are not mentioned above
Group join
We can organize private Larkya peak climbing starting on any date that works for you. Please contact us for more information.
FAQ
Question: Is pick-up service available on my arrival day in Kathmandu?
Answer: Yes sure. Provide us with your flight detail and request for pickup. Our representative will come to pick up you at Kathmandu international airport.
Question: What kind of accommodation can I expect at Larkya peak climbing?
Answer: We provide you tourist standard accommodation in Kathmandu and during the trekking route normal. Rooms at guest houses en route are clean cozy beds and mattresses and blankets. However, we recommend you take your own sleeping bags. If you have one with you otherwise, you may hire it in Kathmandu.
Question: What kind of food can I expect at Larkya climbing?
Answer: Manaslu lodge trek routes, have attached restaurants. They cook a delicious range of mostly vegetarian such as noodles, potatoes, Pasta, tuna bakes, eggs, curry rice, bread, soups, and fresh vegetables. However, during the climbing days, our cook cooks delicious food for you.
Question: What opportunities will I have for a shower along with Larke peak climbing?
Answer: Hikes via Manaslu lodges they have a shower which you can get on pay. However, if you wish to take a shower on climbing days, we do provide hot water on a bucket so you can take a bucket shower.
Question: How do I get drinking water on Larke climbing?
Answer: There are often possible places to buy bottled mineral water to drink. But, we advise against buying mineral water in plastic bottles, as currently there are no provisions for disposing of plastic garbage.
We recommend you bring aqua tablets to purify the normal water. Normal water is available on tap or on the campsite along the way. But while on climbing days, the kitchen crew will supply you with enough water to drink.
Question: Can I charge my digital camera or other batteries on my trip?
Answer: At the guest house trekking there will be chances to charge the battery on pay. We recommend you bring an extra pair in case. Remember to bring your adapters! And we recommend you take extra batteries along with you.
Question: Are there any communication facilities for climbing Larkya peak?
Answer: Visitor climbers can get telephone services as well as often internet services.
Question: When should I book my trip and what are the payment terms?
Answer: Because our trips book up months in advance, we recommend booking early to avoid any kind of misunderstanding. We will, of course, make every effort to accommodate last-minute bookings.
And regarding the deposit, we prefer a 15% advance deposit (Not refundable) of the total price of the trip in order to confirm your reservation before you arrive in Nepal. For instance, for the rest of the payment, you pay us on your arrival in Kathmandu.
Question: Who will carry my luggage on express Larkya peak climbing?
Answer: We provide porters to transfer your bags. As we are a responsible trek operator agency, every porter who belongs to Gokyo Treks agency carries a maximum of 25 kilos of your backpack. It means a 1 guest: 1 porter ratio.
Question: How much distance do I walk each day?
Answer: During the travel, you can walk about 6 hours roughly every day. And about 7/8 hours climbing on climbing – expedition days.
Question: Where can I organize my personal climbing gear?
Answer: If you have climbing gear at your home then bring them as well. Having branded gears makes your summit journey better and more successful. If you are not a regular climber you can rent those climbing gear also. If you don't have them then you can rent cheap climbing gear in Kathmandu, Nepal.
Question: How much additional money do I need per day?
Answer: You can allocate US$ 08 – 10 for a lunch/dinner in Kathmandu and it depends on your spending habits. US$ 7 to 10 US$ each day will be enough to buy bottles of water, chocolates, tea coffee, and some drinks while you are on your trek.
Trek Larkya peak climbing and Trek highlights
Learn wilderness Manaslu region – a paradise on Earth, A beautiful trek to experience the tallest Himalayas.
Exceptional view of Shringi Himal and Munt Manaslu family, and Samdo peak.. etc.
Mystical landscapes and rich of cultural heritage flora and fauna make your journey more exciting.
Very less trekker hikes Manaslu base camp and Larkya peak as it is technically difficult.
Notes for Larkya peak climbers!
The Larkya peak information stated above is just a guide and standard template that we provide you. However, the trip is possible to customize at your request to accommodate your specific requirements. Local politics, landslides, local flight revocation, weather, transport, or a multitude of other factors that are beyond our control can result in a change of itinerary during one trip.
It is, however, very unlikely that the itinerary would be substantially altered. If modifications are necessary the leader will decide the best alternative option, taking into consideration the best concern of the expedition team. Where a change does occur, we do everything we can to minimize its effect, but we cannot be responsible for the results of changes or delays.
"What makes Larkya peak climbing special?"
Opportunities for challenging trekking or hiking and pleasant excursions are scattered all over this planet. You just need to know where to find them. We at Gokyo Treks and Expedition believe in quality services. First safety and success is our concern.
We are a team of professional, trained, and licensed local guides who know the destination better than others. Moreover, we give benefits to the local communities and help to conserve natural resources which reduced costs and consumption.
Larkya peak climb Review
Larkya peak climbing trip 2019
We met Ammar in his Europe Tour 2010 in Freiburg, Germany. We had a plan to climb Larkya peak climbing since a long time, so we discuss with Ammar regarding this trip possibilities in autumn season.
Luckily, we managed our holiday and booked Larkya la peak climbing 2019 with Gokyo Treks agency in Nepal. We had marvelous weather, enjoyed our trip around Manaslu and got successfully ascend Larkya peak with mountain guide Nawang Sherpa and 5 other travel crew. The agency made everything booking for us. The prices were competitive too. So we spent our holiday comfortably with our friendly trekking and climbing crew. Thus, it was an excellent service from start to end.
Hence, we highly recommend Ammar and his company for your climbing trip in Nepal Himalayas. If you have any questions so far than do feel free to drop your questions at Mchael Voss (vm_tour@t-online.de), Freiburg, Germany

Response from Gokyo Treks Nepal
Thank you Michael Voss for your time to review Larkya peak in Nepal. We are hoping to serve you again for 8k Mountains in a near future.
From US$ 2998
0% Off
US$ 2998
| | |
| --- | --- |
| No. of people | Price Per Person |
| 1 | USD 3399 |
| 2 | USD 2998 |
| 3 | USD 2975 |
| 4 - 6 | USD 2950 |
| 7 - 9 | USD 2925 |
| 10 + | USD 2825 |
Book Now
Customize Trip
Cost & Departures
Your Trip Your Style!
ITINERARY, COST, DEPARTURES, will adjusted according to your GROUP SIZE NEED TIME
Book with Confidence
Lowest Price Guaranteed.
100% Customizable Trips
Excellent Customer Service
Hassle Free Booking.
90 % Repeated customers
Highly Recommended agency
Private/group tour options
Local Guides Company.