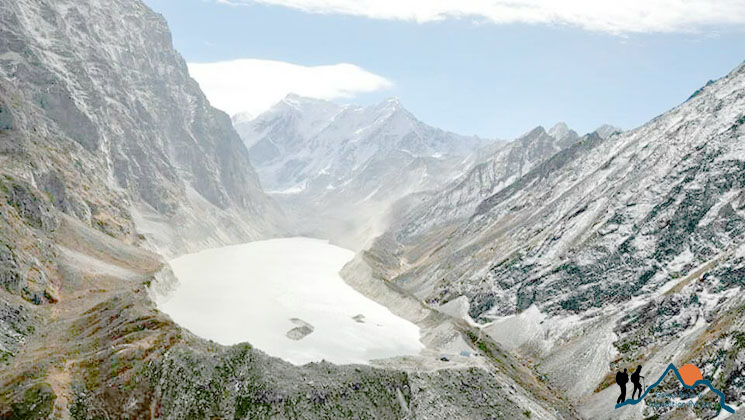 Tsho Rolpa Trek Summary
Tsho Rolpa Lake trek Duration: 8 Days
Trek Difficulty: Easy to Moderate Grading
Tsho Rolpa lake Altitude: 4,580m/15,027 feet
Trek Hours: 6 hours daily
Group-Size: 1 – 15 People
Best Time to Hike: March, April, May, October, and November
Trip Mode: Lodge Basis
Meals: Breakfast, Lunch, and Dinner
Transport: Car/bus
Overview
The Tsho Rolpa Lake Trek is a wilderness nature trail located in the Rolwaling mountains in Nepal. It's one of the biggest glacial lakes in Nepal, located at an altitude of 4,580 meters in the Rolwaling Valley, Dolakha District, and has grown considerably over the last 50 years due to glacial melting in the Himalayas.
Moreover, researchers are now reassessing the state of Tsho Rolpa – located around 115 km northeast of Kathmandu in Dolakha District. One of the benefits of considering Tsho Rolpa is the accessibility of information on the lake's evolution. Analysts Scientific started considering the lake in the mid-1990s when the lake's high flood hazard was recognized.
Hike the Tsho Rolpa Lake is still the beaten path trek route that provides an opportunity to explore the scenery of the remote landscape. Hike the Tsho Rolpa incorporates impressive mountains Gauri Shankar (7,145m) and Menlungtse (7,181m), among others.
The hiking path goes through Brahmin, Chhetri, Tamang, and Sherpa towns as the route go very close to the Tibet border. Because the distance from Kathmandu to Tsho Rolpa Glacial Lake is 114 kilometers only.
Furthermore, glacial lake Tsho Rolpa is not the easiest trek in Nepal for beginner trekkers. Tsho Rolpa trail is a virgin route awakening, thus there is almost no other tourist along the route even in the high season however you can see the diverse species of flora and fauna.
The best ideal opportunity for the Tsho Rolpa trip in Autumn and Spring. Loaded with bright rhododendron blossoms will be filling in the backwoods. Appreciate nature as you journey up. However, the Rolowalling Tsho Rolpa trek is possible to explore in all months of the year.
How much is the Tsho Rolpa Lake Trek Package Cost/Price?
The cost of Tsho Rolpa lake trek package with a Gokyo Treks local Agency in Nepal ranges between US$ 590 to US$ 875. And certainly, the Tsho Rolpa Trek package price will vary as per the mode of transportation service you choose. However, the given package price includes transportation, a guide, porters, hotels and food accommodation and hiking permits, facilities.
However, we often arrange private trips in order to avoid group tours with strangers. A private tour gives you a better experience on your hikes. If you value personalization, flexibility, and in-depth experiences, a private trip customized to your personal needs will be the best option.
Hike to Tsho Rolpa is the standard trip package price for 8 days of trekking in the Himalayas. If you are 2 tourists Tsho Rolpa Lake trek cost US$ 699 for 8 days trek as given plan. We can modify the Tsho Rolpa lake trek route and the prices according to your wishes also. Here is the price list for Tsho rolpa treks.
Price Per Person for 8 days hike in Tsho Rolpa route.
| Number of Tourist | Price Per Person |
| --- | --- |
| 1 Person | US$ 875 |
| 2 Person | US$ 699 |
| 3 Person | US$ 699 |
| 4 to 6 person | US$ 650 |
| 7 to 9 Person | US$ 625 |
| 10 and more than 10 Person | US$ 590 |
If you're wondering to know about what is included and what is excluded from this trip price, kindly check on the cost given on a tab button.
Itinerary
Tsho Rolpa Lake trek itinerary details
Hike the Tsho Rolpa trek 9 days itinerary is a multi-day adventure journey in the Rolowalling territory. However for travelers who wish to go longer hikes in the Rolowalling with Everest zone? follow Tashi Lapcha Pass Trek. Besides that, the particular hike at Thso rolpa route is designed for world travelers who wish to hike quickly and then try this itinerary. Or ask us for a tailor-made itinerary.
1 Day
Arrival at Kathmandu valley. World Heritage sites(1,348m) tours in Kathmandu, 5/6 hours.
Upon arrival in Kathmandu, Tribhuwan International Airport, we will receive you in a private vehicle and drive you to the hotel in Kathmandu. All aspects of gear and conditions are discussed to make sure you're fully prepared for the trip, and any last-minute questions are answered.
After lunch, we explore this medieval capital. We visit Boudhanath, also known as Little Tibet. Furthermore, we visit Pashupatinath, a holy Hindu temple where the cremation takes place by the holy river Bagmati. Later we visit Kathmandu Durbar Square and Syambhunath Stupa. And transfer to the hotel. Our representative will brief you on Tsho Rolpa Hike's information.
2 Day
Drive from Kathmandu to Chechet and a trip to Simi Gaon (2,010m/6,624 feet), 10 hours
Today we will take the early morning transport from Old Bus leave at around 6 AM to Chechet. The drive finishes the uneven ride on the winding and dusty streets. The dusty ride with wonderful scenes and sprouting rhododendron blossoms in transit make your lengthy drive worthwhile.
We cross Kharidhunga, Charikot, Singati, and Gongar en route. From Chechet, it requires a short climb to Simi Gaon for an overnight stay lodge.
3 Day
Trek to Dongang (2,790m/9,154 feet), 6 hours
In the wake of leaving Simigaun, the path is a moderate grade with just slight climbs and plunges. Climb at Kyalche has a pleasant guesthouse. We proceed to climb further to Dongang to make the following day simpler.
Hikes from Kyalche to Dongang are genuinely simple. The town of Dongang is only two teahouses. Coming, we see an incredible eagle flying on the opposite side of the waterway. It sits roosted there while we appreciate how enormous it is from far off.
4 Day
Beding Trekking (3,721m/12,209 feet), 5 hours walk
Today after breakfast, we ascend our trek to arrive at Beding today. The path in transit is vivid and lively on account of the sprouting Rhododendron blossoms, vegetation, and the white Mountains shimmering at the top. From Simi Gaon, an easy hike to Surmuche town and of two hours further trip takes us to Kyalche and then to Dongyang.
Coming, the phenomenal sound of birds and wonderful streams make our trip alluring. From Dongang the path to Beding is the lonelier way, through the thick woods and delightful vegetation, the tough walk takes around 4/5 hours to arrive at Beding.
5 Day
Beding to Na Trekking (4,183m/13,724 feet), 5 hours walk
The best part of this day is seeing all of the yak herds, cows, and sheep roaming freely across the valley. We got to know that about 10 years ago Guru Rinpoche made it illegal to kill animals above Dongang.
Previously, tourists would come camping and demand meat. Locals would kill the animals for business, but it's a Buddhist zone and Guru Rinpoche felt it was disrespectful.
Five years later, he rescued 108 yaks and brought them to the area to roam free. Seeing the animals free and wild Yaks were pretty cool but have in mind that the YAKS are wild, so do not touch or approach them.
6 Day
Tsho Rolpa Lake trek (4,580m/15,027 feet) and back to Beding, 7 hours
Today in the wake of having early morning breakfast, we will begin our journey to Tsho Ropla. The present walk is a bit longer since we need to back to a similar spot this evening. It's about 2:30 hours-long stretches of a hike to Tsho Rolpa Lake.
The excellent spots of ice and greenish water, an impression of blue sky sparkling like a gem in the midst of the all-encompassing blanketed mountains invite us to Tsho Rolpa Lake. Have in mind that the mountain lake is often getting cloudy, so check the Tsho Rolpa weather 24 hours before moving. Excursionists can see the captivating perspective of the majestic Gauri Shankar mountain.
In addition, Rolwaling Valley is connected with the Everest mountain district. Optional travelers cross the high pass Tashi Lapcha over 5700m to get to Namche Bazar, Sagarmatha national park. The Tashi Lapcha pass is considered the most difficult high mountain pass in Nepal Himalayas.
In the wake of going through certain hours visiting the Glacial lake of Tsho Rolpa, we will get back to Beding to stay overnight.
7 Day
Beding to Gongar Khola, 6 hours.
Today we hike close by the stream Tamakoshi toward the beginning of the day with the different bird sounds (exceptionally Danphe and Munal) and the perspective on the silver-sparkling mountains. Following over two hours of walking, you will arrive at Dongang and a further 1 hour of trip to Kalche.
And then to Surmuche. We will be following a similar preliminary on our second-day journey. Notwithstanding, we can remain for the time being at Simi Gaon or Chechet as well, despite that it is smarter to travel down to Gongar Khola to get the principal transport of Kathmandu.
8 Day
Drive back to Kathmandu city, 10 hours.
Today we will return a drive to Kathmandu through a similar course we drove before to arrive at Chechet, It's around 9 hours of excursion to Kathmandu from Gongar Khola with a similar dusty and uneven street. Trip finish.
Not satisfied with above plan?
Are you interested in planning a custom trip? this might take 2 to 3 minutes.
Cost
How much does the Tsho Rolpa Lake trek pckage price?
Hiking in the Rolowalling territory at Tsho Rolpa Lake trek package price US$ 699 is per person. For the deluxe and luxury trekking tour plan, we add 3-5 star category hotel deluxe air-conditioned rooms in Kathmandu with the breakfast Plan. Likewise, Tent camping accommodations along the journey. AND WE ARE OPEN TO CUSTOMIZING YOUR TOUR AND PACKAGES PRICE AS PER YOUR REQUIREMENTS.
Tsho Rolpa Lake trek package includes
Kathmandu International airport transfer with a private car on your arrival.
1-night double bedroom accommodation in a Tourist standard hotel in Kathmandu.
7 Breakfast serve with hot Tea/Coffee, 7 Lunch, and 6 Dinner while on trek routes.
Lodge accommodation along the Tsho Rolpa Lake trekking routes.
Kathmandu – Chechet and from Shigati Bazar – Kathmandu transfer by Bus (sharing basis) as per above plan
Gaurishankar Conservation entrance permit fee
TIMS permit for Tsho Rolpa trekking.
Fully escorted trek with English-speaking license holder mountain trek guide.
Each 2 guest (12 kg + 12 kg) = 1 porter to transfer guest baggage.
world heritage Site in Kathmandu city tour guide with a private car transfer service.
Trekking equipment, Insurance, and other facilities for Nepali trekking staff.
Seasonal fruits like apples and pomegranates as a dessert after dinner for Tsho rolpa trekking.
Agency's duffel bag (50 liters capacity), and trek poles if Necessary – return after the trek.
First aid medical kit including Oximeter to check your Oxygen level, Pulse rate to monitor every day to prepare for high altitude risk.
In a worst case, help with all Helicopter Rescue and evacuation arrangements (but not the rescue bills).
Tsho Rolpa Trek map & trek completion certificate – keep them as a souvenir.
Nepal Government Tax, VAT, and as well as Company service charge.
What's not included in the Tsho Rolpa Lake trek package cost:-
Nepal entry visa fee
Lunch and Dinner during the staying in Kathmandu city.
Any kinds of battery charges, laundry service, phone calls, and hot showers during the trekking.
Tourist personal trekking equipment including clothes.
-10 comfort fresh Sleeping bag rental cost per piece US$ 2 per day.
Personal nature expenses, all types of drinks, and bar bills.
Kathmandu city tour entrance fees and donations.
Travel Insurance which covers emergency rescue, evacuation, personal loss, or damage.
Gratuities for guide and porters [Tip is a culture, so they expect highly].
Any other things which are not mentioned above
Group join
We can organize a private trek at Tsho Rolpa in a Rolowaling area if that starts on any date that works for you. So, please contact us for more information regarding Tsho Rolpa trail routes, weather, and price packages.
FAQ
Question: Is pick-up service available on my arrival day in Kathmandu?.
Answer: Yes sure. Provide us with your flight information. Our representative will come to pick up you at Kathmandu international airport.
Question: Do I need the experience to hike Tsho Rolpa?.
Answer: Trek is suitable for keen hikers who can walk around 5 hours each day, with a lightweight daypack. For this trekking, if you have a little experience would be better.
Question: Can I store my suitcase luggage/stuff in Kathmandu?
Answer: Yes, you can leave your luggage at your hotel or at our office. Store your stuff in the Gokyo Treks agency office for free.
Question: Is Tsho Rolpa trekking Safe especially for Solo Female Trekkers?
Answer: Absolutely yes. Nepal is a safe country to travel to for solo travelers; the Tsho Rolpa trek is perfectly safe for solo female trekkers. We have been organizing the trek even for solo female travelers since its establishment.
Question: What kind of accommodation can I expect on the Tsho Rolpa Lake Rolowalling trek?
Answer: We provide you tourist standard accommodation in Kathmandu and lodge accommodation on the trek route. However we recommend you take your own sleeping bags if you have one with you otherwise, you may rent them while you are in Kathmandu.
Question: What kind of food can I expect on this trek?.
Answer: During the Tsho Rolpa lodge trek, Tourists will get all food in the homestay Lodge. They cook mostly vegetarian such as Pasta, tuna baked, noodles, potatoes, eggs, bread, soups, and rice with seasonal vegetables.
Question: What opportunities will I have for a shower along the lake Tsho Rolpa trek?.
Answer: You can get a shower in the guest house perhaps on additional payments.
Question: How do I get drinking water Tsho Rolpa route?.
Answer: You can buy aqua tablets to purify the normal water as the normal water is available almost everywhere on the stream or in the lodges.
Question: Can I charge my digital camera or other batteries on my trip?
Answer: During the local lodges there will be more chances to charge the battery. We recommend you bring an extra pair in case. Remember to bring your adapters!
Question: Are there any communication facilities on a short trek to Tsho Rolpa?
Answer: Yes, only for some places but not for everyday hikes.
Question: Can I use credit cards in Trekking?
Answer: No. Not possible for Tsho rolpa trekking routes.
Question: When should I book my trip and what are the payment terms?
Answer: Our adventure treks book up months in advance, we recommend booking early to avoid any kind of misunderstanding. We will, of course, make every effort to accommodate last-minute bookings. And regarding the deposit, we prefer a 20% advance deposit of the total price of the trip in order to confirm your reservation before you arrive in Nepal. And the rest of the payment can be made after your arrival in Nepal.
Question: Who will carry my luggage on Tsho Rolpa short trek?
Answer: We provide porters to transfer your luggage. As we are a responsible trekking tour operator agency, each of our porters carries a maximum of 24 kilos of your backpack which means 2 guests (12 kg luggage of each guest): 1 porter basis.
Question: How much distance do I walk each day?
Answer: When walking in the mountains, the distance you cover each day can vary greatly due to gradient, terrain, and altitude. As such it is very hard to give specific distances for each day. However, you need to prepare your body to walk roughly about 5/6 hours each day as it is not a very easy hike in the Himalayas.
Question: Do I need walking poles?
Answer: It is better to hike with walking poles as you are going to the glacial lakes. Learn how to use trekking poles for balance and stability, whether on the sidewalk or on trails. Walking poles can help prevent slips and falls. They are just recommended but not compulsory.
Question: How much additional money do I need per day?
Answer: You can allocate US$ 08 to 10 for a lunch/dinner in Kathmandu and it depends on your spending habits. US$ 7 to 10 US$ each day will be enough to buy bottles of water, chocolates, tea coffee, and some drinks while you are on your trek.
Tsho Rolpa Lake trek highlights
Investigate the world's beautiful two high Gauri Shankar mountains and Menlungtse (7,181m) in a line.
Remote area excursion – off-the-beaten path trekking experience
Diverse in flora and fauna and rich in local cultural heritages of Rolowalling Himalayas.
Notes for Tsho Rolpa Lake trekkers!
Solo Hikes at Tsho Rolpa is somehow not a good way to go because of the wilderness trail. Hikes in those areas often covered with forest and yak trails make tourists confused about following the right trail. Thus, it can be dangerous sometimes if you are hiking in the winter months.
However the Tsho Rolpa hike as stated above itineraries is subject to modification according to our guest's request. This is a sample guideline showing tentative camp night stops. A physical, technical, and natural condition may change the above itineraries.
What makes Tsho Rolpa Lake trek trip special?
Opportunities for challenging trekking like the Tsho Rolpa route are scattered all over the planet Earth. You need to know where to find them. We at Gokyo Treks and Expedition believe in quality services. Your safety and satisfaction is our concern. We are a team of professional, experienced, and licensed local guides who know the destination much better than others.
Tsho Rolpa Lake Trek Review
There are no reviews yet. Be the first one to write one.
From US$ 713
2% Off
US$ 699
| | |
| --- | --- |
| No. of people | Price Per Person |
| 1 | USD 875 |
| 2 | USD 699 |
| 3 | USD 699 |
| 4 - 6 | USD 650 |
| 7 - 9 | USD 625 |
| 10 + | USD 590 |
Book Now
Customize Trip
Cost & Departures
Your Trip Your Style!
ITINERARY, COST, DEPARTURES, will adjusted according to your GROUP SIZE NEED TIME
Book with Confidence
Lowest Price Guaranteed.
100% Customizable Trips
Excellent Customer Service
Hassle Free Booking.
90 % Repeated customers
Highly Recommended agency
Private/group tour options
Local Guides Company.